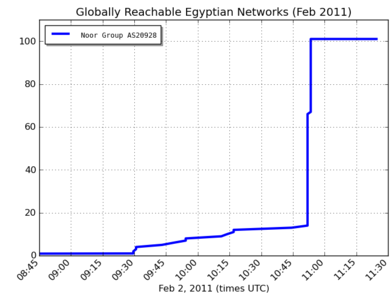 The graphic from Renesys says it all but the net tracking firm also spelled it out "Egyptian Internet providers returned to the Internet at 09:29:31 UTC (11:29am Cairo time). Websites such as the Egyptian Stock Exchange, Commercial International Bank of Egypt, MCDR, and the US Embassy in Cairo, are once again reachable."
And there are now reports that Twitter is once again ablaze with Tweets from the embattled country.
This good news is emerging at the same time as some disturbing reports about violent clashes between pro and anti-government supporters in Tahrir Square.