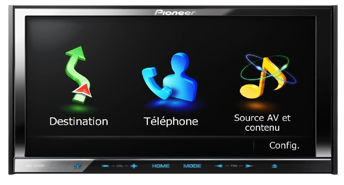 In October I purchased a 2010 Prius with a basic radio instead of the factory navigation and audio system that would have cost about $2,000 extra.
At first I just used my Android phone, which has Google Maps Navigation and the ability to play audio through the car speakers. It worked OK but is a bit awkward to use in the car, so I decided to upgrade to an after-market system that would be built-into the dash yet be cheaper and have more features than Toyota's premium entertainment and navigation system.
Pioneer AVIC-Z130BT Audio and Navigation System
I held off until I could see the 2011 systems at the Consumer Electronics Show in January, where Pioneer Electronics announced one that had all the features I was looking for, plus the ability to access and control an iPhone and stream Internet audio from Pandora and Aha Radio. A few weeks ago, Pioneer sent me an AVIC-Z130BT in-dash receiver and navigation system to test out for a review and arranged for installation from AMS Car Stereo in San Jose. I've decided to keep and pay for the unit because, despite some initial challenges with the user interface, I like its features and versatility. This model, which has a 7-inch touch screen, sells for $1,200, but installation and a custom car kit, steering wheel controller and cables will add to the cost. If you don't care about the Internet streaming feature, you can get less expensive models from Pioneer and other companies. For more on Pioneer and car audio and navigation systems, click here.