Last Thursday I took the 4:00 PM Megabus from Boston to New York. I knew where I was going as did a few of my friends. AT&T has a record of the cell towers I accessed along the way, but they're not allowed to disclose that information without a court order. However, thanks to a tracking file stored on my iPhone and a recently released piece of software, anyone with access to my phone or my computer can find out exactly where I've been.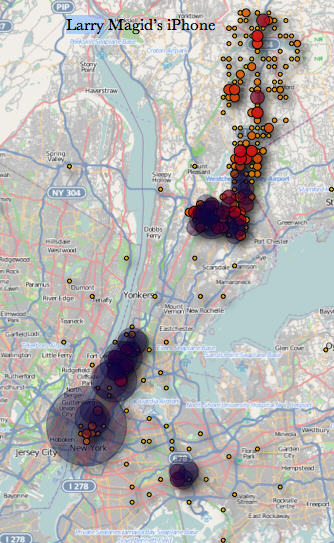 Tracking software was able to follow me from Boston to New York. The software can zoom in for far more detail
The presence of this tracking file was discovered by researchers Alasdair Allan and Pete Warden who disclosed their findings on the O'Reilly Radar blog and presented them at the Where 2.0 Conference in San Francisco (scroll down for a video of their presentation)
The pair had been working on data visualization projects including creating a map of radiation levels in Japan and were looking into ways to visualize mobile data when they discovered the file. Allan said that he was looking for data on contact information and "I started poking around backups on the Mac and I stumbled across a directory named location d." He looked around and found a file called "consolidated.db" which was full of latitudes and longitudes and time stamps and cell IDs. "The file," added Warden "was a plain SQI file" that was not encrypted."
Allan said that the phone contained "a year's worth of data for every cell that we've been through since we upgraded to IOS 4." And the data persists even if you change phones assuming you follow Apple's recommendation to backup and restore your phone to a computer via iTunes.
Free OS X software lets iPhone users create their own maps….

To enable iPhone users to visualize their location data, the researchers created a Mac OS X application called iPhone Tracker that quickly displays your location based on the data from your iPhone backup. Before you download and run the application, you should backup your iPhone via iTunes. To learn more and read more about his experience regarding maps and tracking, click here including the video.