At the end of the day, we're all responsible for our own safety on Facebook and on the Internet in general. Online companies can do things behind the scenes to try to keep their members as safe as possible but they can't protect people from themselves. The auto-industry, for example, has come a long way with better safety technology such as airbags, but there is no substitute for driving carefully.
I thought about this after I buckled my own seat-belt for my drive to Facebook's Palo Alto, California headquarters to participate in a Facebook Live video segment about the company's new Safety Center. Facebook is rightfully proud of its new safety resource that offers good advice to parents, teachers, teens and law enforcement. In addition to lots of resources developed by Facebook there are also links to some of the leading non-profit Internet safety organizations that serve on Facebook's safety advisory board including Childnet International, Family Online Safety Institute and ConnectSafely.org, where I serve as co-director.
As Facebook said in the philosophy section of its new Safety Center, "Safety is an ongoing conversation between parents and kids, teachers and students, companies and the people who use their products and services."
Social Reporting
One of the most important safety features — actually launched a few weeks ago — is the new social reporting tool. Social reporting is both similar and significantly different than the abuse reporting mechanism that has been on the site for years. With social reporting, users can send a direct message to a person who they feel might be acting in an abusive manner towards them or they can reach out to friends, family members or other trusted people for support to help resolve issues.
I don't have the exact figures but I'm told that the majority of so-called abuse complaints do not involve criminal activity or even violations of Facebook's terms of service but issues between people. Just as you wouldn't necessarily call the police if your neighbor said something mean to you, you don't always need to involve Facebook's safety and security team if someone is being rude to you on the service. With social reporting you can directly ask another Facebook member to take down an offensive post or unflattering picture or you can enlist the help of a trusted friend or family member, including people who aren't Facebook members. For more, check out Larry's post on Huffington Post.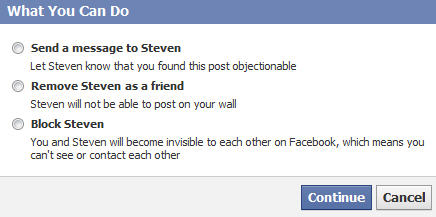 Social reporting lets you ask someone to remove objectionable content