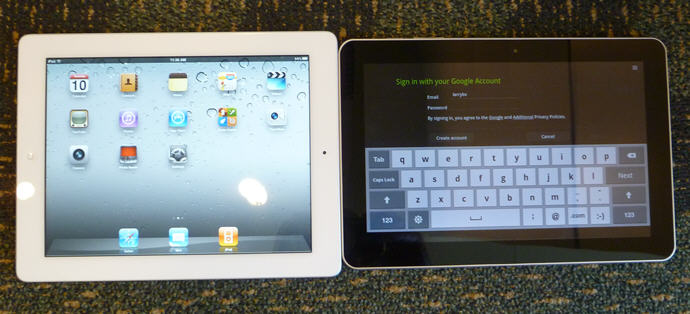 Samsung Tab 10.1 (right) is lighter and thinner than the iPad 2 (Photo by Larry Magid)
San Francisco — Day one of the annual Google I/O developer's was all things Android. The day began with a recap of Android's growth in the two and a half years it's been on the market. Google says that there are now 100 million activated Android devices, 400,000 new devices activated every day, 200,000 apps in the Android market and that Android users have so far downloaded and installed 4.5 billion apps. Those numbers aren't as gargantuan as what Apple can claim, but they're respectable and indicate enormous growth for the only serious competitor to Apple's popular iOS operating system that runs on iPhones, iPads and iPod touch devices.
The company announced update to Honeycomb, the version of Android optimized for tablets but also said that later this year they'll ship a new version of the operating system, called Ice Cream Sandwich, that supports both phones and tablets. The just released Honeycomb 3.1 adds resizable widgets and a new task switcher. Google also announced an update to its Google TV platform which will soon run applications from the Android marketplace. For more on the specs and the whys, more in depth on HuffPost.