With Valentine's Day on the horizon, Lake Austin Spa Resort is a great place to stay for a romantic escape. So, if you're thinking of a last-minute weekend getaway, I've got just the city.
Of course, you don't have to save all your sweetness for the day of love; try to find a way to make your special someone feel special every day of the year. Here are 5 Ways to Feel Romance in Austin.
Splurge on a Romantic Stay at 

Lake Austin

Spa Resort
For those of you who aren't Austin locals (like me!) the first step to a romantic weekend is picking the right hotel. After all, this will be your home away from home for the weekend, or however long you choose to stay, so you want to be comfortable.
Lake Austin Spa Resort is the ultimate indulgence, what with its extensive spa menu, elegant dining options and plush accommodations.
Depending on your preference and budget, you can choose whether your room overlooks Lake Austin or the garden. There's even a hot tub cottage that comes with a fireplace, private garden and outdoor private hot tub. Luxe indeed!
Cook a Meal Together
If you're considering skipping the classic romantic dinner date but still want your night to center around food, consider signing up for a cooking class or demonstration. Lake Austin Spa Resort hosts these events regularly and it's a great way to learn a new recipe or sharpen your skills in the kitchen – no pun intended.
Otherwise, head to the city and sign up for an interactive class. There are a couple culinary schools, like Patricia's Table and Freda's Kitchen, that offer classes. Before you know it, you'll be a pro in the kitchen. 
Catch a Live Show
It probably comes as no surprise that Austin is a music lover's dream destination. With so many music venues, both large and small, choosing the right one is key to having a great night.
If you're going for the full on "honky-tonk" experience, grab a couple beers at The White Horse in East Austin. Put your dancing shoes on, as you're in for a lively night.
For a break from the crowds, head to Carousel Lounge in Central Austin. If you've ever been to the Carousel Bar in New Orleans, you'll see where it got it's circus-themed name.
Enjoy Nature
Even though Austin is known for its nightlife, don't let the days slip away. As a guest of Lake Austin Spa Resort you have your pick of outdoor activities, from Tai Chi and gentle Yoga to Stand-Up Paddleboarding to other water workouts. Plus, since the resort is surrounded by nature, you'll have a scenic view (and peaceful practice) no matter where you go.
For those of you who stay in Downtown Austin, take advantage of the city's green spaces and, if the weather permits, opt for outdoor seating instead of dining inside.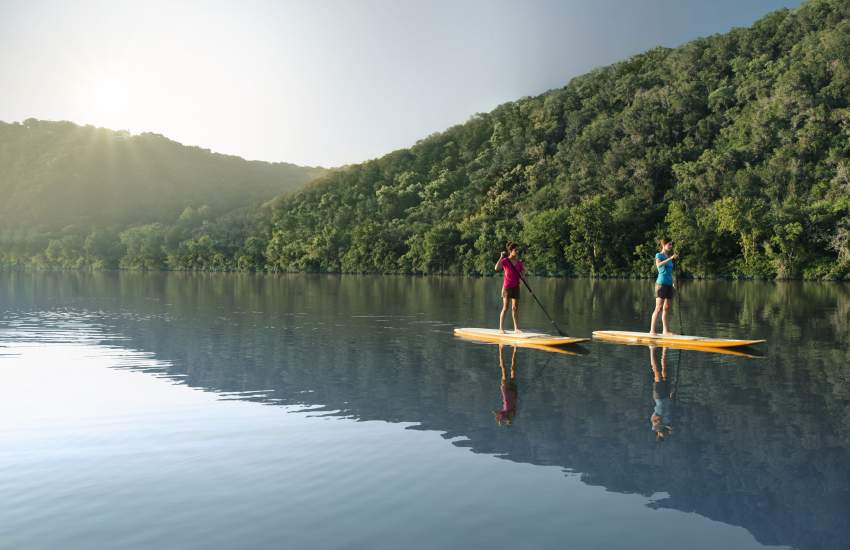 Check Out the Art Scene
If you're an avid art fan, Austin does not disappoint. Bonus points if your partner loves collecting art as much as you do. A good starting point is the Austin Art Garage. Here's you'll find all sorts of local artwork, like paintings and drawings.
If you're eager to create some artwork yourself, swing by SprATX to pick up paints, brushes, canvases and other supplies. Alternatively, browse through the local artwork on display and take home a piece to remember your trip.
What's the most romantic city in YOUR eyes?
This post is brought to you by Lake Austin Spa Resort. All opinions are my own.