My trip to Costa Rica couldn't have come at a better time.  I partnered with Costa Rican Vacations because they specialize in organizing customized trips that include stays at some of the nicest Costa Rica family resorts (also great for solo travelers like me). I really wanted a curated trip that catered to my interests and aligned with my passions. From start to finish, they made this adventure one to remember.
The Best Day Trip from San Jose
After good night's sleep at the charming Hotel Grano de Oro in downtown San Jose, I was ready to hit the ground running. My guide picked me up bright and early and we were off to Corso Lecheria.  
The first thing I noticed about Corso Lecheria is the view. Located in the Alajuela province and about a two hour drive from San Jose, you can see the Poas and Barva Volcanoes in the distance. First up was a crash course in strawberry and cheese pairings, all of which are made and/or grown on site. 
Then we were off to milk some cows. It's worth mentioning that the cows here (along with the other animals at Corso Lecheria), aren't slaughtered. They do, however, produce milk that feeds the local community.
It took about two minutes to realize that there's a lot of work that goes into milking a cow. I also liked learning the best movements and behaviors to exhibit around the animals so as not to startle or scare them. The best part of the visit was getting to play with some of the baby cows.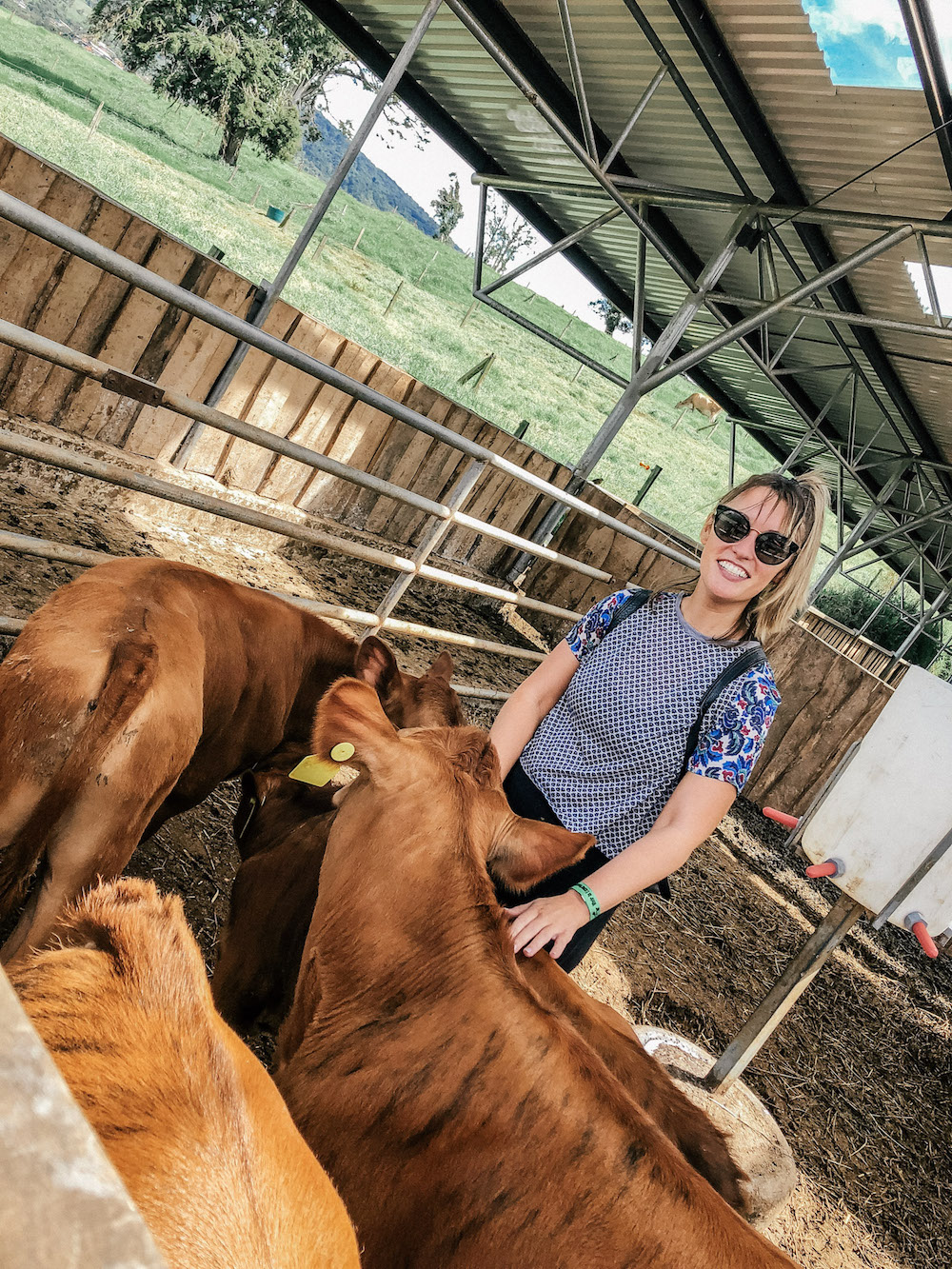 After milking the cows, we headed over to where the chickens live. The must be used to visitors because as soon as our group began walking toward them, they all ran toward the fence. Our guide gave us some food to feed them, and it instantly took me back to childhood visits to my local farm. It always brought me so much joy to feed animals (goats were my favorite!) and clearly, nothing has changed.
For the grand finale, I had the chance to hold a couple very cute bunnies. I later learned that they were going to be killed so the farm owners bought them and gave them safe haven. They might not serve a "purpose" like the cows and chickens do, but their gift is making people smile. I was the first in the pen and the last to leave. These bunnies were just so innocent and gentle, it was like medicine to my wounds.
After our visit to Corso Lecheria, my guide for the day (from Del Bosque Turismo) drive to the nearby La Paz Waterfall Gardens for more animal sightings. The waterfall gardens is the most visited private reserve in the country, with five waterfalls, a cloud rest and rain forest, hiking trails, an aviary, butterfly observatory and more.
One of the best moments for me was getting up close and personal with a toucan. I've seen them before from far away but never this close. I also learned that while their beaks look hard, they are actually made of a soft material and if they break or fall off, the toucans do no re-grow one (similar to a rhino, for example).
I also loved seeing the hummingbird garden. I'm sure hummingbirds are fairly common in Costa Rica but for me, seeing one was like walking into a real life fairy tale. They were all different colors and sizes, with a few being half the size of my hand.
The butterfly observatory was equally fairy-tale worthy. There are more than 25 specials of butterflies in the observatory and 4,000 of them flying around at any given time.
This might sound strange but I had a very special moment with this Morpho peleides (bright blue butterfly when it flies). One of its wings were broken and in many ways, I feel like I have the same defect, the same struggle. My guide told me that if one lands on you, you can make a wish, so wish I did.
What's YOUR favorite animal? Tell me in the comments below!
This post is in collaboration with the Costa Rican Vacations. All opinions are my own.