I equate Yaki imo with ice cream trucks.
Around the same time when beautiful burgundy-colored satsumaimo start making their fall appearance in grocery stores, you'll find little food trucks driving around with a large speaker attached yelling "yaki imo, yaki imo, yaki imo."
Yaki imo are actually quite the opposite of ice cream because they are a pipping hot snack and more of a fall/winter time delight. However, like Pavlov's dogs, when I hear "yaki imo" I have the sensation to grab my wallet and run out the door. Satsumaimo are naturally sweet and the flesh has a rich creamy quality to it.
All you need is a little dab of salt and a little pad of butter and it's the prefect snack food (this is a little off topic but when I took a cultural anthropology class, I learned about a culture that prized their sweet potatoes/yams and measured their wealth on how many sweet potatoes/yams they had. I don't remember anything else about this culture but I could relate to their love for sweet potatoes, well if they were anything like satsumaimo.)
Satsumaimo have a bright burgundy skin.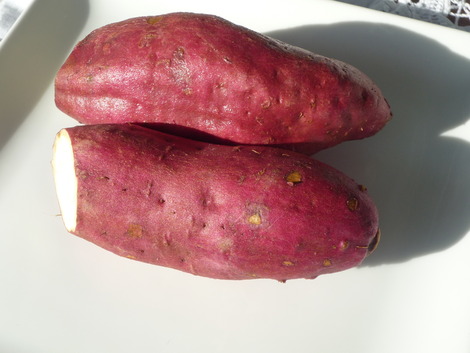 Inside they are a pale yellow which turns a little brighter when cooked.