I've been thinking about foods easier on digestion. Japanese food, at least authentic Japanese food, is usually digestive friendly so for the mean time I'll be posting tummy happy recipes. I haven't given up fish because how could I give up tasty and delicious dashi (fish stock). It must an innate Japanese need to leave fish in my diet.
I found tofu "spaghetti" shirataki (see shirataki) at a Japanese grocery store and thought they were interesting enough to share. House Foods makes these noodles in "fettuccine" and "angle hair" also. My first thought was who thought of such a thing? Are Japanese companies trying to get American's to eat tofu by disgusing its shape and flavor? That's what it seemed like. In fact there is hardly any tofu flavor. It smells mostly like konnyaku so you could probably use it as a substitute for regular shirataki in traditional recipes such as sukiyaki or nabe but I thought a cold noodle salad would be even better. Mind you, the recipe on the back of the package called to use the tofu shirataki as a substitute for spaghetti and to eat it with tomato sauce. YUCK! I love spaghetti and tomato sauce but not matter how much it looks like spaghetti, it's gonna taste like konnyaku and tomato sauce.
I decided on a cold noodle salad that was refreshing and a little summery. It's warming up here in California so vine ripe tomatoes and cucumbers are already making their way to the grocery store. Avocados are also a nice creamy addition to this salad. However, you can incorporate any of your favorite salad ingredients into this recipe.
Ingredients (Servings 2)
1 package of tofu shirataki
1/2 medium vine ripe tomato diced and peeled
1/4 large avocado
2 tbsp soy sauce
2.5 tbsp rice vinegar
1.5 tbsp sugar
black pepper to taste
1/2 tbsp sesame seed oil
Directions
Drain the tofu shirataki and squeeze water out. Allow water to drip out from a sieve for at least 20 minutes and press down periodically to press out water.
Dice half a medium sized vine ripe tomato. Peel the skin off first. (Tip: this helps for picky people who claim to like tomatoes only some ways.)
Dice the avocado into cubes the same size as the tomatoes
Dice the cucumber also into cubes about the same size as the tomatoes and avocados.
Mix the soy sauce, sugar, vinegar and black pepper until the sugar is dissolved. Then add the sesame seed oil. (The dressing will be strong because the shirataki will dilute a lot of the vingear.
Mix the shirataki, tomatoes, cucumber and avocados in a bowl and add the dressing to taste.
Serve immediately
Tofu Shirataki "Fettuccine"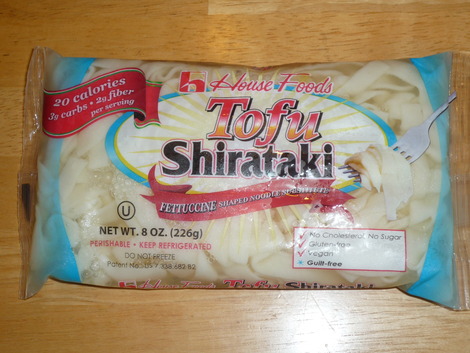 Tofu Shirataki "Spaghetti"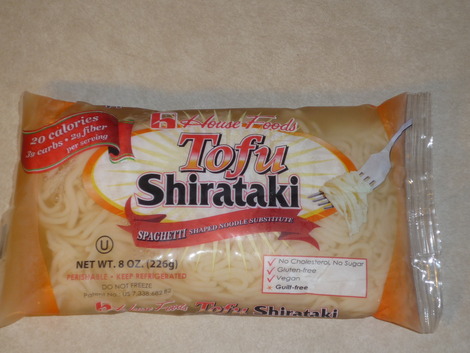 Tomatoes, avocados and cucumbers go great with this salad.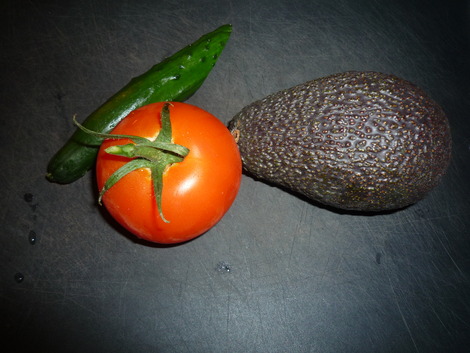 Drain the noodles. Make sure you squeeze out as much of the water as possible. Drain for at least 20 minutes and press water out with your hands periodically.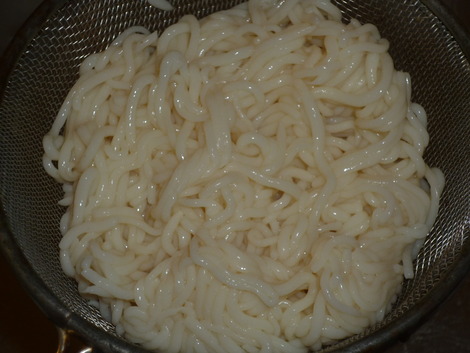 Cut up the ingredients into equal sized cubes.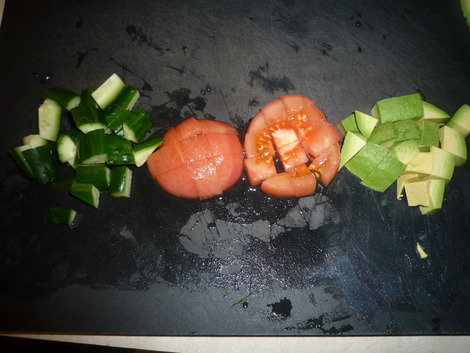 Mix the soy sauce, sugar, pepper and vinegar until the sugar dissolves. Add the sesame seed oil. (The dressing is strong but will become diluted because of the tomatoes, cucumber and the shirataki)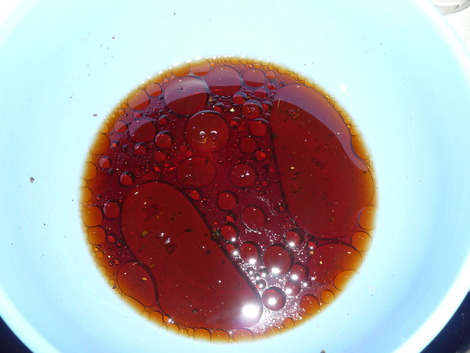 Mix the ingredients in a bowl and then add the dressing to taste, about 2 tablespoons.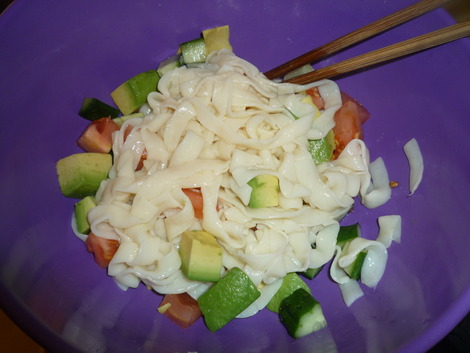 Serve the salad into a small bowl so that the dressing and juices don't run away on a plate. (Tofu Shirataki "Fettuccine")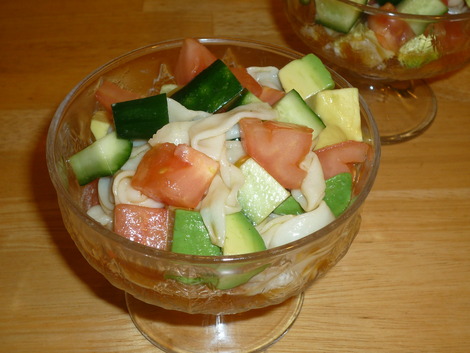 Tofu Shirataki "Spaghetti" variation with carrots.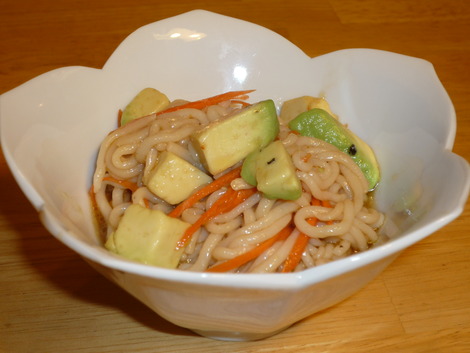 Pair salad with a protein and rice for a Japanese style meal.