A friend once asked me "What is that stuff that you can find in almost every Japanese kitchen and is essential for Japanese cooking? There's soy sauce, sake and…"
She was referring to mirin. Mirin is a sweet cooking wine that is commonly used in Japanese cooking, especially in nimono dishes (braised or stewed vegetables and meats), soups and sauces.
Mirin has a pale golden color, lighter than white wine.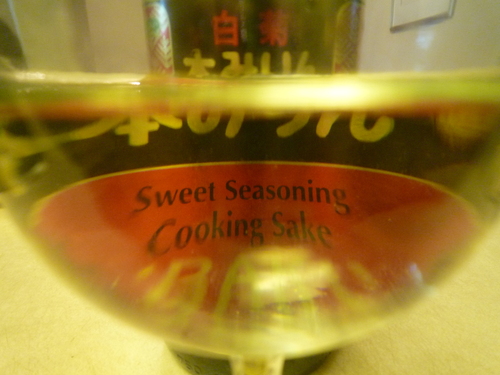 I cook a lot of Japanese food so I usually like to keep a stock of mirin, sake and soy sauce but occasionally, I'll run out. Recently, I was in dire need of mirin but I didn't want to make a special trip to the Japanese grocery store so I decided to look up a substitute online. Lo and behold, there is a wonderful substitute for mirin:
Substitute the amount of mirin with the same amount of sake and add 1/3 of the amount of the sake with sugar.
This substitute works well for soups and nimono dishes but it won't create the tsuya (glossy finish) for thick sauces such as teriyaki sauces.