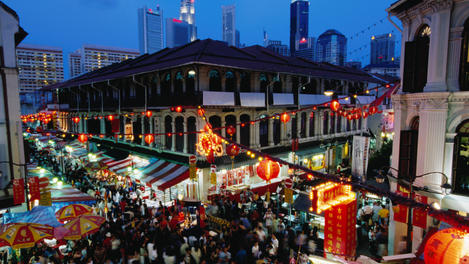 Singapore's mania for shopping almost rivals its obsession with food, and barely a year goes by without some vast new retail monolith flinging open its doors to the slavering hordes.
Among visitors, the city's reputation as a bargain-hunters' paradise has lingered, though in price terms Singapore is no match for neighbouring Malaysia or Thailand.
Though prices are closer to Western levels, Singapore does beat its neighbours for sheer convenience and familiarity. Electronics and computers are no longer the steal they once were, but they can be cheaper provided you do your homework and shop around.
Clothes are cheaper than in most Western countries, and you can pick up reasonably priced Asian antiques provided you know what you're doing.
Orchard Road
Image by Henryleonghw
Orchard Rd inspires awe and horror in equal measure. The sheer scale of this retail onslaught is overwhelming. As if there weren't enough malls already, two more giants – Ion at Orchard Turn and Orchard Central at Somerset – opened, obliterating two of the last empty spaces on the road. You have two options: dive in, or run screaming.
Haji Lane
Image by preetamrai Blink and you'd walk right past this narrow backalley without a second thought, but Haji Lane is a place of pilgrimage for Singapore's hipsters and fashionistas, who insist on wearing originals from shops that don't use capital letters in their names. Boutiques come and go rapidly, but try dulcetfig for retro dresses, dion de cruz and Victoria JoMo for street chic, salad for home accessories or the long-standing House of Japan for secondhand Japanese fashion. There was even a secondhand kimono store, but how long that can last is anyone's guess.
Little India
Image by moniquz A world apart from the gleaming malls of Orchard and the tourist tat of Chinatown, Little India's streets are a browser's delight. The ramshackle streets are a treasure trove of art, antiques, textiles, food and music, while the infamous 24-hour Mustafa Centre department store is an experience in itself. Keen bargainers might find the cut-price electronics that were once abundant in Singapore, while computer enthusiasts will make a beeline for Sim Lim Square. Heading down to Kampong Glam, you'll find handicrafts, textiles and boutiques and, sandwiched between the two areas, the thoroughly un-Singaporean 'thieves' market'. A short walk away is the old neighbourhood of Bugis, which, while strictly located neither in Little India or Kampong Glam, has something of the atmosphere of both.
Holland Road Shopping Centre
Image by photo_gratis It's anyone's guess whether this ageing shopping centre will survive Singapore's mania for redevelopment, but if it does, this magnet for expats and fashionable Singaporeans is a great place for art, handicrafts, gifts, homeware and offbeat fashion. Lim's Arts & Living (Shop 01, Level 2) is a virtual encyclopaedia of home furnishing, Island & Archipelago (Shop 05, Level 2) offers retro, beachy dresses, while EMF (Shop 24, Level 2) has a large selection of secondhand books for sale, rent or trade. Framing Angie (Shop 02, Level 3) is a gallery that'll also frame pictures. On Level 3 there's a series of massage and reflexology shops to soothe shop-weary limbs.
Dempsey Road
Dempsey Rd, southwest of Singapore Botanic Gardens off Holland Rd, has boomed in recent years, as more and more of the former British Army barrack buildings have been turned into high-end restaurants and bars. Happily, the art and antique shops that populated the area before the boom have survived, and during the daytime it's a peaceful, almost rustic area to wander around, perusing anything from Kashmiri carpets and teak furniture to landscaping ornaments and antiques. Try Shang Antiques (No 16), which specialises in Southeast Asian antiques, some of them around 2000 years old, with price tags to match. Red House Antiques (No 26) is one of the best of the city's dealers in Chinese antiques, in both original and restored condition. Pasardina Fine Living (No 13) has just about everything decorative and Asian for the home, while Asiatique (No 14) stocks Indonesian furniture made from recycled wood. Eastern Discoveries (Block 26, 01-04) has a superb range of antiques from around the region.
VivoCity
Image by williamcho With its vast size, distinctive wavy shape, odd Flintstones-style facade and waterfront location facing Sentosa Island, VivoCity was unveiled as the new poster child of Singapore retail – the mall that would lure the city's shoppers away from the madness of Orchard Rd. To help achieve that, planners cunningly inserted the new Sentosa Monorail into the building, forcing people into the mall. It hasn't quite achieved the intended iconic status, but there's no denying it's a pleasant place to shop, with lots of open space, an outdoor kids' playground on Level 2, a rooftop 'skypark' where the little ones can splash about in the paddling pools and a large Golden Village cineplex. With more than 90,000 sq metres of space, it also crams in just about every category of purchasable item known to humanity, and once you're done shopping there's a range of restaurants and bars with outdoor seating where you can sit and soak up the sea breeze. To get there, take the MRT to HarbourFront.
Taxes & Refunds
Visitors leaving from the airport (not land or sea) can get a refund of the 7% GST on their purchases, under the following conditions. To qualify, you must spend a minimum of $100 at the same retailer on the same day for not more than three purchases. Get a copy of the GST refund form from the shop (they aren't available at customs). Present the refund form, items and receipts to customs at the airport. They stamp the form, then you can claim the refund, which is processed here. Above a great piece from Lonely Planet on shopping tips.