The joy of cross-cultural mash-ups
In some ways, India and Canada could not be two more different countries: Canada is new, India is old; Canada is cold, India is hot; Canada is efficient and orderly, India is chaotic and spontaneous. Yet these cultures are really mixing it up in many different spheres — and certainly in my own life over the past five years. Recently, I attended several India-Canada cultural mash-ups that left me noticing the similarities, the differences — and the misperceptions that Canadians, and westerners, seem to generally hold about Indian culture.
Nightlife exchange: Bangalore in Toronto
The Smirnoff Nightlife Exchange Project is one example. Smirnoff, the vodka people, sponsored 14 parties, in 14 cities around the globe, on the same night, November 27, 2010. The twist was that the cities would EXCHANGE their night life. Toronto exchanged with Bangalore, so naturally I was intrigued about the experience and excited to spend a night in India without the jet lag.
A warehouse in Toronto's east end was transformed into someone's idea of India for the night, and my friend Amanjeet and I went, expectations (almost) in check. We both thought the long entrance hall was fun – it was filled with Janpath bazaar type stalls, a food stall selling pakoras, samosas and spicy scrambled eggs, stalls selling textiles and bangles, and talented musicians playing Indian classical music. There were lots of pretty girls dressed in harem pants and other sexy cross-cultural outfits (that you would never see in India) handing out drink tickets, which were actually 100 rupee notes. There was also some performance art: a couple of painters were creating a mural of elephants and three people were dressed and lit to look somewhat like stone temple carvings.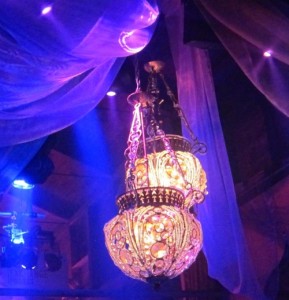 Inside, the cavernous room wasn't really decorated, though there were a couple of Indian-inspired chandeliers hanging from the ceiling, which was also hung with sheer fabric; and the stage featured two huge swan-like birds that I think were meant to be peacocks. It was hard to tell. I was a bit underwhelmed about the whole thing until Jalebee Cartel came on, and I realized that the centre point and highlight of the evening would probably be the music. They were very good, however, though they hail from Delhi, the music sounded North American to me. The band that followed were not remotely Indian. On either side of the stage, belly dancers were gyrating to the club beat — and again, they were very entertaining, but it didn't look like Indian dancing to me.
The atmosphere was upbeat, the ambiance very chilled, and the average age ranged older than I expected. This was a club party and India just provided some decor and novelty distractions. There's nothing wrong with that of course, but some of my desi friends were a bit confused. One said, "It's very jalu," which is Hindi for thrown together in a haphazard way. It's not a compliment. My main complaint was that the concrete floor was cold beneath my Janpath-bought beaded slippers, and there was nowhere to sit and enjoy the ambiance.
Meeting a maharaja
Another recent event, the opening gala of the Maharaja: Splendour of India's Royal Courts exhibit, was also India-themed of course. It was a spectacular event, with every detail meticulously planned, from the rose-petal strewn steps to the warm lighting; and from the pink-and-gold table decor to the sweet-lime-sodas. But someone on Twitter the next day said it looked like Mexicali-Indian decor, and some of the guests seemed to be in costume. We were especially puzzled by some men who looked like King Henry VIII's courtiers, with gaudy turbans. My desi friends and I were wondering if they were making fun of India. "It's maharaja, not Bollywood," one friend said.
The highlight of the evening for me was meeting a real Maharaja and his wife, Y.S.  Mandhatasinghji of Rajkot. They were lovely people, very friendly and gracious, and my friend, photographer Amanjeet Chauhan and I, had the privilege of chatting with them for quite some time. We both felt we had their undivided attention, which is an exceptional experience in this day and age. We talked about their home state Gujurat — which I am hoping to visit, so perhaps we will meet again.
Joy to the world
My third recent dress-up event was the annual gala dinner for the Indo-Canada Chamber of Commerce. This was organized by Indo-Canadians, and it was a fun, elegant event, extremely well-organized by the ICCC and Royal Blue Events. The most notable thing about the evening for me was the dancing. As soon as the Bollywood dancers finished performing, they rushed into the audience and grabbed people to dance with them. I braced myself for some awkward moments — as Canadians tend to be reserved about this kind of thing — but almost the entire room rushed up to the floor to dance. Everyone danced exuberantly, especially the Punjabis of course, and especially when bhangra music was playing.
What I noticed was the joy. The young and the old, friends and strangers, everyone  was dancing joyfully and unselfconsciously. No one needed to get drunk to dance, and people danced with each other, they didn't huddle in cliques. It was really fun, and as one of the only non-Indian people there, I felt totally comfortable. I could have danced all night!
If you don't get the joy, you don't get the culture.
And I think that's the difference for me. You can dress up a room, or your person, in India-inspired textiles; serve Indian food; play Indian music; do yoga, whatever — but if you don't get the joy, you don't get the culture. And I notice a lot of people don't get it.
India has suddenly become very trendy, so many people who don't really know the country or the culture are relying on perceptions and often misperceptions about what it's really like. It seems that culture is just one more commodity, and India's culture is a hot commodity right now.
I'm not saying there's anything wrong with this, I just find the longer my close acquaintance with India grows, the more I want to really know the people, the place, the philosophies and mythologies and all the other things that make up a culture. I think this is the most respectful attitude you can have towards a culture — wanting to know what it's really like, rather than what you think it's really like.
In the meantime, there will always be people who are only interested in the fashion of the moment, and who are content with the window-dressing version of a culture. And culture jamming, and cultural mash-ups, will continue to evolve as the world really does move towards becoming a global village. Indians drinking Johnnie Walker, Canadians doing yoga and the like.
I just hope India's beautiful culture and traditional ways don't get completely swamped by the west's unrelenting push towards global cultural domination.