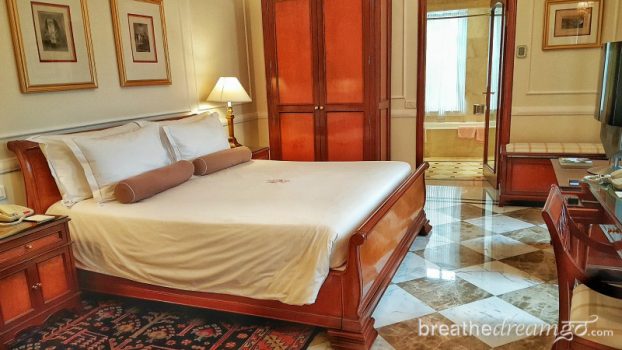 Have you ever been to a hotel that enchanted you? That enveloped you in an atmosphere completely apart from the world you left behind? That made you feel like a different version of yourself? That's how I feel about The Imperial Hotel in Delhi, India. When I walk through the door, flanked by robust men wearing scarlet braid on their jackets and fantastic turbans, I feel different. I feel like the storybook version of me.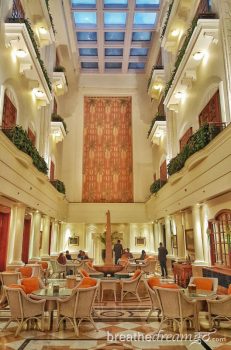 The Atrium lounge
The Imperial Hotel's elegant Art Deco-inspired architecture, sprawling green lawns and glamorous palm trees exemplify a bygone era. It's an integral part of the planned city of New Delhi, built by the British Raj between 1912 and 1931. This is the commercial and political centre of Delhi, where wide leafy boulevards, white colonnaded buildings and symbols of power predominate.
The Imperial is my favourite hotel in Delhi because of its unique combination of historical significance, luxurious elegance and abundance of recreational and fine dining options. Here are my top 8 reasons to love The Imperial Hotel.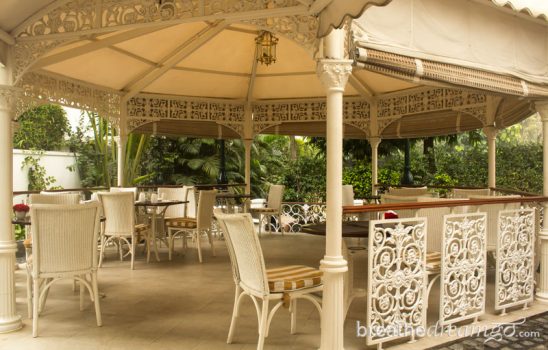 Outdoor fine dining at The Imperial Hotel
A Jewel in the Crown
In 1911, King George V declared that the capital of India — the British Raj's "Jewel in the Crown" — would move from Calcutta to Delhi. A year later, British architect Sir Edwin Lutyens and a huge team began work on the planned city. Villages were razed and hills flattened in a 26-square kilometre area south of Old Delhi. It was here that Lutyens laid out his vision, underscored with both mathematical precision and imperial splendour. It took 18 years to complete, and was finished in 1931. India won her independence in 1947, which means the British had only 16 years to enjoy the opulent new capital.
The Imperial was part of Lutyens vision, and from opening in 1936, it was THE hotel in New Delhi, and the Garden Room restaurant was THE place to see and be seen. The Imperial has played host to many royals, heads of state and important events, but perhaps none so momentous as the partition talks leading up to India's independence. Gandhi, Mountbatten, Nehru and Jinnah met in The Imperial ballroom, and what is now the 1911 Restaurant, to decide the fate of modern India.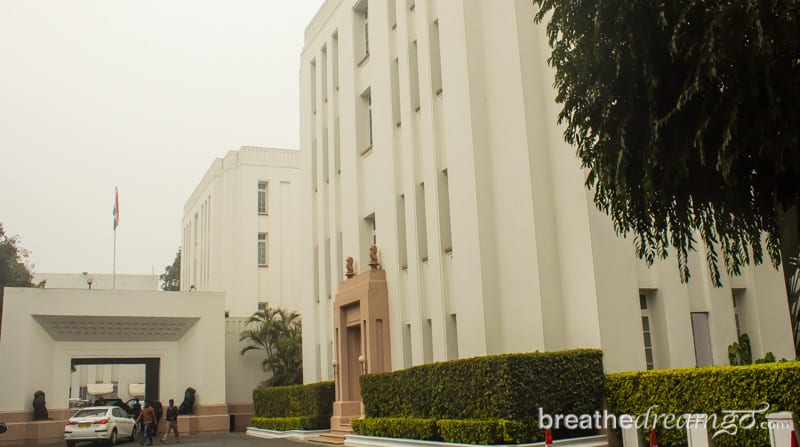 Art Deco entrance to The Imperial Hotel
Art Gallery, Museum and Hotel in One
The Imperial was built by Sardar Bahadur Ranjit Singh, one of the contractors who worked to build New Delhi. Singh was a passionate collector of art and memorabilia, and the hotel opened with an art gallery on the premises. Today, two of Singh's grandsons own and run the hotel, which was closed for refurbishment from 1996 to 2002.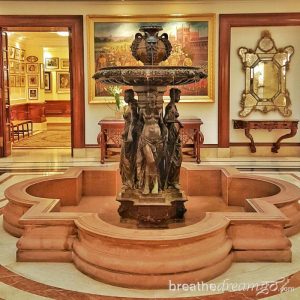 Statue fountain at The Imperial Hotel
The Imperial re-opened 14 years ago as both a gleaming five-star hotel and a living piece of modern Indian history. The entire hotel is decorated with the family's priceless collection of art, artifacts, historical photos, statues, memorabilia and more — more than 5,000 pieces on display.
While I was at the hotel, I was taken on an art tour. I walked up and down long corridors lined with works from the late 17th century to the mid 20th, most from the perspective of the British in India. There's also a huge collection of military awards and decorations, and orders bestowed by the King, the Emperor of India to the Princely Rulers of India.
I would recommend going to The Imperial for tea and taking an art tour. It's a great way to spend an afternoon in Delhi, soaking up the atmosphere and the history while getting a respite from the chaos of the city. When in India, you sometimes need to escape to peaceful sanctuaries, and The Imperial is ideal.
The Eliza Floor For Women Only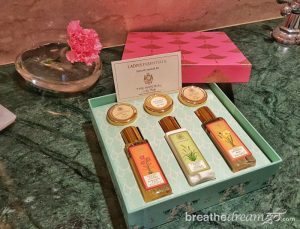 Loved the Forest Essentials gift box
I had the pleasure of staying overnight at The Imperial, and I was booked into a room on the Eliza floor. This corridor is for women only and caters to solo female travellers. My room was gorgeous, with a comfortable king sized bed, large windows overlooking the garden, a soaker tub in the bathroom and all kinds of special amenities.
From a CCTV screen that showed me the hallway to a pink silk robe and a box of Forest Essentials products, staying in the Eliza corridor made me feel special, and cared for. They hit the sweet spot of fun and glamorous that you want in a five-star hotel.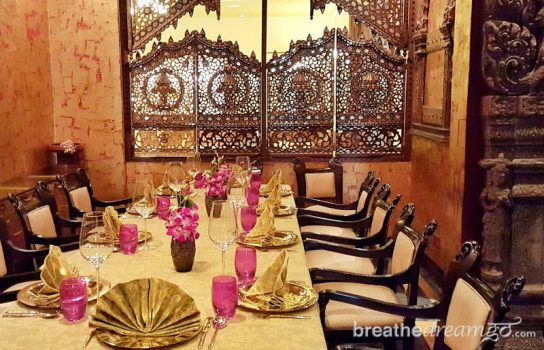 The gold room, Spice Route restaurant
World's Most Beautiful Restaurant
Often voted one of the world's most beautiful restaurants, Spice Route is a very special place. The stunning interior is decorated with temple art from South India and covered in murals that took more than seven years to complete. The artifacts and paintings represent the journey of life, and each section of the restaurant embodies a life stage.
The cuisine also represents a journey — a journey along the spice route of south and south-east Asia. I ate Som Thum Chae (papaya salad) from Thailand and Malu Thel Dhala (spicy fish) from Sri Lanka, with fresh tender coconut water followed by Carmen Dua (coconut flavoured creme caramel) from Vietnam.
This is the place to go for a very special occasion lunch or dinner.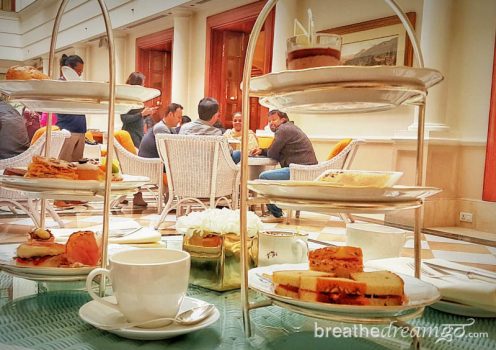 High tea in the Atrium Lounge
High Tea: A Divine Interlude
I'm crazy for tea and High Tea is truly my idea of decadence. The light-filled Atrium Lounge is the perfect locale for enjoying this most British pastime. With white wicker furniture and potted ferns, it's like walking into an Edwardian era painting.
I ran a social media contest to have High Tea at The Imperial with a reader and was delighted that Christine won — she publishes a blog called Delhi Diary. We chatted, drank very fine tea — I had a rich Assam Golden Tips — and ate cakes and patisseries off three-tiered trays. The Imperial was able to provide me with a gluten-free version that contained treats that were delicious and hit the spot such as chocolate mousse and crème caramel. Definitely the best tea lounge in Delhi.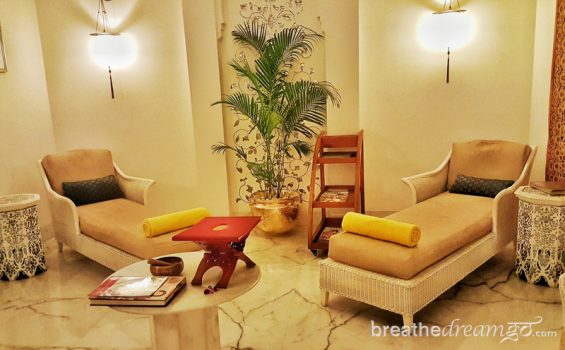 Divine divans at The Imperial Salon and Spa
An Imperial Spa Journey
My stay at The Imperial included a visit to the full-service spa for a massage. The decor of The Imperial Spa and Salon is inspired by the Taj Mahal: elegant, white marble opulence with inlaid design work, fountains, carved screens. The women's change room includes a beautiful whirlpool and sauna. I had the 90-minute Imperial Depth massage and chose an aromatherapy oil called Meerabai — by chance a blend of rose and sandalwood, my two favourite scents. It was very relaxing and apparently a great "jet lag buster." Afterwards I was invited to relax on a divan while served herbal tea and a tray of healthy snacks such as cashews and dates.
The Imperial has many leisure, recreational and spa options available, for guests only, including an outdoor swimming pool, squash courts, yoga, pilates and a wide range of salon services. You can even have a wellness retreat at The Imperial or Ayurvedic treatments.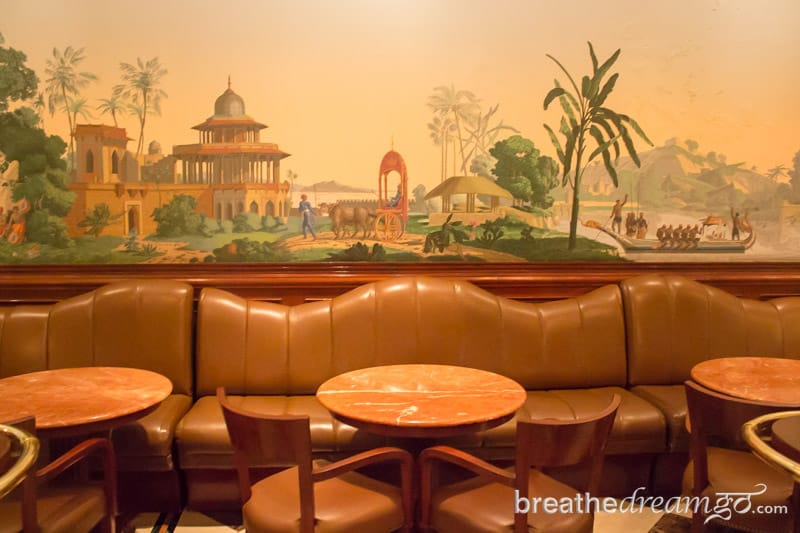 In the 1911 bar…
Retro Dining at Nostalgia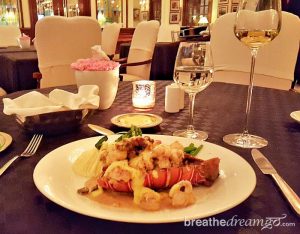 Lobster Thermidor
The social heart of The Imperial is the 1911 restaurant and bar (named after the year of the magnificent Delhi Durbar during which King George V proclaimed Delhi to be the new capital of India). I had breakfast in 1911, and was impressed by a huge selection that included gluten-free bread and lots of healthy options — as well as the standard hearty breakfast choices.
But it was my evening meal in 1911 that was truly memorable. At night, the room is transformed into Nostalgia, and recreates a classic French restaurant from the 1950s. It really was like stepping back in time as my waiter set up a station to make me Lobster Thermidor, with Frank Sintara tunes playing in the background. They also make Crepes Suzettes and other flambéed showstoppers.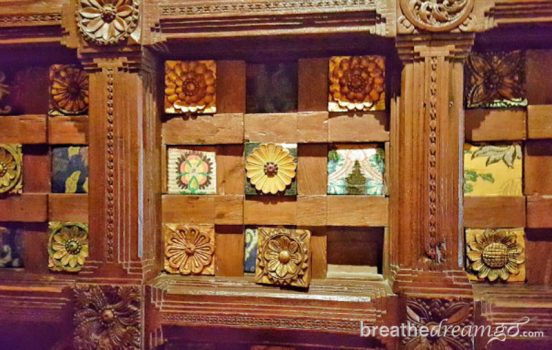 The wall of destiny at Spice Route
Magical Moments at The Imperial
The Imperial is the kind of place where magic happens. When I was having a tour of the Spice Route restaurant, we came to a wall of block images that represent destiny. Rohit, my restaurant guide (and a wonderful storyteller), said that only 11 of the hundreds of blocks on the wall can actually can be taken out, demonstrating we have some control over our destiny. He picked one out and said it's the only loose one he has ever found. Without thinking, I went directly for another one, and it came out immediately. We both stopped breathing for a second and had to pick our jaws off the floor.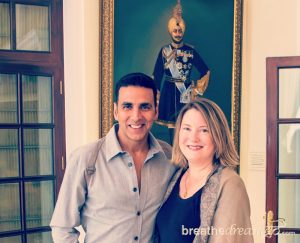 With Akshay Kumar
Later, I learned that Bollywood star Akshay Kumar was at the hotel for an event and I asked his publicist if I could meet him. Luckily for me, she said yes, and I spent about five minutes chatting with him. I've met my share of Bollywood stars but this guy is special. Akshay Kumar is a genuine, down-to-earth nice guy … plus he loves Canada. He owns a house in Oakville and has many friends there. It was very nice of him to take time out from promoting his new movie "Airlift" to meet me. Consider me smitten.
These were just a couple of magical moments from my stay at The Imperial Hotel. Thanks so much to Ruchi, Aparupa, Rohit and everyone else who made my complimentary stay such a wonderful experience.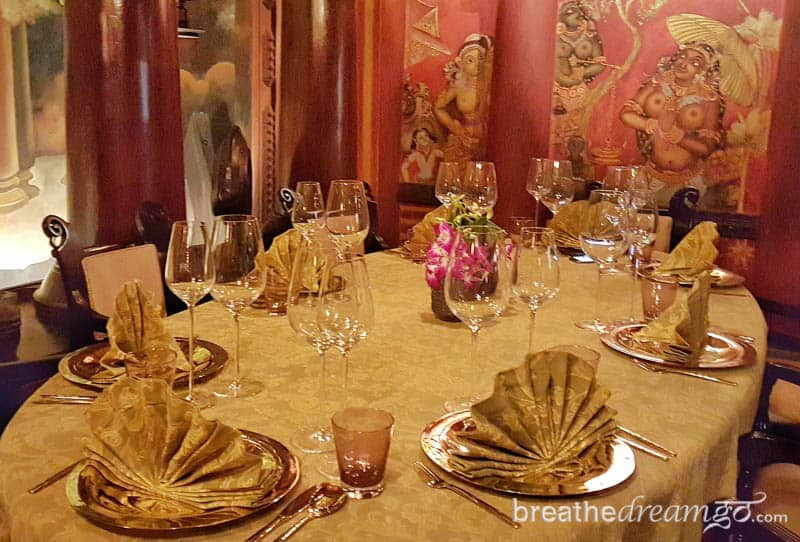 The Spice Route Restaurant is truly a work of art!!