Japanese cuisine has become one of our staple favorites and we get especially excited when we find a restaurant that serves compelling dishes aside from just sushi and sashimi. So we decided to celebrate a birthday at the Houston outpost of Uchi.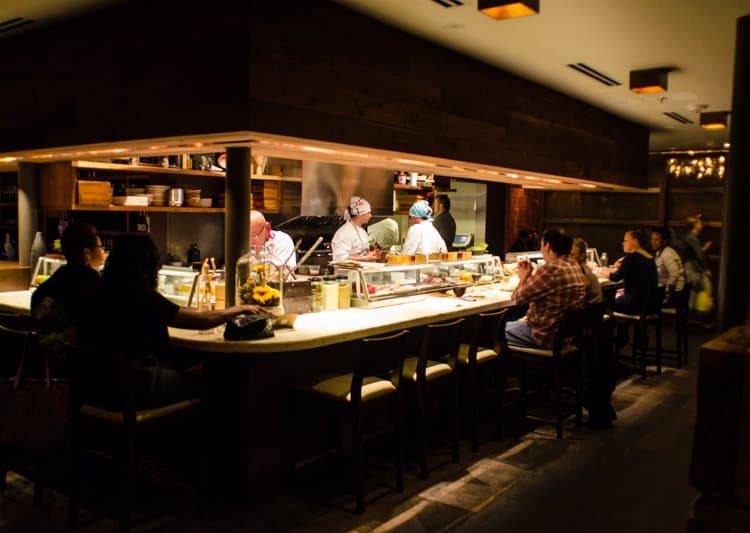 I should note that most of the exciting restaurant action in the Houston metro area takes place downtown or close nearby. We live a bit further out in the Energy Corridor, so when we want to get out and have a few drinks, we have to hire a taxi. We've been looking into some Houston hotels over that way so we can make more of a night of it and have fewer miles to trek home afterwards when we want to go out and celebrate a special occasion.
Uchi was worth the journey, however, with friendly service and a huge menu of inventive dishes. We began with Uchi's answer to nachos, Machi Cure. We ate this smoked baby yellowtail, yucca crisp, marcona almond, asian pear and garlic brittle concoction with our hands. The yucca crisps had a buttery, almost bacon flavor and the cool, succulent yellowtail complemented it perfectly, a sweet and salty delight that was the perfect start to our meal.
After that came the Komorebi, with dayboat scallops, potato, tomato and a quail egg. We loved the large, juicy scallops (John's favorite!) with tiny potatoes and a runny, delicious quail egg.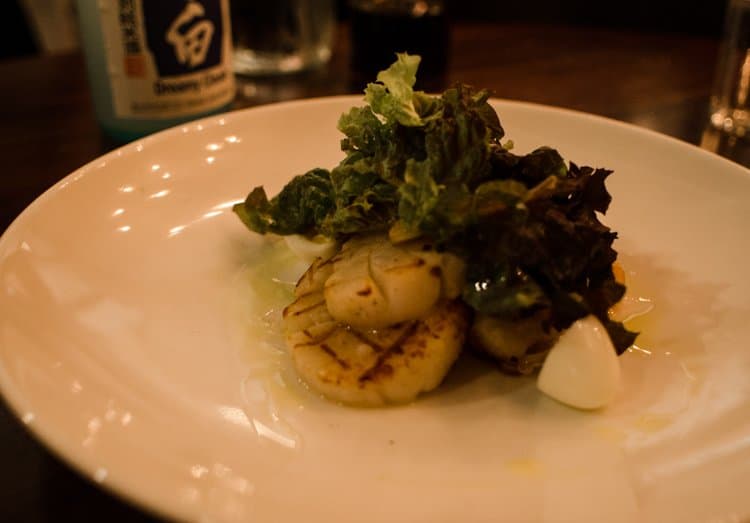 Next up was Yokai Berry, with little morsels of Atlantic salmon, crisp fried dinosaur kale, Asian pear and yuzu. I've been obsessed with deep fried, crispy kale since first trying it at Fathom in Bar Harbor, Maine so I was delighted to see it appear on our table, slid in between pieces of delicious fresh salmon, sweet pears and tiny berries.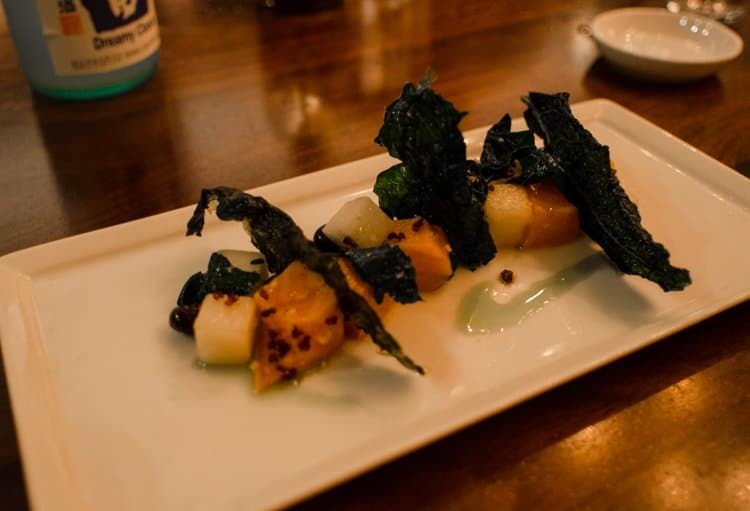 Our last dish before the sushi rolls was the Bacon Tataki, which was composed of pork belly, black lime, cilantro, scallion and an espresso fish caramel. Who can resist pork belly on a menu? These generous chunks melted in our mouths and the only wish we had for this plate was more of the incredible sauce.
Our Mustang roll was the first one to arrive, filled with freshwater eel, yellowtail, tobiko and avocado. Served with a generous helping of eel sauce for dipping, this is just the way I like my sushi rolls: simple, small and with my favorite kinds of seafood rolled inside.
This was followed by Uchi's California roll, with krab, avocado and cucumber. We made a mistake here and didn't specify that we wanted the more expensive version, which is made with snow crab. This roll was nice but I'm sure we would have preferred the snow crab.
The desserts at Uchi are as delicious as they look and so beautifully presented. We ordered the Lime Ash Sorbet with chocolate croquant, meringue and kefir lime, as well as the Peanut-butter Semifreddo, served with apple-miso sorbet. I'm not sure if they did this because of John's birthday or they read my mind as I tossed between the lime ash and the lemon gelato, but when the desserts came out the Lemon Gelato with pistachios and white balsamic was with them, on the house. Every bite of these treats was heaven.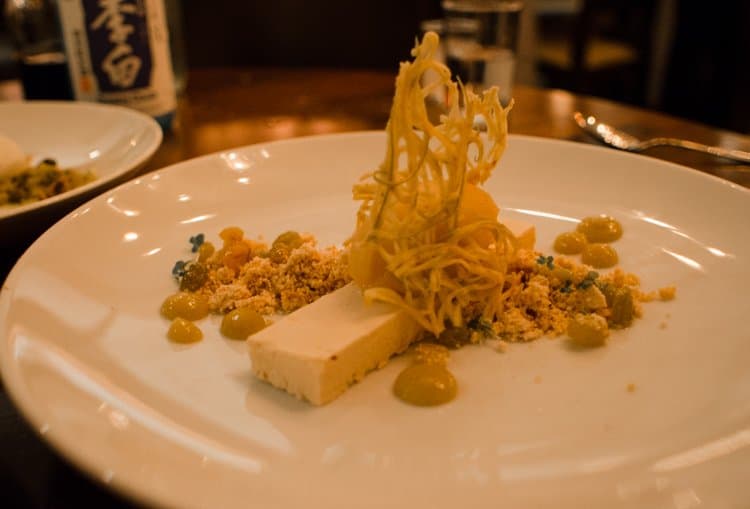 John and I are huge Nobu fans and I think the rule we always have when we dine there applies to Uchi as well. The sushi rolls are delicious but I think there are so many incredible things on the rest of the menu to try that we never get sushi at these places. After all, one can find sushi rolls at any other Japanese restaurant. What Uchi is doing with their inventive cold and hot plates makes those dishes worthy of trying as many as you have room for. An exception here would be the fresh sashimi selections shipped to them directly from Japan and sold in limited quantities at the top of the specials menu. We missed out on those but were definitely intrigued.