If Morocco is on your travel agenda, first of all, it should be and secondly, if it already is, make sure that Marrakech is on your itinerary. These eight restaurants should make it onto your to-do list.  While dining out is certainly about the food, in Marrakech it's also about the scene: after all, this city is the vacation playground for the fashion set. Hit up all of these spots for a well-rounded mix of tasty cuisine and glitzy nightlife.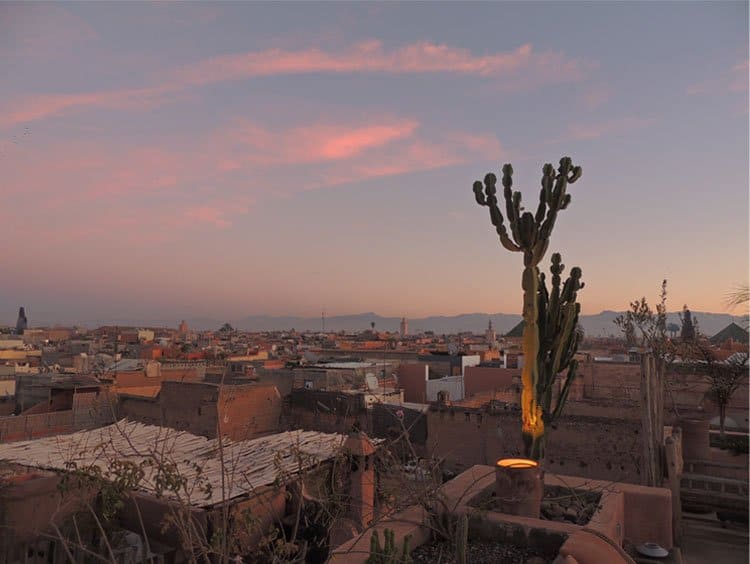 Le Comptoir Darna
Walking into Le Comptoir was like stepping into another world: beautiful people gathered around the bar and a smoky haze filled the air, while belly dancers moved wildly on the actual tables while people were eating. Make reservations well in advance for a prime time dinner at Le Comptoir, and prepare to splurge in exchange for a spectacle. This lounge slash restaurant is a staple of the city's scene. It's not the newest or the hippest, but Le Comptoir certainly can't be missed. (Avenue Echouhada, +212 5244-37702)
Bo-Zin
This stylish hotspot in the new city of Marrakech is another good place to get your night started. The food is a fusion of Moroccan, French and Asian-inspired cuisine, although the restaurant is more of a trendy nightlife destination than a place for serious foodies. As the night goes on, Bo-Zin gets livelier so err on the later side when making reservations. Don't be surprised by loud dance music and a general celebratory atmosphere. (012Douar Lahna, Route de l'Ourika 3,5 Km, +212 (0) 524 388 )
Kafe Fnaque Berbere
Escape from the souks to this French-owned café above a Berber bookstore in the medina. They offer WiFi, an affordably priced menu of simple French and Moroccan dishes, and coffee. You can choose to dine inside on the comfy wrap around couch or on the rooftop overlooking the bustling souks. As it was down the street from my hostel, this café was my favorite place to get coffee and use the Internet to plan the day's adventure. The friendly atmosphere also makes meeting and chatting with other travelers easy, and they serve iced espresso, a real treat on a hot day. (Derb Ksour, Medina, +212 649-583165)

Kechmara
The new city of Marrakech seems like it's reserved just for the glamorous elite, so I was thrilled to discover this hipster-esque gem. After eating Moroccan food for a week, I couldn't have been more excited to take a big bite of a burger. And what a delicious burger it was! During my stay in Marrakech I became a repeat customer at Kechmara. I couldn't get enough of the contemporary French bistro menu with an American twist, the small plates for sharing and the cocktails. In warm weather, they also have a lovely rooftop terrace. (3 rue de la liberté – guéliz, + 212-524-422532)
Azar
Owned by the same folks as Le Comptoir, newer restaurant Azar also offers a show with dinner. The menu consists of Mediterranean food with Moroccan and Asian influences. So you can enjoy hummus and falafel, as well as traditional Moroccan pastilla and a more modern artichoke & scallops tart. Unlike many other scene-y restaurants in Marrakech, the food at Azar is actually delicious. (Rue de Yougoslavie (côté boulevard Hassan II) Guéliz, +212 524-430920)
Dar Moha
If you are planning to eat a traditional Moroccan meal at a restaurant, Dar Moha is the place to do it. Set in a beautiful old Moroccan home, once owned by fashion icon Pierre Balmain, this restaurant offers poolside dining in the garden or indoor tables in the richly decorated dining room. I would recommend starting off with the small plates appetizer, where you can get an array of tiny, bite-size dishes to share. It was fun to try so many new things without having to commit to a whole dish. For an entrée, I had the Seffa Medfouna, a Morooccan dish of steamed vermicelli mixed with meat and sweetened with raisins, cinnamn, almonds and powdered sugar. (81 rue Dar el Bacha, +212 5243-86400)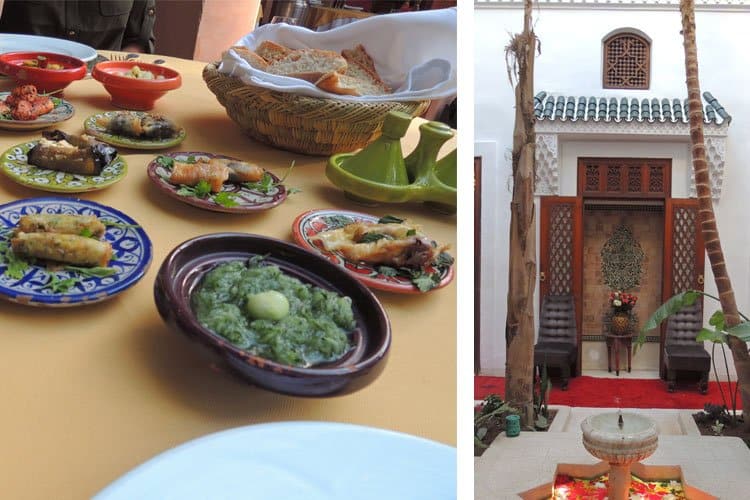 Café Henna
A short walk from Dar Moha, Café Henna is a small and casual rooftop café serving an extensive tea menu along with hummus, Moroccan salads, sandwiches and falafel. The café also offers safe, reputable henna tattoos (done right at your table!) and serves as a community center, providing free education such as English lessons to locals. I made it a point to stop by as I thought their mission to educate and employ locals was fantastic, and was pleasantly surprised that the food was also quite good. (Arset Aouzal Rd, +212 658-028697)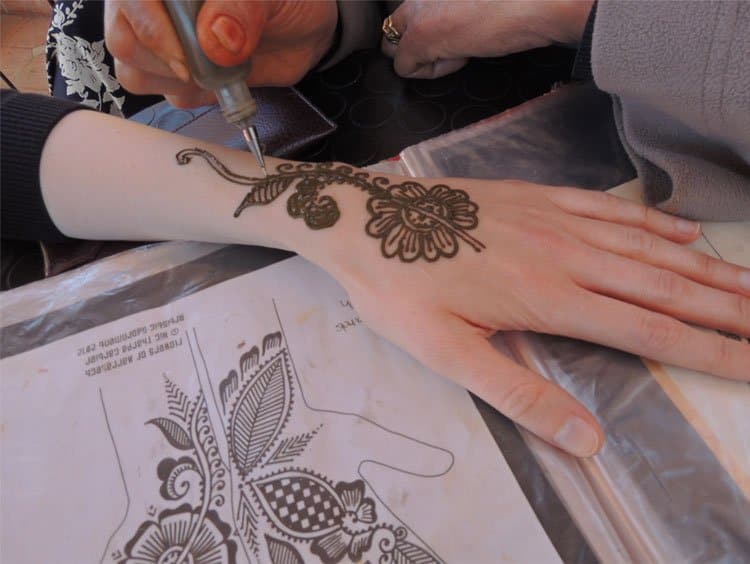 Terrasse Des Epices
This stylish café is another laid back spot, where you can escape from the madness of the medina for a bit of calm. Go for lunch and enjoy the sun, or make it a destination for watching the sunset from the rooftop. The food is reasonably priced but just OK – the real reason to come here is the view. It's the ideal place to relax with a freshly squeezed juice after a long day of haggling! (15, souk Cherifia. Sidi Abdelaziz. Médina, +212 5243-75904)
Contributed by guest post writer Anna Rice, the writer behind The Blonde Banana.