Gyoza is traditionally a Chinese food but it has become a favorite in Japanese restaurants throughout Japan. There are countless versions of gyoza, such as seafood, chicken, pork, beef or aibikuniku (mix of beef and pork) and vegetarian. I went to a "Gyoza Stadium" in Japan, (a food theme park) that had about 10-15 stands serving their take on gyoza. The most common food theme parks that I've seen are ramen and cakes.
There are many versions of gyoza but the aibikiniku cabbage recipe is my favorite. Gyoza is a little time consuming because you have to wrap each one but the great thing is that it freezes well and you can pop them out of the freezer and fry them up in minutes. The actual recipe is also very easy, but the wrappers can be a little tricky so I posted a video on how to wrap them.
This recipe is based on using up a package of gyoza wrappers. I'll post other recipes on how to use your left over gyoza filling or wrappers in the future.
Gyoza Filling Ingredients
3 cups of chopped cabbage (approx. 1/3 of a medium cabbage)
527 grams (approx. 1 lb) of ground beef
226 grams (approx. 0.5 lb) of ground pork
1/2 cup of chopped green onions (approx 4)
1/4 teaspoon of black pepper
1 teaspoon of grated garlic
1 + 1/4 teaspoon of grated ginger
1 teaspoon of sea salt, less if you use iodized salt
1 teaspoon of sesame seed oil
1 package of gyoza wrappers (there are approx. 54 wrappers per pack)
*Filling ingredients are the perfect amount for a pack of gyoza wrappers.(Makes 54)
Frying Ingredients (5-10 at a time)
The flour mixture should be measured with accuracy. I've tested this recipe many times testing the amount of flour by 1/4 teaspoon increments and there is a big difference if you don't get this right.
1+1/2 teaspoon of sesame seed oil
3 tablespoons of water
1 + 1/4 teaspoon of flour
Sauce Ingredients (for 10 gyoza)
2 teaspoons of rice vinegar
1 teaspoon of soy sauce
a few drops of La-yu (chili oil) or sesame seed oil
Directions
1) Chop up the cabbage into small pieces.You can use a food processor but I prefer to cut it by hand.
2) Add the meat and the rest of the ingredients and mix well with your hands.
3) Use your index finger to line the edge of the gyoza wrapper with water.
4) Put a small spoonful of gyoza filling into the center of the wrapper and fold closed. Watch video of this step here.
5) Mix the water and flour for the special "frying ingredient."
6) Heat a thick frying pan until it's super hot.
7) Add the sesame seed oil and the gyoza immediately. Turn the heat to med-low so it doesn't burn and wait until the bottom is golden brown.
8) Give the flour-water mix a swirl and add it to the pan and immediately cover. Cook for 1-1.5 minutes. (2-4 min if the gyoza is frozen but turn down the heat to low.)
9) Take off the cover and allow the four water mixture to turn into a crusty crust. This may take about 1-2 minutes.
10) Once the crust gets toasty it should release from the pan and the gyoza should come off the pan with the crusty bottom.
11) Serve upside down to show off the crust.
Chop the cabbage in thin slices.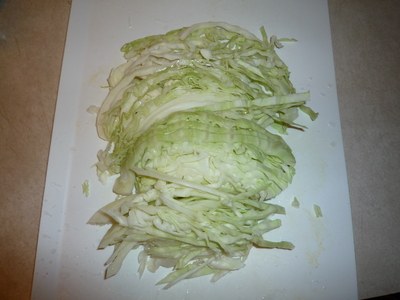 Turn it again and then chop into smaller pieces.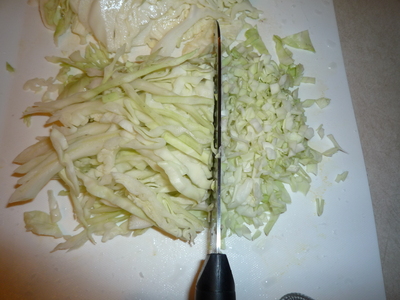 Run your knife through all the cabbage until you have small pieces.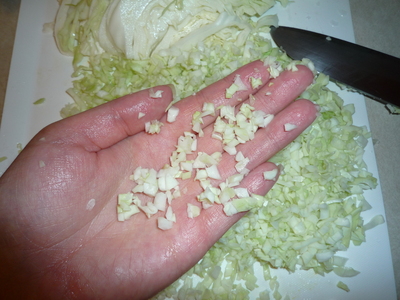 All ingredients go into the bowl.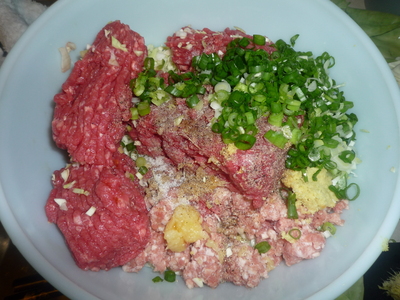 Mix well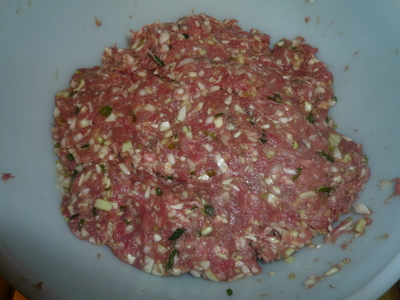 Japanese gyoza wrappers in the US come packed like this.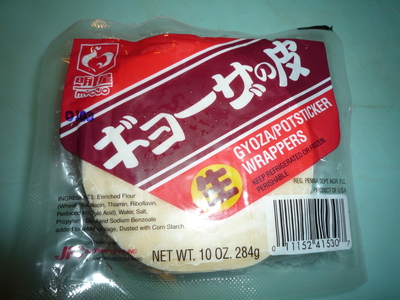 Use your index finger to line the edge of the wrapper with water.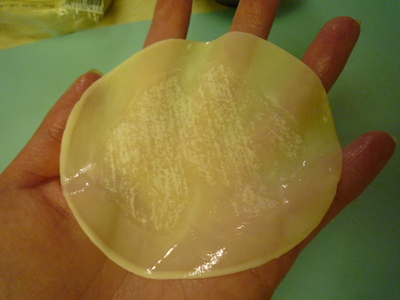 Make a neat little mound of gyoza stuffing and place it on the middle.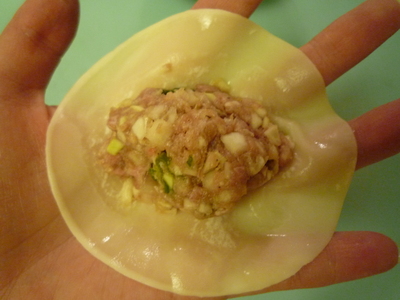 Wrap the gyoza. Front view.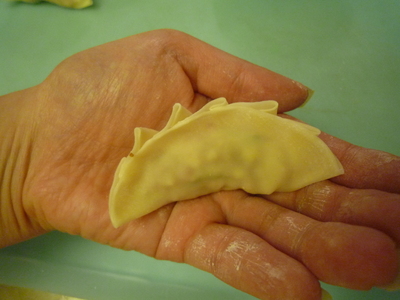 Wrap the gyoza. Back view.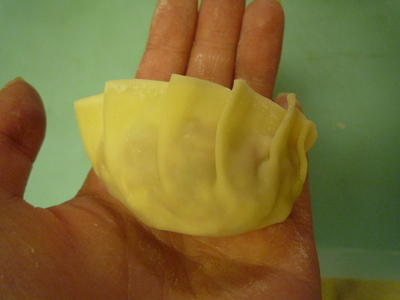 Gyoza no gyoretsu.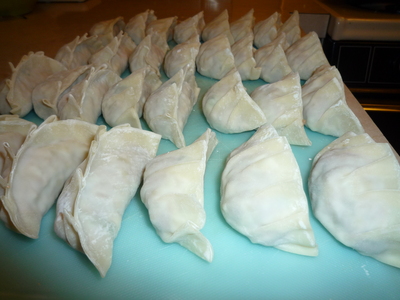 Wrap the left overs in plastic wrap. (5 at a time)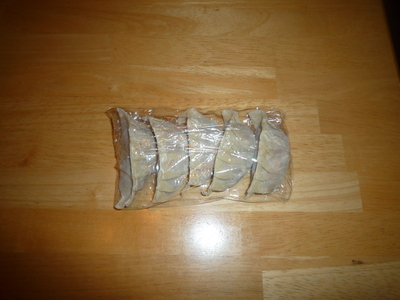 Put in a ziplock bag and into the freezer.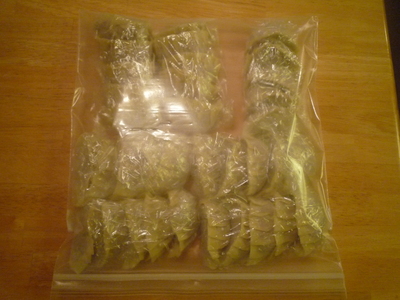 Fry the gyoza in a hot pan. Add sesame seed oil when hot and then put the gyoza in.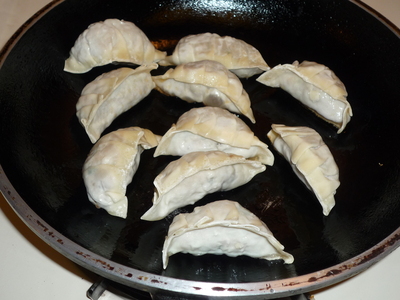 Fry until the bottom of the gyoza is golden brown.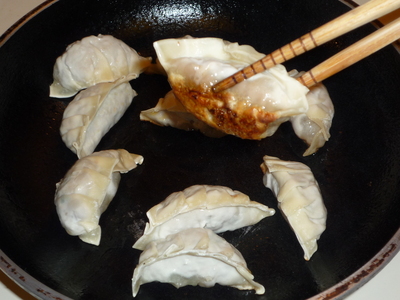 Add the flour mixture and cover with lid.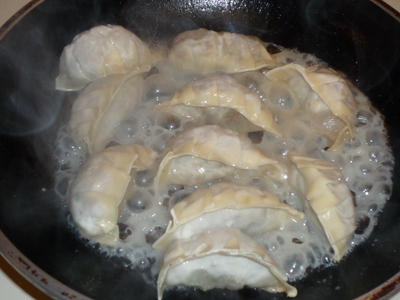 Cover with a lid immediately and cook for 1 min and 30 seconds if fresh.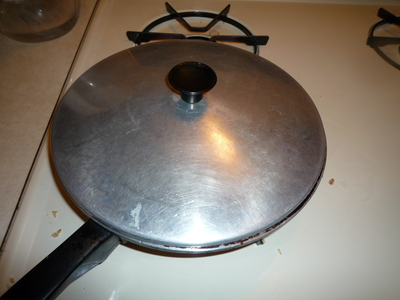 Take lid off and continue to fry for about 1-2 minutes or until the flour mixture is crispy.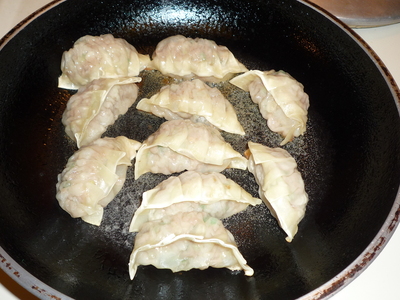 Gyoza served upside down.They are usually stuck together.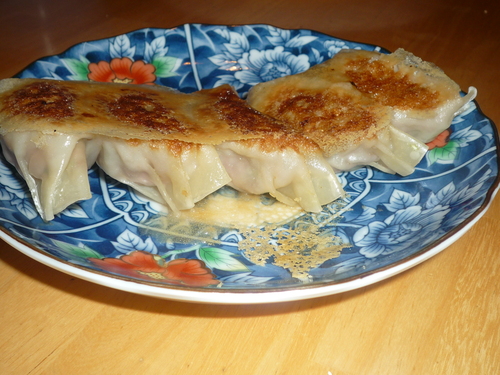 Try these gyoza with Pancetta fried rice and noodle soup.