This recipe is similar to Wafū Pasta 1 except it has a nutty aroma from the toasted shirasu (a general term used for baby fish that are still white such as baby sardines and baby anchovies), and the sesame seed oil. As I mentioned in the Wafū Pasta 1 post, Wafū (pronounced wafoo) means Japanese-style. You'll often find Japanese-style Western dishes in Japan. If you're tired of your regular old pasta, give this a try!
Ingredients Servings 2
4-5 shiso leaves
1/4 cup of fresh or frozen shirasu
1/2 tablespoon of sesame seed oil
1 tablespoon of minced garlic
1/2 tablespoon of vegetable oil
275 grams of spaghetti
3/4 teaspoon of salt
1/4 teaspoon of coarse black pepper
1/4 teaspoon of kombu cha (optional)
3 tablespoons of pasta water
extra sesame seed oil to drizzle on top
Directions
1) Boil water and cook pasta.
2) Wash and cut the shiso chiffonade.
3) Thaw out shirasu if frozen.
4) Heat up a frying pan and add the sesame seed oil.
5) Stir fry the shirasu until they start to turn a tan color. You'll know they are ready because they will start to pop in the pan, plus they'll smell delicious. When the shirasu is done, take them out of the pan and set aside.
6) Heat up the frying pan again, this time add the vegetable oil.
7) Add the minced garlic to the pan and stir fry about 10 seconds.
8) Add the pasta to the pan and continue to stir fry. Add the shirasu, black pepper, salt, pasta water and kombu cha if you have any.
9) Serve on a plate and top with shiso. Last but not least, drizzle some sesame seed oil on top. This is key!
10) Mix in the shiso and eat immediately.
Cut the shiso chiffonade.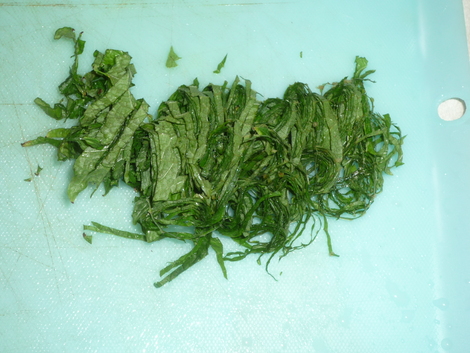 Shirasu comes packaged frozen, dried or fresh. The fresh and frozen ones come in packages like this.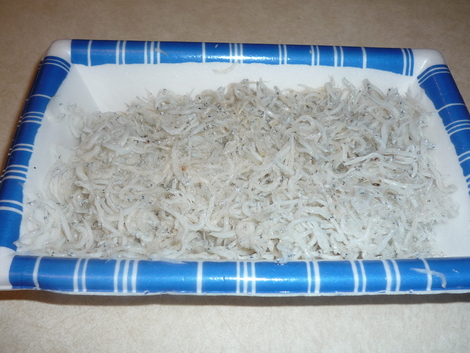 Mince about 1 tablespoon of garlic.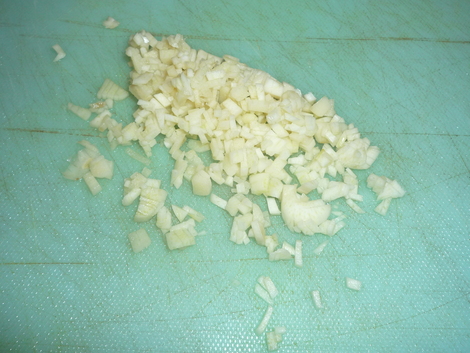 Add the shirasu to a hot pan with sesame seed oil.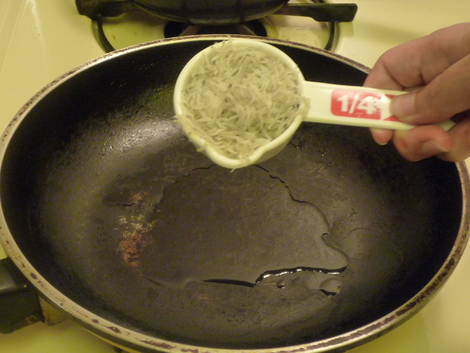 Toast the shirasu until they are starting to get golden brown and they start to pop in the pan.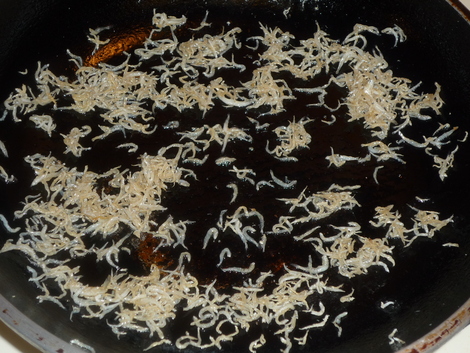 Stir fry the garlic in vegetable oil.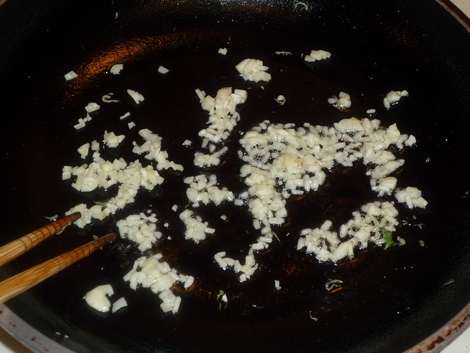 Add the pasta and then the shirasu, salt, pepper, kombu cha and pasta water.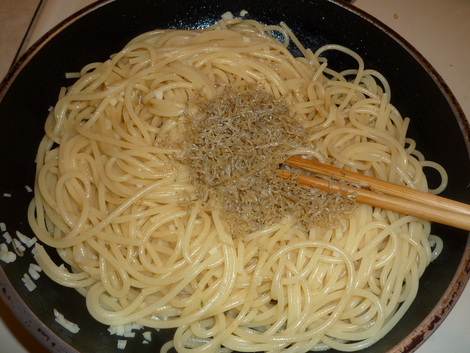 Wafū Pasta 2 served and ready to be eaten.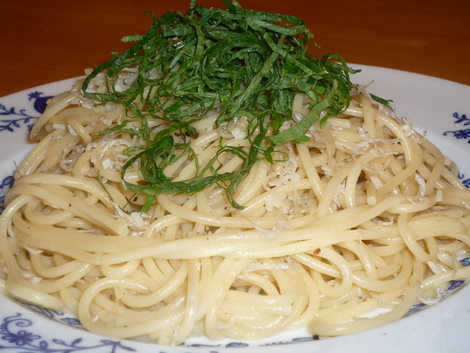 Eating Wafū Pasta with waribashi (disposable chopsticks) for no slipping action.