It's the holiday season and as we all know it also means we're packing on the pounds. I think I heard that the average American gains 5 pounds over the holidays. In an effort to keep it below three, I've been working on even more healthier meals. I'm starting with the daikon with chirimen jyako which was a recipe that I happened upon when I was trying to use up some leftover daikon one day. The key to this recipe is the mayo. It adds a touch of creaminess but it's not overly rich. Without the mayo it would taste like the daikon in oden or furofuki daikon. The jyako and goma also adds texture and flavor to this dish. If you don't have jyako, tarako also works very well.
BAM 39: Teriyaki Chicken, Okara salad, Daikon with Chirimen jyako and Rice.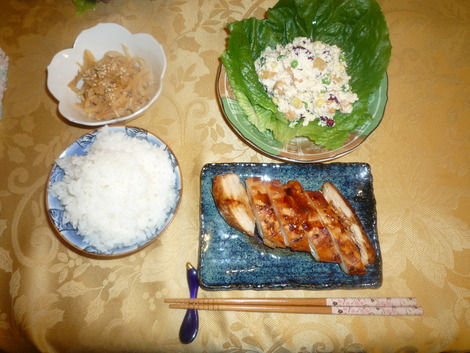 Ingredients (Servings 2)
Approx. 170 grams daikon
1 tsp. sesame seed oil
1 tbsp. chirimen jyako
2 tsp. soy sauce
1/2 tbsp. mayonnaise
Directions
1) Stir fry the chirimen jyako in the sesame seed oil until they are toasted and they take on a nutty flavor.
2) Add the daikon (cut in chunky julienne) until it's tender but still retains some firmness. Add the soy sauce and continue to stir until the sauce is incorporated.
3) Turn off the heat and mix in the mayonnaise.
4) Serve into bowls and top with sesame seeds.
Stir fry the jyako in sesame seed oil until it was nice and toasty.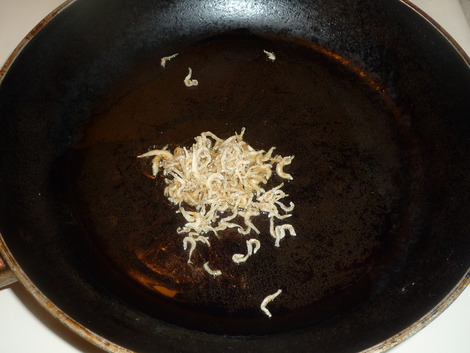 Add the daikon and soy sauce.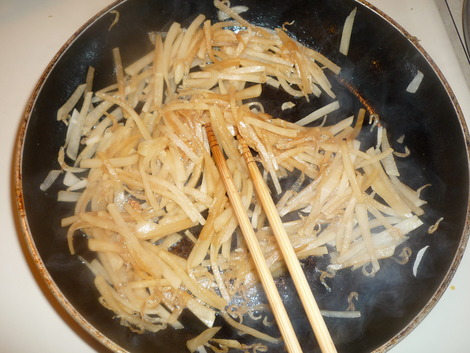 When it's done, turn off the heat and mix in the mayonnaise.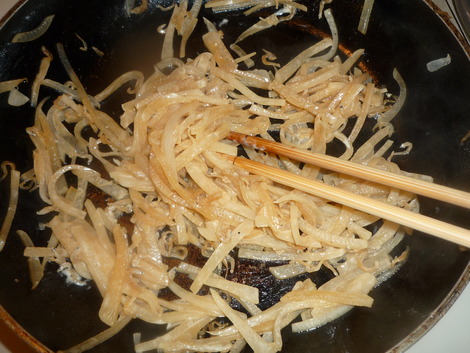 Serve into bowls and top with toasted sesame seeds.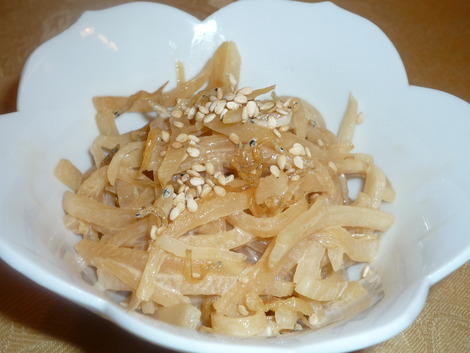 umamitopia.com: Authentic Japanese, CA fusion, French & Italian influenced recepies.