Suigyoza isn't that difficult to make but it does take some time to prepare, especially if you make the wrappers. The time is well worth it because the wrappers are tsuru tsuru puri puri. They have a slightly chewy consistency and are slippery from being boiled in water or soup. The leftovers are great because you can pop them out of a freezer and drop them into soup for a quick meal on the go. There are many ways you can enjoy suigyoza but first I'm starting with a recipe on how to make them.
This recipe is a basic recipe for gyoza filling. I posted a recipe for fried gyoza in the past which is very similar except I'm using nira (Chinese chives) instead of green onions. Either is fine but nira is commonly used in gyoza.
Note that if you make the wrappers, you should give yourself at least 3 hours to knead and let the dough rest.
Gyoza Filling Ingredients (approx 60-70 gyoza)
3 cups chopped cabbage (approx. 1/4 to 1/3 of a medium cabbage)
450 grams (approx. 1 lb) ground beef
226 grams (approx. 0.5 lb) ground pork
1/2 cup chopped nira (Chinese chives)
1/4 tsp. black pepper
1 tsp. grated garlic
1 + 1/4 tsp. of grated ginger
1 tsp. sea salt, less if you use iodized salt
1 tbsp. sesame seed oil
1 package of gyoza wrappers (there are approx. 54 wrappers per pack)
*Filling ingredients are the perfect amount for a pack of premade gyoza wrappers (approx. 50) however, I tend to put less filling in the gyoza when I make the wrappers so I would estimate you could make about 60-70.
*You can reduce the amount of filling if you're making the wrappers yourself but I also like to use the filling leftovers to make suffed mushrooms.
Filling Directions and Cooking
1) Chop up the cabbage into small pieces. You can use a food processor but I prefer to cut it by hand.
2) Add the meat and the rest of the ingredients and mix well with your hands.
3) Use your index finger to line the edge of the gyoza wrapper with water.
4) Put a small spoonful of gyoza filling into the center of the wrapper and fold closed.
5) To cook the suigyoza, boil directly into your soup or drop into boiling water. I recommend stirring them with chopsticks the first few minutes until they start to float so they don't stick to the bottom of the pot. If they are fresh, they should take approximately 3-4 minutes to cook and a little longer if they are frozen.
I have also seen other recipes that suggest that after the suigyoza start to float, add in a cup of water and allow the water boil and repeat a second time. This helps the wrapper get chewier. Or alternatively, you can pull out the gyoza once they start to float and put them in an ice bath and put them back in the pot and repeat once more.
Wrapper ingredients (makes 40)
300 grams of all purpose flour
160 ml water
1 tsp. salt
Wrapper Directions
1) Add the salt to the water and mix until the salt is dissolved.
2) Sift the flour and slowly incorporate the water into the flour. Save the last 5-10 ml of water until you're almost done mixing so you can get the flour to clear the sides of the bowl.
3) Start kneading on a clean surface until the dough starts to smooth out. (approx. 20 minutes)
4) Cover the dough with plastic wrap and let sit for 20 minutes.
5) The dough should be easier to knead now. Knead the dough again for about 15 minutes and cover and let rest again for 2 to 12 hours. There should be a noticeable difference in the dough after resting.
6) Cut the ball of dough in half and roll them out into two even elongated pieces.
7) Cut those pieces in half and roll them out again. (There should be 4 quarters rolled out.)
7) Cut each quarter into 10 pieces.
—Tips to making them perfectly round.-
8) Roll each piece into a ball using the palms of your hand.
9) Flatten it from the center of the ball of dough with the part of your palm closets to your wrist.
10) Use your fingers to stretch out the dough like pizza dough. The dough is pretty stretchy and shouldn't tear easily.
11) Use a rolling pin and turn the wrapper while lightly rolling it out to keep it circular.
*Additional tip: Set aside flour to use while flattening it out. Also use on the rolling pin as needed to keep the dough from sticking.
12) See the video above on how to fold the wrappers.
Sauce Ingredients (for 10 gyoza)
2 teaspoons of rice vinegar
1 teaspoon of soy sauce
a few drops of La-yu (chili oil) or sesame seed oil
Add the salt to the water and dissolve.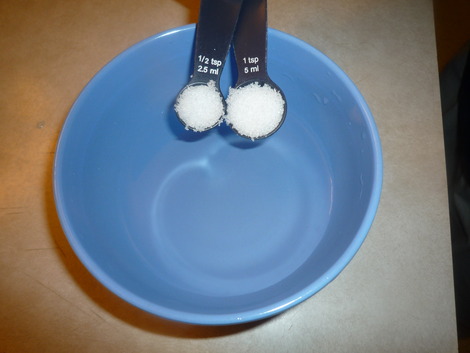 Sift the flour in a separate bowl.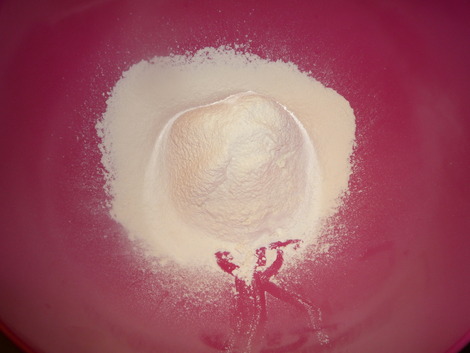 Add the water little by little to the flour.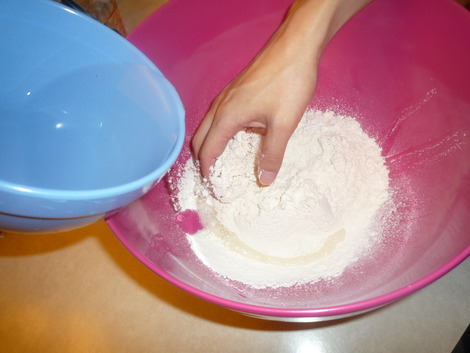 Mix the flour and water with your hands. Don't knead the dough.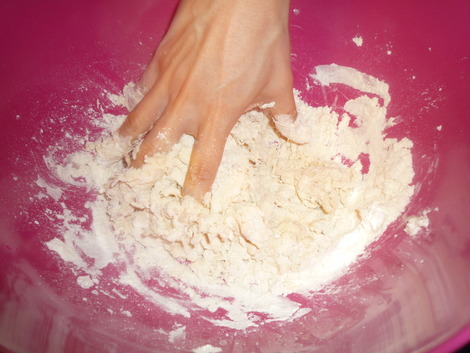 Turn the dough on a flat surface.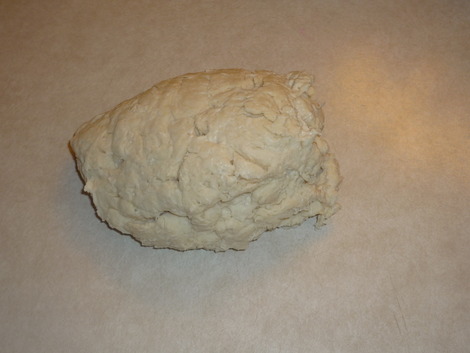 Knead until smooth, about 20 minutes.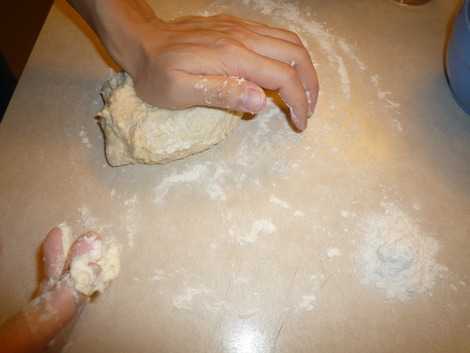 Wrap the dough in plastic wrap and let it rest for 20 minutes. Knead dough a second time for about 15 minutes and let rest for 2-12 hours.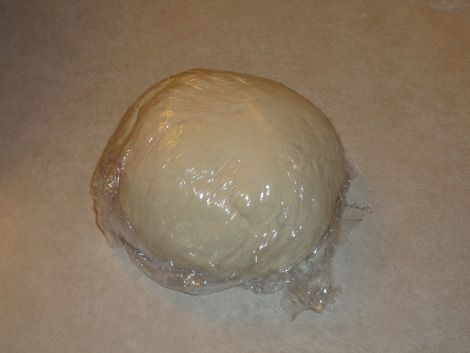 While the dough is resting, put all filling ingredients into a bowl. This one was way too small…ugh I guess I have to wash the other bowl.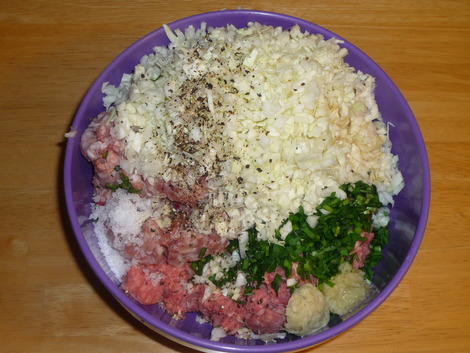 Mix the ingredients. Your hands are the best tool for this.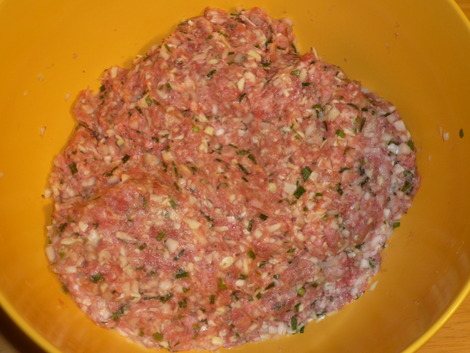 After the dough has rested, it's ready to be rolled out.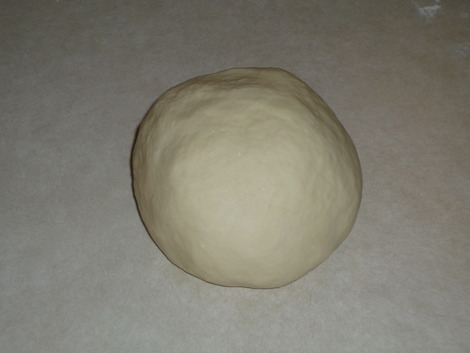 Cut the dough in half and roll into two long pieces. Cut these in half and roll out again.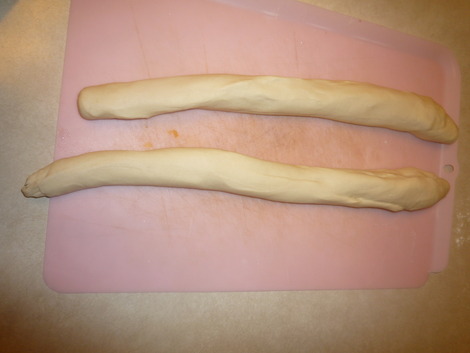 Cut the 4 rolled out pieces of dough and cut them into 40 pieces.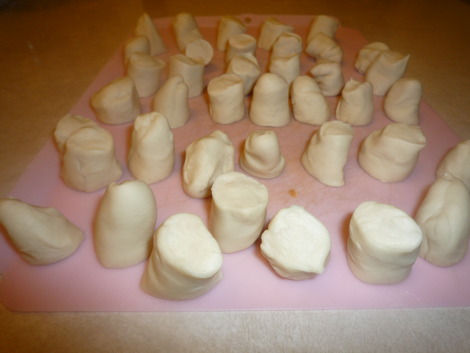 Roll them into balls. One more left!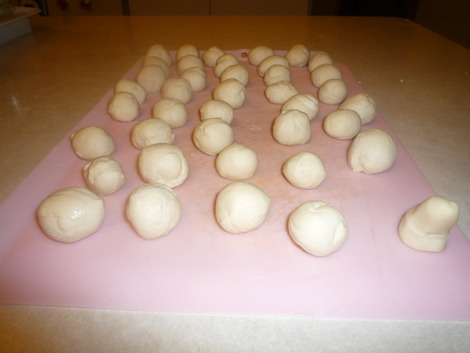 Press down on the ball of dough with your palm.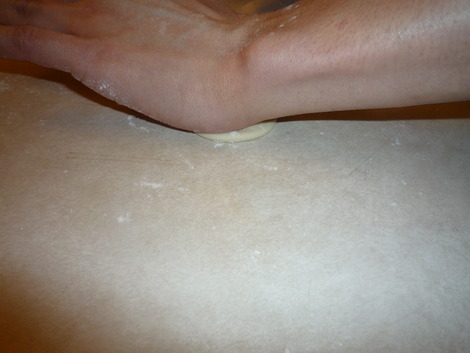 Shape it like you would shape pizza dough and roll it out with a rolling pin.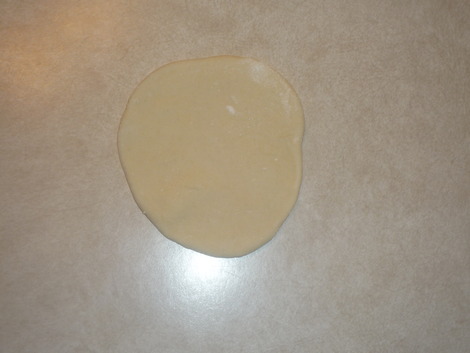 Wrap up the gyoza. See video above.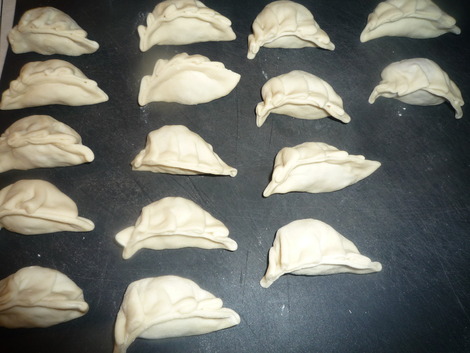 Drop into a pot of boiling water. Stir so they don't stick to the bottom of the pot until they float.