I was feeling adventurous this week and wanted to go do something with tofu and macaroni and that led to a fried chicken that was Japanese-afied and so on and so forth. A while back, my friend and I talked about a umeboshi fried chicken recipe where I imagined bits of dried pieces of umeboshi mixed into the dredge and then deep fried. However, after a few tests with fresh umeboshi, it I found that the distinct umeboshi flavor is completely lost after the frying process and all that you're left with is saltiness. I felt like this was a waste of good and rather expensive umeboshi so I decided on an umeboshi honey glaze which turned out to be better than the original idea.
I tried to make the fried chicken as Southern as I could without the aid of a cast iron skillet. I found that this was difficult because controlling the heat is important to get the crust and the chicken to finish at the same time. If you use regular frying pans, chances are the outside will cook faster than the inside. 350F is recommended for cast iron skillets but I found that about 330F is hot enough in a regular frying pan but this will vary depending on your particular pan.
Other things I should mention is that I liked using canola oil instead of shortening. Shortening has a lower smoke point and it's very difficult to control the temperature of the oil when you're not using a lot. There's also the issue of transfat in shortening so I decided to go with canola oil.
Fried Chicken Ingredients
4 drum sticks with the skin attached
1/3 cup low fat yogurt
1-1.5 cup canola oil
1/2 cup all purpose flour for dredging
Ingredients for Seasoning
1/2 tsp. kosher salt
1/4 tsp. garlic powder
1/2 tsp. ichimi togarashi
1/2 tsp. paprika
1/4 tsp. black pepper
Umeboshi Dipping Sauce
1.5 Tbsp. honey
1/2 Tbsp. minced umeboshi
1 tsp. sake
Shiso, chiffonade (optional)
Dash of black pepper
Directions
1) Coat the chicken in the yogurt and allow it to marinate for a minimum of 8 hours. Most recipes call for buttermilk but I always have low fat plain yogurt in my fridge so I used that. The results were nice with the yogurt because it's more viscous and the seasoning as well as the flour adhere well to it. In one test round, I added 1/2 tablespoon of chopped umeboshi to the yogurt but it didn't do much in terms of flavor so I would opt to not use it because the umeboshi dipping sauce has plenty of ume flavor.
2) Set up your seasoning, dredging and resting station.
3) Mix the seasoning ingredients and put them in a shaker. This helps get an even coat on the chicken. The reason I don't mix it in the flour is because I dump the flour afterwords and that way you don't waste the spices and more importantly, putting it under the flour helps to keep the spices from burning.
4) Next, coat the chicken in flour and shake off any excess flour.
5) Lay the chicken on a wire mesh and allow it to rest for about 2-3 minutes (This helps with the crust formation) while your oil heats to 350 degrees if you have a cast iron skillet or considerably less if you only have a regular frying pan like me.
6) Fry each side for about 7-12 minutes on each side depending on the type of pan you have. If you have a cast iron skillet, 12 minutes is recommended but if you have a regular Teflon frying pan like me it should take about 6-8 minutes on each side. (Note: The oil should come up to about 1/2 way up the side of the chicken. I used only drumsticks because I'm a big fan of drumsticks but the center of the pan gets the hottest so you can put the thighs there and the breast and drumsticks around the edges of the pan)
7) Allow the fried chicken to rest and cool on a wire rack.
Marinate the chicken in low-fat yogurt. It's a good substitute for buttermilk since I usually don't have any use for it other than fried chicken.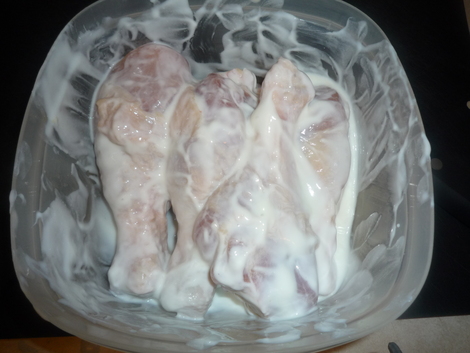 Set up your seasoning, dredging and resting station.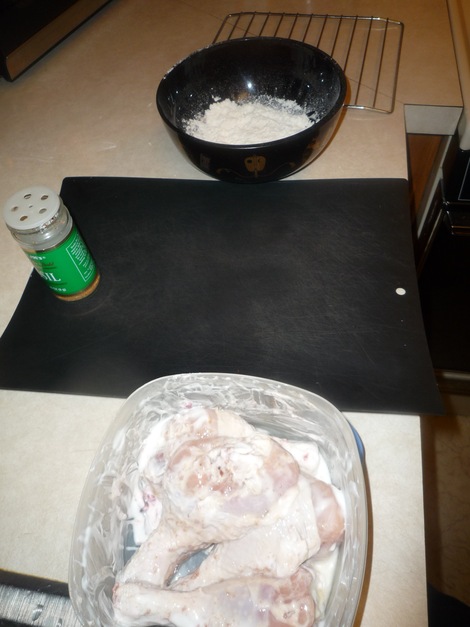 Use a shaker to liberally season the chicken.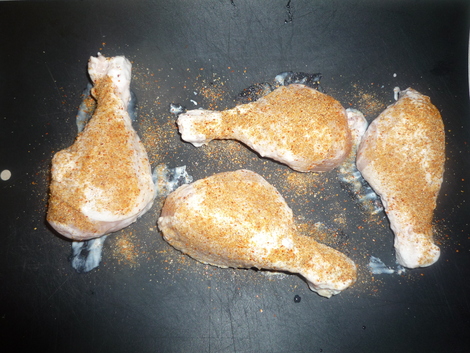 Dredge and coat the chicken in flour and shake off any excess flour.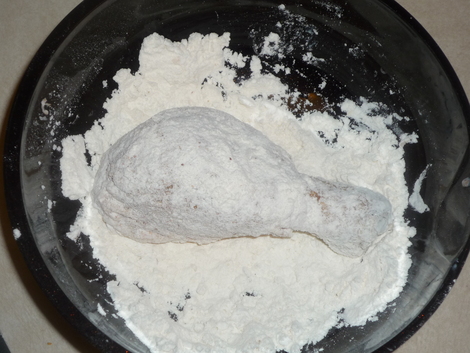 Allowing the chicken to rest for 2-3 minutes helps with crust formation. Ignore the ume and shiso that you see underneath the flour. This photo was from a test batch.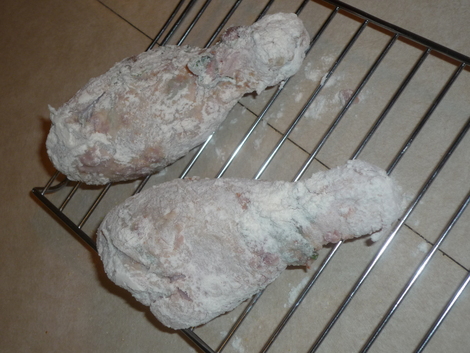 Check the temperature of the oil before you put in your chicken. 350F for a cast iron and about 330F for a Teflon frying pan.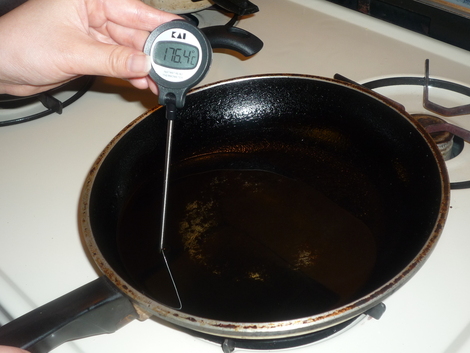 Turn the chicken only once and cook each side about 12 min on each side for a cast iron and about 8 minutes for a teflon pan.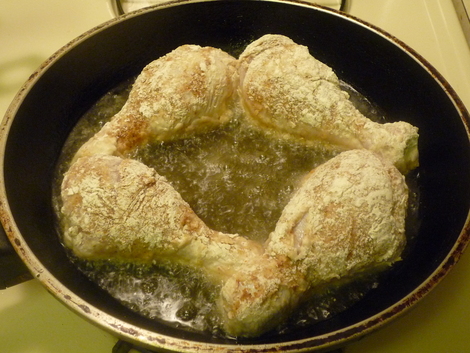 Allow the chicken to cool and rest. This way you won't burn yourself and the chicken will have time to finish cooking inside if it hasn't.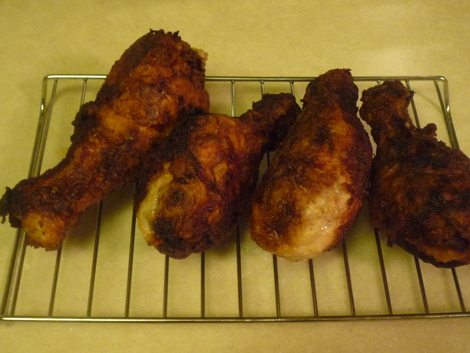 Mince about 1/2 tablespoon of umeboshi.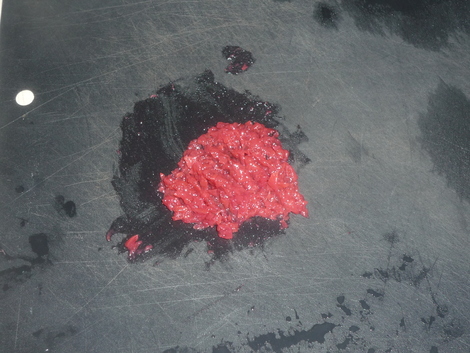 Mix in the remaining umeboshi honey dipping sauce ingredients.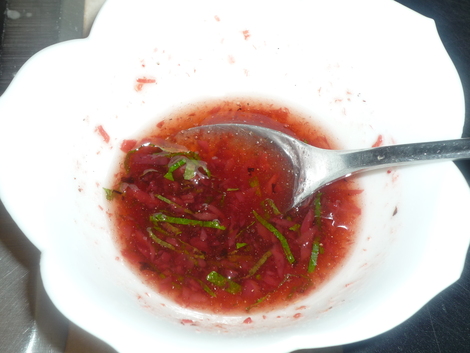 Fried Chicken with Umeboshi Honey Dipping Sauce is serve with Tofu Macaroni Salad and Okara Cornbread.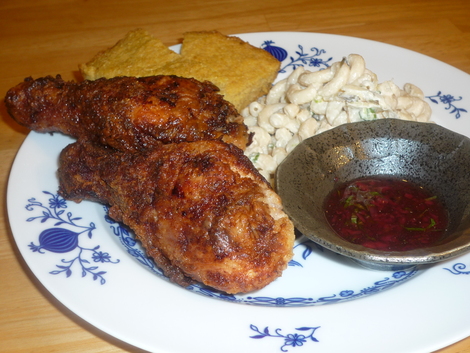 umamitopia.com: Authentic Japanese, CA fusion, French & Italian influenced recepies.