Shirataki is a type of konnyaku (gelatinous yam cake) that is in the form of thin noodles. They are similar to ito konnyaku in that they both look like konnyaku noodles but differs in that shirataki must be white, whereas ito konnyaku comes in a variety of colors. They are also prepared differently. Shirataki is passed through a tool similar to a tokoroten tsuki and dropped into hot water where it firms up into noodles. Ito konnyaku is prepared in a similar way except the konnyaku is already firm before passing it through the tool to make noodles.
One of the benefits of shirataki is that it has a mild flavor and can be eaten with just about anything. Shirataki is often eaten in sukiyaki and nabe (hot pot) dishes. It is also very low in calories. There are 0 calories in a 28 gram (1oz) serving of konnyaku.
Shirataki comes in bags filled with water.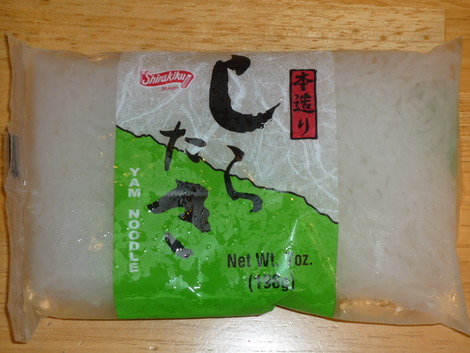 Drain the shirataki before using.