Japanese fried rice is usually served at Ramen restaurants as a side dish. My brother thinks that Ramen house fried rice is good because they incorporate their delicious broth into the rice. I don't know about you, but I'm not going to make ramen soup, which by the way, takes hours of simmering, every time I have a fried rice craving.
I wanted a recipe that was quick and easy since I make fried rice a lot. I never make less than 2 (1/4) cups of rice at a time because to make less would end up in rice that is…well not at its best. Therefore, I usually end up having lots of leftovers so fried rice is one of my easy go-to meals.
This recipe substitutes char siu (slow cooked barbecued pork) with pancetta. I used to use ham and then discovered that bacon was so much better. My friend had a baby shower a few months ago and I was assigned fried rice. I ended up making about 10 cups of rice and used bacon. I think it was a hit. Recently, I've moved on to Pancetta.
Pancetta has a nice saltiness and is full of flavor since it is dried, cured and spiced. You can substitute smoked bacon but pancetta makes it a little more exciting.
Ingredients
4 cups of cooked rice (day old rice or 2 day old rice works best for fried rice. Especially if you're using Japanese rice)
1 cup of finely diced onion
1 tablespoon of minced garlic
4 oz chopped pancetta
3 eggs
1 tablespoon of milk
pinch of salt for the eggs
1/4 cup of chopped green onions
1/2 teaspoon of ketchup (you won't even know it's there but it will add flavor)
1/2 teaspoon of oyster sauce.
1 + 1/4 teaspoon of sea salt. (less if you use iodized salt)
1/2 teaspoon of soy sauce. (don't use too much otherwise the rice will get soggy)
1/4 teaspoon of dashi powder (optional)
Prep work
1) If your rice is a day old, you'll want to break it up first in a bowl so that it's easier to stir fry.
Directions
1) Crack the eggs into a bowl, add the milk and whisk with chopsticks. You can use a whisk but you don't want them to get frothy.
2) Get your frying pan hot, otherwise your eggs will stick to the pan! Add the oil only after it's hot and coat the pan.
3) Add the eggs and once they start to bubble, use a wooden spoon or chopsticks and stir so that the eggs don't burn.
4) Remove eggs from pan and wash the pan or use a new one.
5) Get your pan really hot again otherwise this time your rice will stick to the pan.
6) Add the oil and garlic and onions. Stir fry until slightly caramelized.
7) Add the pancetta and cook until they release their oil and start to turn brown but don't make bacon bits.
8) Add the rice and stir fry.
9) Once the rice is incorporated with the onions and pancetta, add the sauces. (soy sauce, oyster sauce and ketchup)
10) Add the salt and pepper and taste. If you want more saltiness, add salt instead of soy sauce because it tends to make the rice sticky.
11) Add the eggs and green onions and turn off the stove.
*If you want to add okoge (toasted rice on the bottom of the pan), turn the heat on med-high for one minute and don't stir. Turn off the heat and let the rice sit in the frying pan for 2-3 minutes before mixing in the eggs and green onions.
Prep your day old rice by breaking it up first.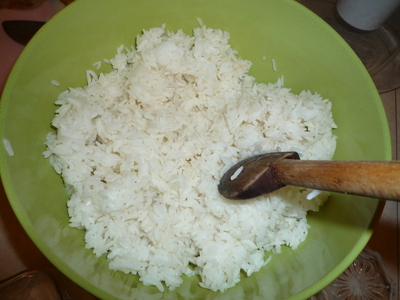 Chop onions.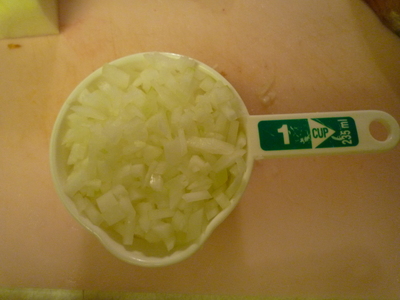 Chop green onions. Slice them in half first.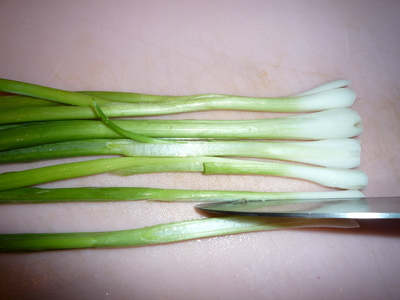 You can get chopped pancetta that is ready to go.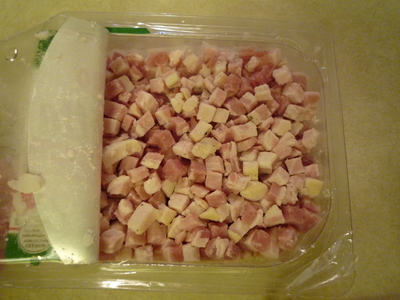 The eggs should bubble as soon as you put it in the frying pan.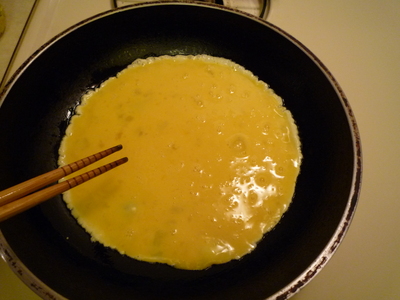 Stir so that the eggs don't burn.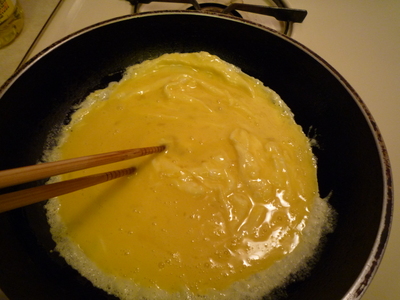 Remove the eggs from the frying pan and set aside.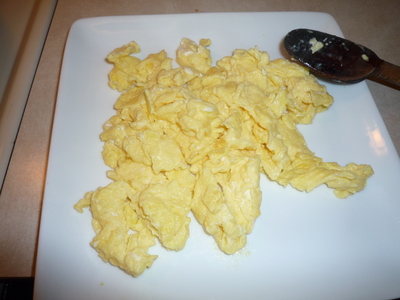 Cook onions and garlic until soft and slightly caramelized.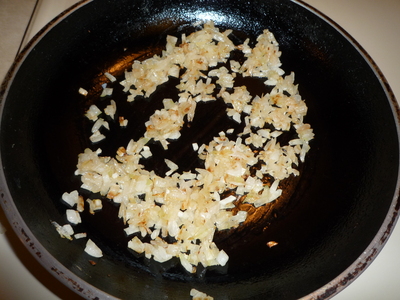 Add Pancetta and cook until edges are starting to turn brown. Don't overcook.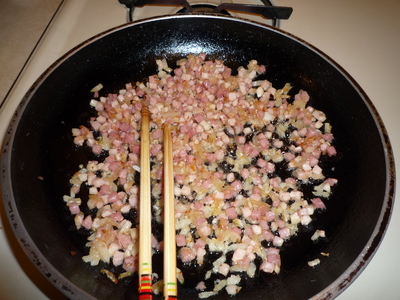 Add the rice and sauces.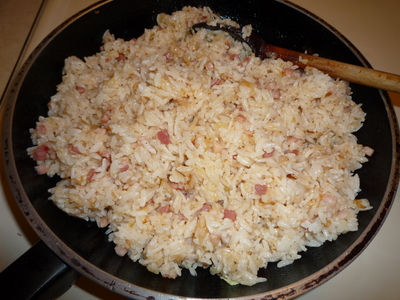 Add the eggs.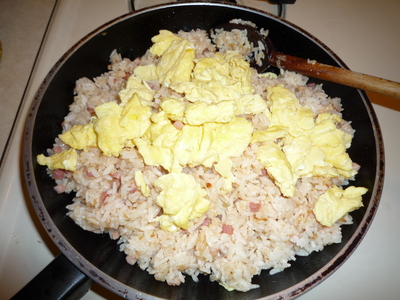 Add green onions.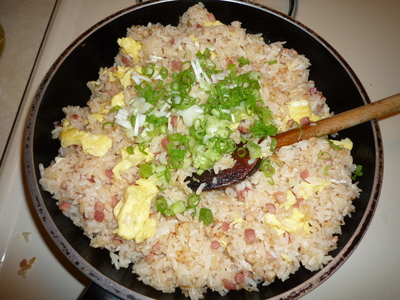 Fried rice goes great with gyoza.