Classic potato salad is definitely an American favorite but how do you think Japanese-style potato salad would fare? I first had it when I was about 10 years old at a Japanese restaurant in San Francisco called Kuishimbou. It must have made quite an impression because I don't remember what I ate with it. I just remember the potato salad. The main difference between the two is that the Japanese version isn't flavored with mustard and pickles or sweet relish like most American potato salads, and it is simply flavored with mayo and salt.
The most surprising ingredient would probably be the thinly sliced cucumbers. They are treated with salt which gives them a nice crunch and adds a little green to the dish. If you really think about it, relish is made from cucumbers so I guess it isn't all that far off.
One of my favorite things to do with this potato salad is to make potato salad sandwiches. I know! Carb on carb should be avoided most of the time but it's not as carby as it sounds and there are lots of other ingredients besides the potatoes.
I wouldn't dare do that with American style potato salad because it's much too heavy, but this potato salad is so light that you can eat it with almost anything. Try serving it as an okazu as part of a Japanese meal.
This is a hefty recipe of about 10 servings but if you have left overs, make potato salad sandwiches or eat it with a salad. I also like to microwave the leftovers for 10-15 seconds because I think it brings out the mayonnaise and because I like warm potato salad.
Japanese-Style Potato Salad
3 medium Russet Potatoes or 3 cups of packed mashed potatoes with the skin removed
2 small carrots or 1/2 cup of prepped and chopped carrots
1 cucumber or 1/4 cup (packed) of prepped cucumber
1/4 of a medium onion thinly sliced or 1/4 cup (packed) of prepped onions
1/2 cup of mayonnaise
2 hard boiled eggs chopped
1/4 teaspoon of salt for seasoning (less if iodized salt)
1/2 teaspoon of salt each for cucumbers and onions
Directions
1) Boil potatoes and carrots together. Take the carrots out when they are still firm and continue to boil the potatoes. (Tip: leave the skin on when boiling. The skin keeps the potatoes from getting soggy. This is important so that you don't have soggy potato salad.)
2) In a separate pot boil the eggs. (You can boil the eggs with the potatoes and carrots but I find it easier to get perfect boiled eggs if you boil them, turn off the stove and cover them until they are done.)
3) Cool the carrots in water to stop the cooking.
4) Cut the carrot in half or where the carrot starts to get a lot thicker.(If you have carrots that are almost uniform in width, this is unnecessary.)
5) Peel the carrots. Use the edge of your knife to pull the skin off.
6) Cut the thick section of the carrot in half (lengthwise) and cut them into slices. For the thinner section, cut them in to little circles. (see photo below)
7) Cut the cucumber into thin slices. Cut them as thin as possible. Use a madolin if you don't have a sharp knife.
8) Sprinkle the cucumbers with salt and mix. Let them sit for about 10 minutes.
9) Do the same thing with the onions.
10) After the cucumbers are limp, gently squeeze out the water, rise with cold water to wash off salt and squeeze again.
11) Do the same thing with the onions.
12) Drain the potatoes and peel off the skin.
13) Mash the potatoes and add the mayonnaise and salt. (I like mine a little chunky so I don't like them completely mashed.)
14) Use a spatula and mix in the onions, cucumbers and eggs.
15) Mix in the carrots last so that they don't break up.
16) Use an ice cream scoop and serve on lettuce.
Boil the potatoes and carrots together. The carrots will cook faster. I made a ton on this day.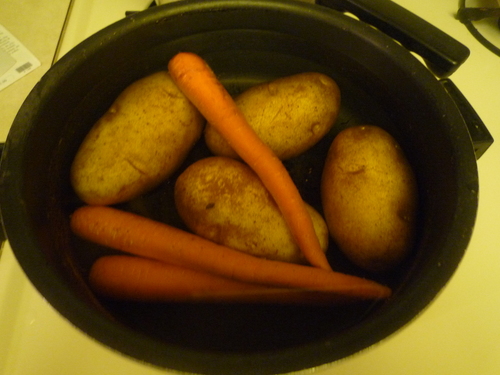 Slice the cucumbers thin.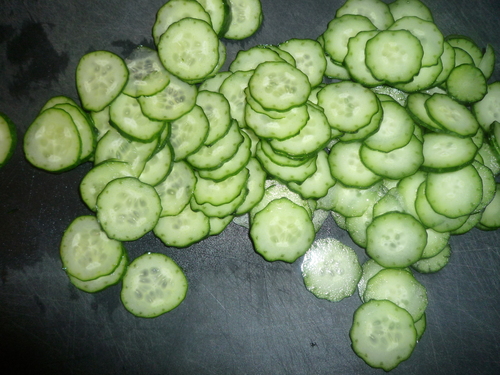 Put them in a bowl and add salt. Mix and let it wilt for about 10 minutes.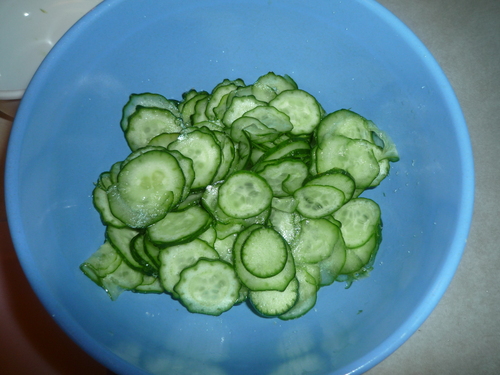 Once the cucumbers are limp, squeeze out the water, rise and squeeze again.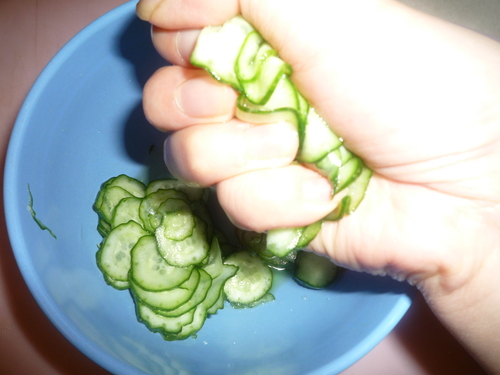 Salted and prepped cucumbers look like this.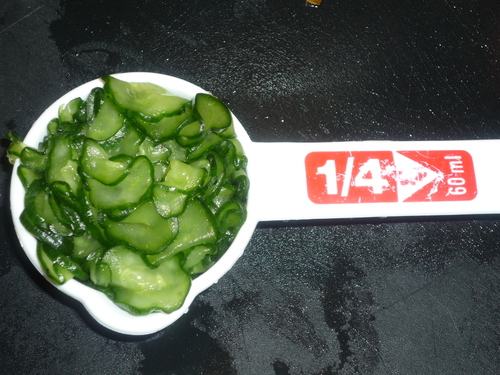 Salted and prepped onions look like this.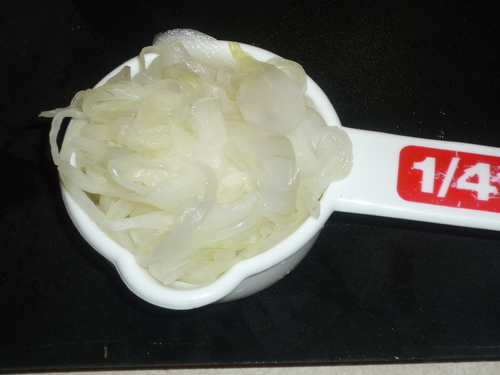 Peel the cooked carrots.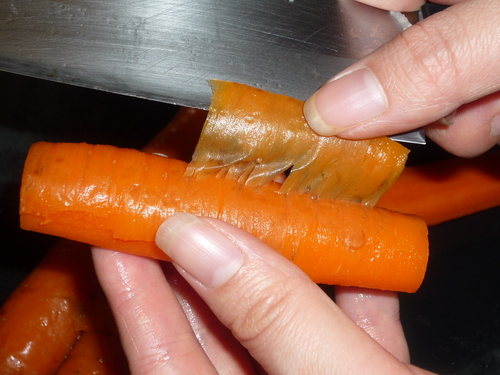 Cut the thick part of the carrot in half circles and the thin part in circles.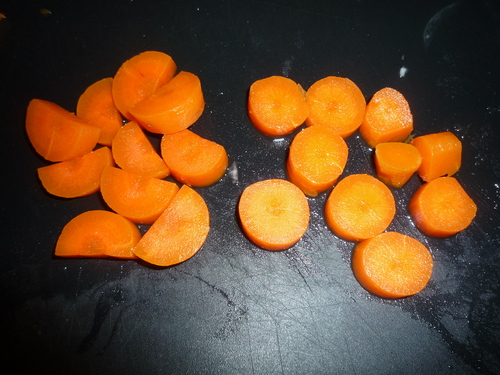 Drain the potatoes and remove the skin. Boil with the skin on so that the don't get mushy.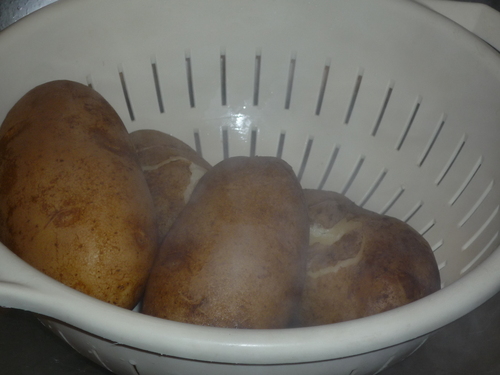 Mash the potatoes but leave it chunky.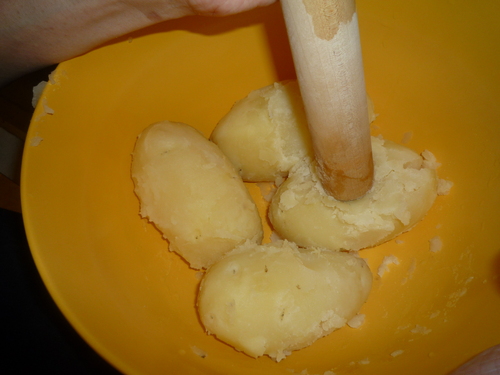 Add the mayonnaise and salt and mix well.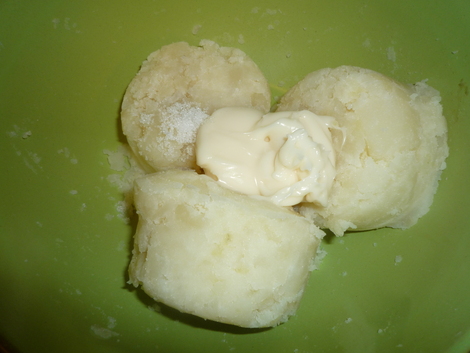 Add the eggs and mix.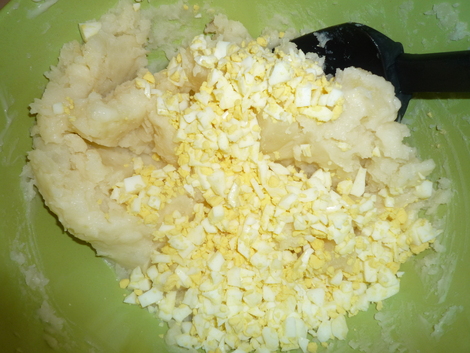 Mix in the cucumbers, onions and carrots.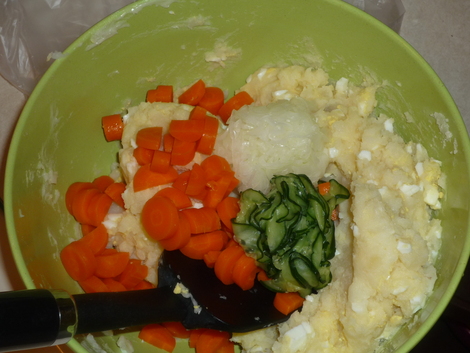 Serve using an ice cream scoop or a large spoon.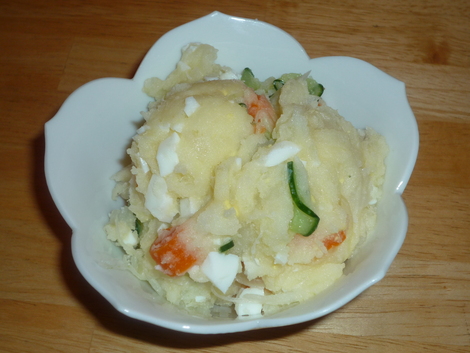 Use the leftovers in a sandwich.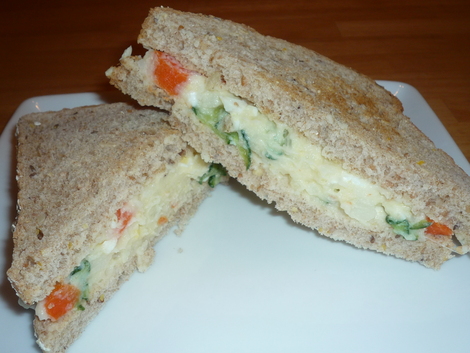 Try this dish with Chicken Karaage (Japanese-style fried chicken), Cabbage and Tomato Miso Soup and Rice. What is fried chicken without the potatoes?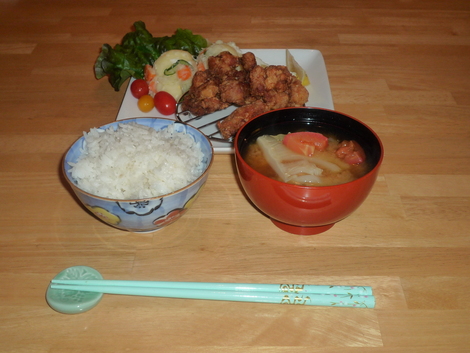 umamitopia.com: Authentic Japanese, CA fusion, French & Italian influenced recipes.