Those of you who are fans of Japanese food will absolutely love these exquisite photos of the foodie experiences we had on our most recent trip to Japan this past fall. From more formal hotel restaurant experiences to traditional onsen style dishes, you'll be taken on a scrumptious journey.
Food at Onsens & Hotels
Tokiwa in Yamanashi
We had a unique dining experience in our Yamanashi Onsen, where Koji, our guide and translator (and now friend) joined us. Breakfast was served traditional Japanese style in private rooms but not in your room or suite. Dinner was brought to us in the evenings, course by course (7 in total), which seems to be the custom at the classic onsens which still celebrate the original traditions.
Moving onto dinner, be prepared……there was a lot of food and it was all scrumptious. With started with a small Kiyo, which is a type of Japanese plum. This was followed by Abarone, which Yamanashi is famous for apparently.
Because of this, it was always so fresh. Despite the fact that Yamanashi is inland, the Abarone originally came here by horse from the sea and it was carried/seasoned in soy sauce for the route.
It is often served for weddings and other celebrations. It was served to us as sashimi. Included on the platter were seeds of a Gingko tree, as well as shrimp, melon, tuna sashimi, Ikura, flowers and tofu.
Our spread included a variety of everything, from vegetables, soups and tofu to plenty of ways to eat Matsutake mushrooms, which we love. They served it on its own as well as with other dishes. We also were able to try Royal Trumpet mushrooms which you can eat with other dishes or as an accompaniment to any of the seafood or red meat dishes.
It is common to use a Black Lava Stone for Koshu Beef in Japan which was a specialty and unique experience of the evening as well. While Abalone was the 'order of the day,' we also sampled other white fishes as well as something they refer to as Sazae (fish in the shell).
The graciousness and hospitality was incredible — every time she appeared with a new course, she made us smile, lighting up the room with her purity and love.
We had saki throughout the course of the evening of course — dry and smooth, followed by a sweeter style Saki when the desserts arrived.
We also tried some of the local Koshu wine (be sure to see our write up on wineries in the Kofu region, including Koshu wines).
Next came a Steamed Clay Pot of soup with Japan's infamous Matsutake mushrooms, topped with a squeeze of lime — what a fabulous combination!!
They then served Matsutake mushrooms on their own, with pork, veggies and red wine in a hot bowl.
We also tried a deep fried fish with white shaved radish, fried Perilla, eggplant, green peppers and Matsutake mushrooms.
After the Sazae (fish in the shell), tuna, salmon, yellow tail and amberjack sashimi and the Matsutake mushrooms with pork, they brought us the delicious Koshu beef with Trumpet mushrooms — we cooked our own pieces on a hot Black Lava Stone. It was a fun experience and although there were only three of us, I could see it being transformative for a larger group.
They also served a heavenly Blue Crab Soup with Matsutake mushrooms once again (see how popular they are?), raw veggies, cucumbers, tomatoes, as well as root vegetables turnips and taro. To top things off, they added smoked pickled radish which was the first time I tried it.
We love that their desserts aren't as sweet as they are in the west and fruit is often used, rather than heavier cakes and creams – simple and elegant but just enough sweetness to finish off the evening.
Enjoy this little video of how we cooked our meat.
In Tokiwa Hotel's "Lounge Karin", you can experience traditional Japanese cuisine surrounded by a Japanese garden. This so called "coffee corner" with fifty seats overlooks the garden.
The beautiful stained glass is the work of artist Tetsuro Yajima which was finished in 1992.  Here you can get binto boxes with Sobu or seafood as its primary offering (2,000 yen — around $20 at the time of writing), Shokado and Beef, among other combinations.
And then, for 500 yen (around $5 at the time of writing), there are plenty of dessert options as well — how can you resist? Karin chocolate, strawberry mouse and a Joban roll.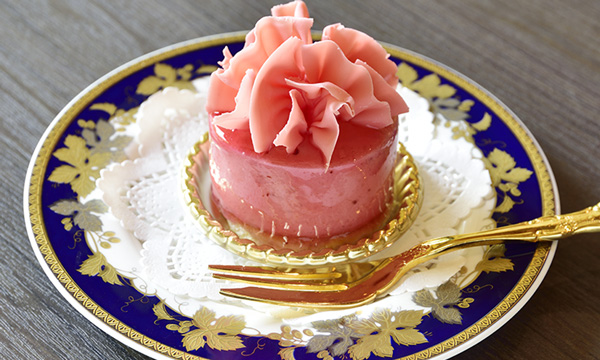 Kanaya, Japan's First Western Hotel in Nikko's Historical District
Ahhhh yes, there's nothing like an old fashioned morning cuppa tea served in fine china.
We decided to try both their Western and Japanese style breakfasts since we were there for a few days. Above and below, French breakfast in the main dining room.
Below, our Japanese style breakfast.
Dinner, French Style
Dinner was divine, both from a service perspective and the food. I was also surprised by the wine list. We had a French style dinner on the evening we arrived and they started us off with Sea Bream in a cream sauce which Anthony paired with a crisp Toshu wine from Japan.
The Sea Bream appetizer was available prepared two different ways.
We had two 7 course meal options to choose from, one more focused on seafood and the other beef although with their 7 course meal offering, fish was always an option for one of your courses — the difference was your main entree selection.
A healthy shrimp appetizer came on the seafood main course menu. Note that in this region, Yuba is used frequently in their dishes, which is like a Tofu custard of sorts — it tends to be expensive because it takes a long time to prepare it. Not everyone loves the taste, but I am a fan.
French Onion Soup served in a Heart Dish
Sea Bream main course options, prepared three different ways.
Below, the beef main course with ever so delicious Matsutake mushrooms, which seem to be very common on menus this time of year in Japan. We noticed it in Yamanashi as well. We paired this scrumptious entree with a Chateau des Laurets Bordeaux from France — I was shocked to see a Bordeaux on the menu by the glass.
Dessert changes often but when we were there, the chef prepared custard with fresh fruit. It was heavenly especially with a lovely sweet wine pairing.
Tea and coffee accompanied the dessert, served in elegant Silver Tea Pots of course.
Kaneyamaen's Food in Yamanashi
The food at the Kaneyamaen Hotel in Mt. Fuji was out of this world.
Breakfast was heavenly. The food experience at Kaneyamaen is world class.  Seafood is a staple of the Japanese diet as is rice, regardless of what time of day it is….and so, yes….seafood is served at breakfast as well. Below, Seafood Tororo.
Note that above and below are shots taken at the buffet which is housed on the ground floor. In our case, buffet breakfast was offered one morning and the other morning, a more formal Japanese style meal in the main dining room.
Below, stewed Hijiki!
The Buffet Table
Below is a more formal version of our morning start in the dining room.
Dinner at Sakuya
Then there's DINNER at world-class Sakuya. Prepare yourself! Below are the apps before the apps and it didn't seem to ever end. For example, we started with a Potato Pureed Soup with Jellied Consomme and Cavier, followed by Fried Blowfish marinated in XO sauce and Corn Tofu with grilled young corn. It was a "to-die-for" experience!
Arriving at the table.
I can't over-emphasize the service here–we really felt as if people were assigned to our happiness during our stay. Grant you, we were there as press (and they knew it) but as I looked around, I noticed that other guests were getting the same royal treatment. It's truly a unique place!
Potato Puree soup with Jellied Consomme and Caviar was so delicious!
They then served Conger Eel, Flower shaped wheat gluten noodles made from fish, Young Melon, Yuzu and Ume.
Below, a Sashimi assortment before we got to our main (fish) dish and (meat) dish. In the main dining room, you get both. (it's a 7 course meal)
Can you say Lobster? Yes, we had Grilled Lobster and Japanese Sea Bass with vegetables all on the same evening.
How's this for seafood heaven? It was indeed! They serve a lot of sea bream, grouper and Bonito fish this time of year. The presentation is exquisite, don't you think?
Does it get much better than this?
The Koshu Wine Beef Fillet steak with Foie Gras, served in a Port Wine and ginger sauce was heavenly.
Other divine delicacies.
More grilled lobster, served in an Anchovies cream sauce with sea bream, asparagus and lentils (Night 2)
On night two, they surprised us with Orange Sherbet, white cake made with Champagne, French macarons and Cassis. How divine, right?
Let's not forget the SAKE — we tried different styles each night!
This looks too perfect to eat, right? Melon with Japanese orange jelly and Shine Muscat. It had us both at hello! I think for Koji too.
We even had an opportunity to meet the chef.
Breakfast at the Tokyo Gate Hotel
We are starting our recap with breakfast because simply put, breakfast at the Tokyo Gate Hotel is such a stand-out that it deserves lots of photos (hope you're not hungry when you read this). Let's start with the fresh berry juice every morning at the 'fresh' juice station, which we loved.
Served from 6:30 am to 10:30 am every morning, you can select side dishes such as eggs benedict, French Toast, Pancakes and other hot dishes. You also have access to the full buffet which is set up Western style every day.
Breakfast looks divine, right? It tastes as good as it looks!
Below, their Honey Station, which is from the Saitama Prefecture. In addition to their delicious honey and jams, we tried their Carrot Relish and Onion Relish (likely seasonal — we were there in September), as well as bread with raisins and other freshly made breads and croissants.
They also offered a variety of cereals, which you can have with milk or fresh yogurt.
The breakfast salad and veggie buffet. Do you notice the Acorn squash with raisins (this was to die for btw)? They also had green salad, pasta, cucumbers, eggplant and tomatoes — oh so yum!
Cooked items from the menu – you have a choice of 3 each morning and they're all delicious.
Dining at Anchor Tokyo
Then, there's dinner at Anchor Tokyo, which is a must do if you stay here and even if you don't. First came a l'il champagne which accompanied an assorted meat plate (compliments of the chef) and a fresh green salad with cheese. Ironically, the design and ambiance in the restaurant is inspired by the fizz of champagne.
So many delicious bites, where do we begin?
After champagne, we went for the 2014 Cabernet Sauvignon from Washington State's Jack's Vineyards. Yeah, I know — all the way to Tokyo and we opted for American wine, however note that when we were in Yamanashi and the Nikko district, we drank a lot of Yoshu wine and other local varietals. This particular Cab was a great choice to pair with the red meat options we ordered to celebrate our last night in Tokyo.
Below, the very stylish and elegant dining room, once again the beautiful work of Gensler and Associates' Yudai Watanabe.
Sauteed scallops then came out, which they serve Poire Bourguignon Style. They were heavenly — need  I say more?
Other great appetizer options include Sauteed Foie Gras, assorted sausage, Smoked Norweigan Salmon, Grilled Yoshino ham, eggplant ratatouille with 'Jamon Serrano', Caprese and champagne pate. For hot appetizers, they also offered a unique Shrimp and Mushroom Ajillo which we didn't try but saw and it looked divine!
Then came the prize as our main entrees: Grilled Dry Age Japanese Beef which they served with a Pinot Balsamic Cabernet sauce and Grilled Beef Fillet Rosshini Style, which came with mashed potatoes and Foie Gras. Both went perfectly with the Jacks Vineyard Cab, which we will now look for at home (yup, it was that good!)
Below, grilled beef fillet Rosshini style with Foie Gras
Other great beef dishes included a Beer Stewed Beef Rib (hope to get that next time), and they also offer a Roast Ham, as well as Grilled Pork Chops, Roasted Spareribs, and Grilled Chicken if you want to opt for something a little lighter.
Moving onto Dessert……there were so many options, including ice cream and sherbet (if you want to keep things simple), Chocolate Cake, Nougat Glace, Mont Blanc, and Assorted Chocolate. Lesser common desserts in the west on the menu included things like smoked seafood, assorted olives, beef jerky, mixed notes and smoked yellow pickled radish. Interesting, right?
Although we didn't have a chance to try it, there's a smaller restaurant known as Teppanyaki Yasuma. It's often booked up as it is a very small space. It is situated on the 13th floor (top floor) and you can get Wagyu Beef and Seafood here prepared by the head chef. There's also a Premium Lounge, which guests of Luxe and Canopy rooms can visit for a complimentary drink.
Royal Breakfasts at the Tokyo Station Hotel
On each side of the room is a buffet — to the right against beautiful brick wall is the Western Breakfast — both hot items and cold, and on the left is a Japanese selection of items. There's also some French and Swiss style items like cheeses (Roquefort, Comte, Camembert, Mimolette, Cabrifin and Smoked Cheese with dried fruit), croissants and Muesli.
Some of the items for the Japanese breakfast include candied sweet potato, sesame dumplings, Kinako (soy flour spice which can be used to go on top of sticky white rice), Azuki, pickled plums (umeboshi), dried young sardine "Shirasu", Kimpira Burdock, Spicy Seasoned Cod Roe (Karasahi-Mentaiko", Seasoned Salmon Roe (Ikura), Grated Radish, Dried Fish, Fermented Soybeans, Clams, Boiled Fish Paste, Sashimi, and then a dried topping it seems you can put on many things called Tsukudani.
For western style breakfast offerings, you could order homemade omelettes, Wagyu Hamburg,  avocado & Sweet Chili, cold meat platter, trout salmon marinade, steamed chicken, Brioche French toast with maple butter, croissants, fruit danishes, housemate Raspberry and Beets Bread, Bamboo Charcoal Bread, Sugar Rolls, preservative and additive free bacon.
Other unusual items on offer that you wouldn't expect from a breakfast buffet included roasted pork, deep-fried chicken with seaweed, cheddar fried potatoes, fried shrimp, hash browns, shrimp in chili sauce, squash purée and roasted pork dried rice.
Chuzenji Kanaya Along the Lake Chuzenjiko Shores
hile you can certainly opt to have a Japanese style breakfast here, we had been eating Japanese breakfast for 90% of our stay and since this Nikko stay was our next to last night in Japan, we opted to try their European/Western breakfast instead.
Dinner was once again divine and they had a similar (if not the same) wine list as the downtown Nikko property — I was thrilled to see the Bordeaux by the glass on the menu again, however I tried a Shiraz instead. We started with Sea Bream Sashimi with olive oil with white radish and Ikura/fish eggs.
We then moved onto an absolutely scrumptious Aubergine 'Tochigi' which is essentially Eggplant with Sea Perch (Suzuki). They prepared it with corn, onions and white wine — it was heavenly! And, look how beautifully plated it is as well.
Then we moved into a red meat dish (there were 7 courses in total), which on the evening we were there, was a Filet de Boeuf "Tochigi Kirifui".  The Shiraz went beautifully with this filet, which they prepared with beet sauce, onions in a red wine and fig sauce. Wow, right? Apparently the beef they served is local to the area (Kirifuri Highlands). One of the things I noticed about Japan's beef in general is how fresh it is compared to American steaks.
Finally, for dessert, the ended the evening on an amazing note with a homemade Fig and Coconut Cake. Oh so yum, right? It was served with Chocolate, Kiwis, Pineapple and topped with fresh spearmint. Coffee and tea accompanied the dessert as well of course.
Lunch at Nantai Restaurant in Nikko 
We tried a variety of lunch and snack places in Nikko during our four day stay here, most of which were very traditional. We opted for a couple of classic lunches (many box style options) although Anthony went for the most western option (fried fish and french fries) they offered since we had been dining at so many onsens up to this point.
We always opted for the more traditional delicacies when offered.
Behind the scenes in the Nantai kitchen, which is along the main drag of Nikko.
Lunch at Shizen Saryo Meguri: Vegetarian
This very small vegetarian only eatery also along the main drag of Nikko would be hard to find if you didn't know about it. Not only is it small but the signage doesn't make it easy to know that it is a restaurant. Everything appears to be organic and fresh — there's a small seating area and an open kitchen.
Dinner at ZEN
We must give a call out to ZEN Restaurant in Nikko because the experience is truly a treat. The venue is very small, so you need to reserve well in advance for there's only 2-3 tables.
First, we absolutely loved the chef who came out to chat with us — our guide translated. The meal was exquisite. We started with Kurosugata Junmaiginjou Namagenshu (sake and BO sake). We went for what was referred to as the Seasonal Course 'set' or  "Tsumugi."
First off, was Sashimi Yuba because Yuba is unique to the area — they served it here with fresh sea urchin. Then came a Seasonal Sashimi plate, which was so fresh and divine.
Also served in this extensive meal was Yuba Shabu Shabu style in a homemade dashi (broth). We also had Japanese beef with wasabi and grilled pork with sweet pickles and shitake mushrooms.
Our guide ordered a course set which included cold tobu with fried yuba rolls, as well as sweet soy cream with fresh Yuba.
Yup, Yuba can be found on most menus in the Nikko area. Locals seem to love it, although it is an acquired taste. We also had Japanese confectionary for dessert followed by Matcha (roasted green tea). These course sets were roughly around 6,000 yen at the time of writing this article.
Specialty Food Shops 
There are specialty food shops throughout Japan — be sure to pick up what is most unique for the area as well as what is provided seasonally. The photos below are taken in a variety of shops on our trip, including Tokyo, Kamakura, Nikko, Kofu, other small towns in Yamanashi and Mt. Fuji.