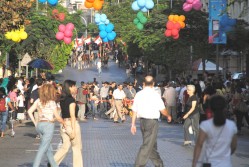 I was extremely lucky the day I began my travel in Lebanon in 2010. Specifically, I arrived to Beirut the day of the Hamra Street Festival, an annual celebration of the cultural and artistic diversity of Lebanon, Beirut and specifically Hamra Street, one of the most happening cultural, entertainment and nightlife areas of the city.
Although I never recommend you plan out travel too far in advance, I guarantee you won't regret scheduling your Lebanon travel around the time of the next Hamra Street Festival.
History of the Hamra Street Festival
Launched under the patronage of the Lebanese Prime Minister, the Hamra Street Festival is an official festival that involves the participation of many local artists, businesses and performers. I was actually lucky enough to attend the inaugural Hamra Street Festival, which has thus far only occurred twice.
As I mentioned in the introduction, the festival was started to spotlight Lebanon's, Beirut's and Hamra Street's unique culture. The Hamra Street Festival is at the forefront of initiatives aimed at revitalizing the tourism sector of Beirut, which has been badly damaged following the Lebanese civil war in the 1980s and, more recently, the 2006 conflict with Israel.
Location of Hamra Street
Hamra Street is located in the heart of Islamic Beirut and connects the Beirut Central Neighborhood with the Ras Beirut neighborhood. Hamra Street is in close proximity to the American University of Beirut, as well as the northern expanse of Beirut's Mediterranean coastline. Hamra Street is around 30 minutes walking time from other important areas of Beirut like the Beirut Marina, Ramlet ed Baida Beach and the Gemmayze nightlife district, areas you're sure to visit when you travel in Lebanon.
Of course, with dozens of eateries, coffee shops, bars — and, increasingly, nightclubs — Hamra Street is a destination in and of itself. Even if you don't come time your Lebanon travel to coincide with the Hamra Street Festival, you can spend at least a few days exploring Hamra Street and its immediate vicinity.
Dates of the Festival in 2012
As of January 2012, the dates of the 2012 festival haven't been set in stone, but if this year's festival follows trends set in 2010 and 2011, it should commence on Eid ul-Fitr, the last day of the Muslim holy month of Ramadan. This year, Eid falls on Sunday, August 18, so (tentatively) mark your calendars.
Other Beirut Travel Ideas
Beirut is a vibrant, cosmopolitan city set on the idyllic shores of the Mediterranean Sea. If your travel in Lebanon isn't at or around the time of the next Hamra Street Festival, you shouldn't despair — there's plenty to do here.