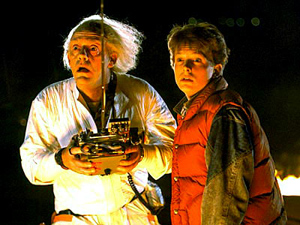 The Chinese government recently announced its latest contraband: time travel. Or at least time travel as it's depicted in fictional enterprises such as films and television.
The State Administration of Radio, Film and Television (SARFT) cautioned filmmakers and producers that movies with time-travel thematics tend to "casually make up myths, have monstrous and weird plots, use absurd tactics, and even promote feudalism, superstition, fatalism and reincarnation."
Although China has not issued an outright ban as yet, its firm censorship laws in almost all areas of public consumption likely means a practical prohibition for all intents and purposes. From the reports so far (bearing in mind the original statement from SARFT is in Chinese), it seems that the restrictions are a reaction to an increasing number of films that depict characters who, travelling through the temporal ether, are able to rewrite history.
The government finds this idea disturbing, because they find it "treats serious history in a frivolous way, which by no means should be encouraged anymore."
Predictably, a number of reports on China's announcement have playfully mused how iconic time-travelling films like Back to the Future and 12 Monkeys could now no longer make it to Chinese screens. But perhaps more seriously, China's announcement speaks to its now-predictable trend of vigorously controlling all aspects of cultural production that are not state-sanctioned.
And what does a ban on representations of time travel even mean for the general populace? I'd hedge a guess that it's about quashing anything that references a transcendence of the present moment, imagining things in different ways. Who knows what such things could provoke: re-examining politics, tradition, the role of the state, or unmasking the absurd notion in claiming a unitary history of anything. It's all dangerous stuff for a government so thoroughly obsessed with tightly-clenching the dissemination of national media and messages.
In his essay, "Giving Offense", JM Coetzee makes the astute point that one kind of censorship will invariably snowball into other kinds. "From being sour," he says, "to being laughed at for being sour to banning laughter at what is sour, is an all-too-familiar progression in tyranny."
For more check out original over onmemeburn.