We're enjoying our recent foray into Houston's best restaurants so it was lovely to receive an invitation to Line & Lariat's media dinner on Friday. Settled in under the grand ceiling of what was once the Union National Bank building, we nibbled on a variety of tasty bar bites as the evening got under way. First, shots of Dripping Springs Vodka and Raw Oysters, which I have never paired together before but quite enjoyed. The next few bites reminded us of the restaurant's theme: modern Texas cuisine from the state's "coast, waterways, farms and ranches."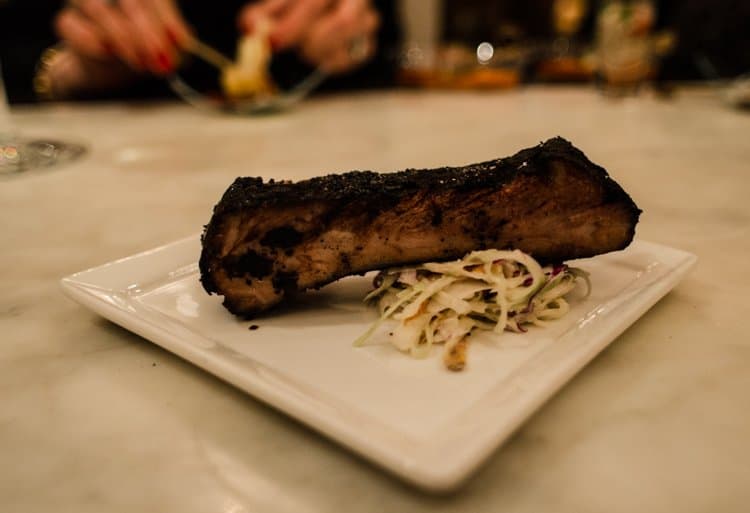 Chef Tyler Malson doesn't shy away from spice. We encountered jalapeños and chilies a couple of times during the evening, beginning with Bacon Wrapped Jalapeños with Oaxaca Cheese and Lavender Syrup, then Beer Battered Texas Cheese Curds with Chipotle Ketchup and Ranch. Coffee Crusted Baby Back Ribs had a lovely flavor, reminding me that we don't eat nearly enough Texan fare.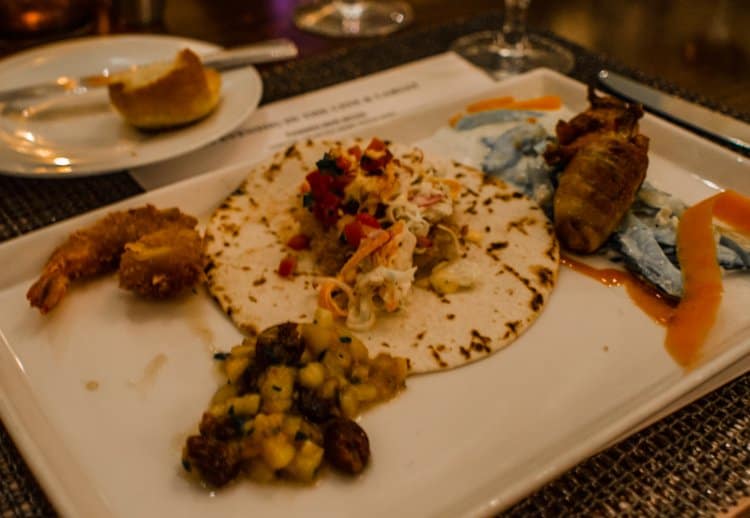 Malson came out to greet us before dinner, demonstrating a passion for his craft and an enthusiasm for the menu to come. The space occupied by Line & Lariat was formerly a Jean-Georges restaurant, so Malson mentioned that he had inherited a traditional French kitchen with coveted equipment. The food was certainly distinctive and original, presented to us in three courses of sampling plates with three dishes each.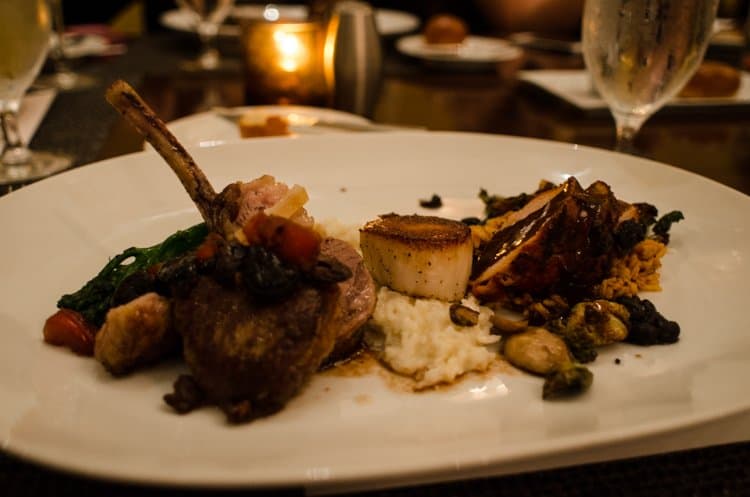 The starter course featured Bacon Wrapped Grilled Quail "Wings Style", Fried Oyster Tacos with ginger coleslaw, pico de gallo and scallion remoulade, and Gulf Coast Coconut Shrimp with a spicy tropical fruit relish. Main dishes were the Roasted Rack of Lamb with olive and tomato demi, candied lemons, potato puree and broccolini; Chile Marinated Grilled Pork Tenderloin with red rice, crispy brussels sprouts and black bean demi; and Pan Seared Scallops served with Texmati rice, aged Parmesan cheese and sautéed mushrooms. A collection of cocktails were also presented, including one featuring brown gin that I had never tried before but was delightful.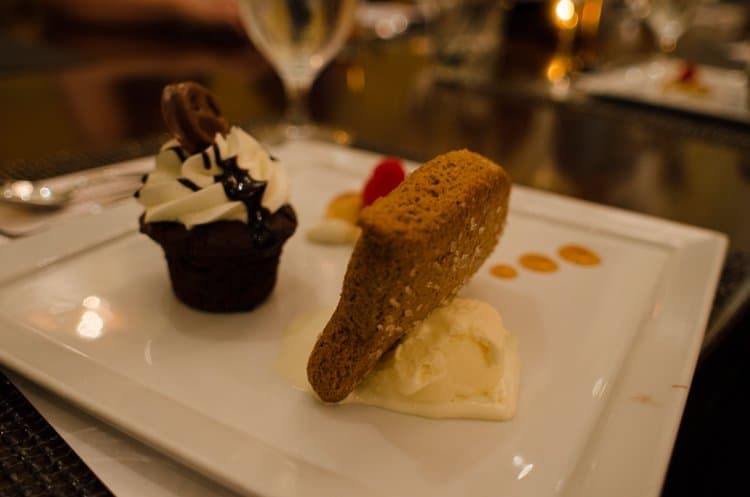 Dessert brought a Texas Gingerbread Pig with cinnamon and sugar, a Dark Chocolate Cupcake topped with vanilla butter cream and a chocolate jalapeño and Pumpkin Panna Cotta with maple syrup and spiced pecans. It was my birthday weekend so I indulged in all of it!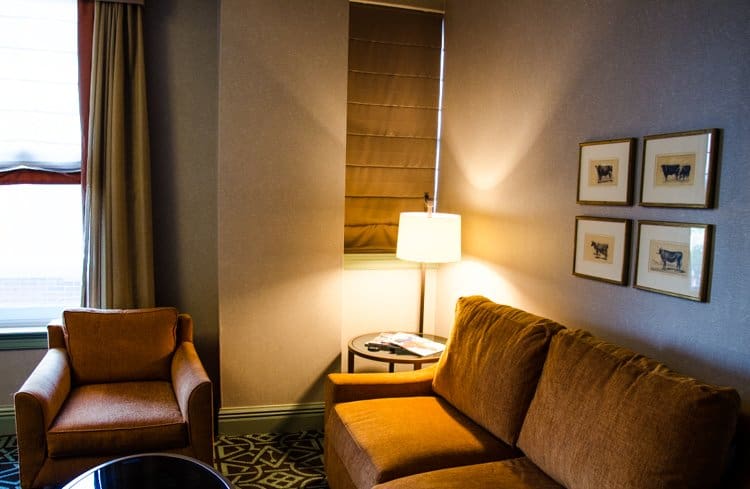 Afterwards we tucked in for the night upstairs at the Hotel ICON, a unique historic hotel housed in one of the earliest skyscrapers in the United States. The building was finished in 1912 but the hotel was renovated in 2012 and features modern amenities like free wireless internet throughout. The location is right downtown and along Houston's light rail so you have access to everything along that line. There is also a complimentary downtown shuttle service providing easy access to all the centrally located attractions. Nearby are Buffalo Bayou Park, Minute Maid Field, Toyota Center, BBV Compass Stadium, trendy bars and the theatre district among others.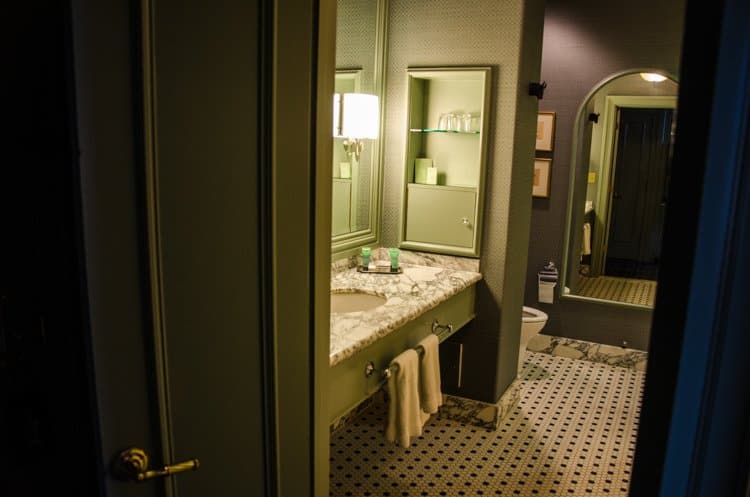 Our room was equipped with a stereo CD/iPod/MP3 clock radio, mini-fridge, safe, robe, TV and work desk. The hotel also has a spa, fitness center and a variety of event venues and meeting rooms. We loved the Texas-inspired artwork hanging on the walls, the comfy bed and the over-sized bathroom complete with a large spa tub and rubber ducky. All in all, a delicious evening in the heart of Houston and celebrating Houston's heart.
We were hosted but all of our opinions are our own.