Enthralled with the concept we'd discovered at Restaurant Gwendolyn in San Antonio, we were eager to try something like it in our own backyard. Underbelly is the pioneering restaurant of Chef Chris Shepherd, a man determined to tell the story of Houston food while staying true to local, organic principles.
Settling in at our American Walnut table with my father during a weeknight, we were eager to peruse the menu. Such diversity! Referring later to the website I learned that Shepherd has been inspired by all aspects of Houston's culinary and cultural history, drawing on many influences. This certainly showed in the selections on offer.
I cook at home almost exclusively these days because I have strict standards about where my food comes from. Occasionally we'll venture out but I usually insist on the food being organic and local (at home we use a produce delivery company that sources from local producers). Underbelly fit these criteria perfectly. Shepherd does all his butchery in house and has a relationship with local farmers, ranchers and fishermen. Our waiter told us that nothing served comes from more than 150 miles of the restaurant.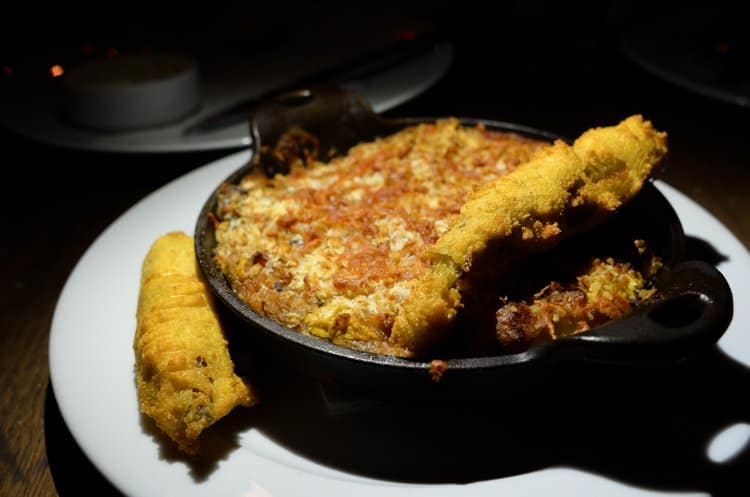 Everything on the menu here is meant to be shared, like tapas. A few dishes are large, family-style platters, which made us especially happy that we were eating with Dad. The more people you bring, the more dishes you can try! We began with Warm Slow Dough Bread served with Smoky Pit Butter, which smelled heavenly and was quickly pulled apart for dipping.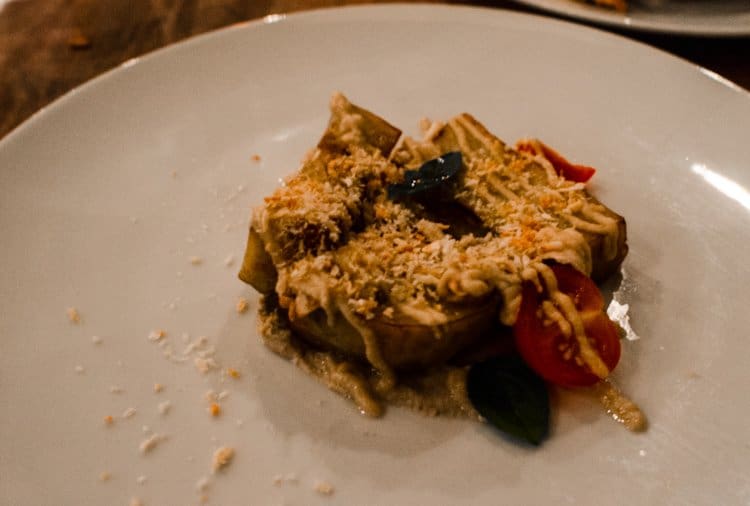 Next came the Creole Shrimp and Squash Casserole with its crackly topping and creamy texture. This was John's favorite dish of the starters and also scored big points with me. After that we were on to the tender, flavorful Roasted Eggplant, Tahini Vinaigrette and Hummus – a perfect trio. Finally we had the Korean Braised Goat & Dumplings. This was a spicy dish and seemed perhaps a little overcooked – though this could just be our interpretation. We've had many goat dishes and are used to larger more succulent cubes of the meat and a different sauce. It still won points for surprising us though.
We chose the Slow Cooked Pork Roast, Tomatoes, Onions and Tzatziki for our main course. This was an incredible dish featuring some of the most tender pork I've ever had. The tomatoes were fresh and plentiful and everything went well with the sauce. I've had a lot of Greek food but never the pairing of pork with tzatziki – a wonderful combination.
We couldn't pass up dessert and opted for their signature sweet finale: Caramel Popcorn Pot de crème with Fried Pretzel and Vanilla Ice Cream. I could have eaten about five of these – I'm a sucker for the pairing of sweet and salty and the flavor of the crème was divine. All in all we enjoyed our experience at Underbelly. The service was excellent and the food not only fresh but inventive too. It was difficult to decide what to order from so many tempting offerings. And this is what you want in a restaurant: a place that is committed to its values with a warm, inviting atmosphere and the element of surprise.
Underbelly is located at 1100 Westheimer Road in Houston, Texas (underbellyhouston.com)