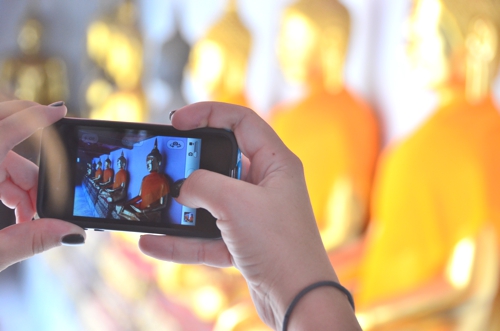 I'm a bit of snob when it comes to travel photography. Not because I believe my travel photography is objectively better than anyone else's, mind you, but because I believe that travel photographers should always prioritize detail, nuance and quality in the images they capture.
Enter the iPhone. On the surface, it's a travel photographer's dream – small, lightweight and point-and-shoot. Sure, it's low quality, but it's got a bevy of filters, editors and other features that kind manipulate its photos into looking like they've been professionally shot. Well, kind of professional.
And that's the thing about the iPhone when it comes to travel photography: It's kind of awesome. But it also kind of sucks! Unless something groundbreaking changes RE: iPhone design, you will never see an iPhone photograph on Leave Your Daily Hell, and here's why.
Technical Limits of the iPhone Camera
Although the iPhone 5 has the most sophisticated iPhone camera thus far – the cameras on the iPhones 4S, 4, 3Gs and (shudder) 3G  are much, much less capable – I'm going to analyze the tech specs of the iPhone 5 camera, for argument's sake.
The iPhone's camera resolution is a mere 8 megapixels, which is less than that of the $200 point-and-shoot I was using circa 2007. The clearness of the iPhone's shots suffers even more when you attempt to zoom, which results in hugely pixellated captures.
Another major disadvantage of the iPhone camera – which also, to be fair, applies to non-smartphone point-and-shoot cameras – is that it isn't particularly tactile. Every element of control you have over a shot relates to a button on the screen or, worse, a post-processing technique. Your physical connectedness to the act of photography is several hampered when you use an iPhone as a camera.
Advantages of iPhoneography
The obvious main advantage of using the iPhone as a travel camera is how convenient it is. Not only is the iPhone small and lightweight, it's discreet and always at the ready – it's easy to sneak an iPhone into places where you "can't" take photos.
Another advantage of using the iPhone is that what the phone lacks in root technical capabilities, it makes up for with some pretty cool bells and whistles, such as the ability to take panoramas. The iPhone is also capable of HDR, or "high dynamic range" shots, wherein it digitally combines underexposed and overexposed versions of the same picture, to create very dramatic effects.
The iPhone also makes post-processing, from cropping, and correction, to "filters", a matter of tapping the screen, with apps like Instagram, Hipstamatic and even Photoshop Express for iPhone. The iPhone might not take great travel photos, but you can definitely make its crappy photos look great!
iPhoneography and Travel Blogs
No one knows this better than the Russian tourist who used an iPhone to photograph his stripper-looking girlfriend in exotic locales around the world. But this example notwithstanding, is the iPhone really appropriate as a means of documenting round-the-world journeys followed by thousands or even millions of readers?
When I see fellow travel bloggers posting iPhone photos to their personal photos or fan pages, it kind of makes me cringe. With the continuing death of print media, after all, we're the "professionals" in this arena. Why would you fly all the way to a remote island, then photograph your amazing seafood dinner with your phone as if you were grabbing pizza down the street?
And that's another thing: Travel bloggers who practice iPhoneography tends to photograph things that are superfluous. There's definitely something to be said about the amount of work it takes to haul around a DSLR camera, and to have it at the ready, but each photo that comes from putting in this work is worth 1,000 iPhone photos.