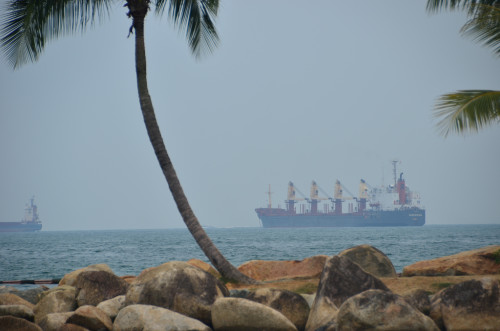 Singapore is an island — a tropical island, no less — so it would stand to reason that Singapore has many beautiful beaches.
Unfortunately, Singapore is also a highly-developed tropical island nation of more than 5 million, so even if the country's government has spent billions on beautification campaigns, the fact remains: Singapore beaches, where you find them, are only so nice.
Allow me to show you what I mean!
Every Singaporean I asked about "beautiful Singapore beaches" suggested I head to the island of Sentosa, located a short monorail or cable car ride from the HarbourFront station of Singapore's MRT. Or, a 15-minute stroll along a newly-opened "boardwalk."
I was horrified as I began the 600-meter journey, and not just because an oppressive system of overhead signs informed me every time I successfully traversed 50 meters: The castle in the distance suggested I was heading toward Disneyland, rather than anywhere remotely tropical or idyllic.
It was pretty spot-on, as harbingers go: The northernmost part of Sentosa Island, known appropriate as "Resorts World," is home to Universal Studios Singapore. I obviously bypassed this hot mess and continued heading southward, toward the Singapore beaches I so desperately craved.
The good news is that Universal Studios (and the requisite clusterfuck) quickly came and went. The bad news is that the first glimpse I caught of the sparkling, blue sea was tinged by the sight of tankers in the distance.
Signs of bad things to come became more plentiful the closer I got to the beach. When I reached the end of the southbound path I turned left and headed toward "Palawan Beach" — other Singapore beaches include Siloso and Tanjong beaches — and was greeted by a poorly paved (albeit empty) parking lot. I feared the worst!
I was surprised, after being passed by a 200-strong pack of power walkers, to find that Palawan Beach was clean, natural-looking and maybe even beautiful, even if it doesn't live up to its namesake in the Philippines. Some views are even tanker-free!
(But others, unfortunately, are not).
The most beautiful part of Singapore's Palawan Beach is Palawan Island (again, sorry Philippines!), which you reach via rope bridge from Palawan's main beach. The view looking back toward Sentosa's mainland is stunning, even if you probably don't want to look south toward the open sea (and the aforementioned tankers).
So, there you have it: Singapore has (relatively) nice beaches, although to be fair they did not satiate my beachlust — it's on to Bali for that!