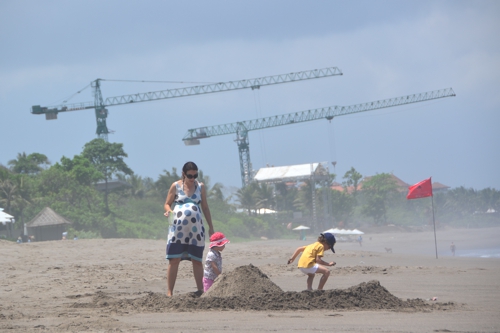 I'm not supposed to be in Bali right now. Just one week ago, I had a booked-and-paid-for flight to Sri Lanka — which, you might remember, is one of my top visits to visit.
I changed my plans in the 11th hour, to appease a picky Brazilian man who is no longer my boyfriend.
Bali's reputation varies, depending on who you ask. Party animals from Australia and Europe list Bali as their top destination; "real" travelers check it off their list early in the game, if they come at all. (Until last week, I didn't think I would.)
But I did in fact deplane at Ngurah Rai International Airport five days ago and, in spite of the how unappealing everything I saw around me during the taxi ride to my hotel, was, made a vow to enjoy Bali to the fullest extent possible.
Unfortunately, enjoying Bali is easier vowed than done.
Not An Island Paradise
My now-ex boyfriend and I arrived in Bali's Seminyak area rather late Sunday night, so it wasn't until Monday morning that I got a chance to judge Bali in daylight. While Henrique popped into a local massage parlor, I made a beeline for the beach.
Or at least I tried to.
"Sorry," said the un-armed guard standing three-quarters of the way down a nondescript dirt road leading in the direction of the ocean. "No beach access."
I half-laughed. "Why not?"
"Private road," he replied, without giving further elaboration.
"So how do I get to the beach?"
He pointed northward. "W Hotel."
I laughed louder, but more cynically. "But I'm not staying at the W Hotel."
"That's OK," he smiled. "You white."
White skin, it turns out, is something of an all-access pass in Bali: The guard at the W didn't so much as ask what room I was staying in as I trespassed on to the hotel's property, nor did any of the dozen or so staff I encountered en route to the sea.
This is a good thing. What currently exists along the shores of Seminyak is not worth going to jail or even paying a fine for — steel-grey sand, bruise-colored water and clear-cut vegetation do not an island paradise make.
The silver lining of my hour-long stroll? Putty-faced people building cheap-looking sandcastles, with construction cranes in the background. Cosmic irony!
Does Bali Have Nice Beaches?
Shockingly, Seminyak is not the worst of Bali's beaches. That honor goes to Kuta Beach, where Henrique and I watched sunset with Fido, an Indonesian friend of mine I knew from Shanghai.
Nature-wise, Kuta Beach isn't much more disgusting than Seminyak; it just has larger crowds of largely pale-skinned people, whose palor draws extra attention to the metallic hue of the sand and water.
Not wanting to offend my local friend, Henrique had kept his mouth shut on the beach. But once we were in the Blue Bird taxi on the way back to Spartacvs, he let loose.
"I'm flying to Phuket tomorrow," he announced. "I fucking hate Bali. I didn't fly all the way across the world for this!"
I'll spare you the gory details of the argument that ensued (My defense: I was under the impression that my boyfriend flew "all the way across the world" to be with his boyfriend), except to say that I talked him into staying one more day: Fido had agreed to show us Bali's most beautiful beaches on Tuesday.
The good news? Bali's most beautiful beaches, from high-class Nusa Dua, to surfer-infested Padang-Padang beach, are among the most beautiful beaches I've ever seen. (Disclaimer: The most beautiful Bali beach I saw, located near the Uluwatu Monkey Temple, sits no less than 1,000 feet beneath a sheer cliff, i.e. totally inaccessible).
The bad news? Bali's beaches weren't beautiful enough for Henrique, who was packing the last of his things when I came back into our hotel room Wednesday morning, after having blogged outside to avoid waking him.
"I'm leaving!" He answered, after I asked him what the fuck he was doing.
As the door slammed, I had no idea where Henrique was off to (I have a feeling, based on his earlier outburst, that it was Phuket), or to what extent Bali's suckitude influenced his decision. But I did know one thing: The only thing worse than coming to Bali with someone you love is being left in Bali by someone who no longer loves you.
The Bali From "Eat, Pray, Love"
Henrique hatched the idea to travel to Bali with me after we watched the abortion known as "Eat, Pray, Love" together, so it is ironic that he peaced out when he did: Wednesday was the day we'd set aside to see Julia Roberts' Bali.
But I didn't want to sulk in my hotel room (or, worse, sulk outside amid the stark-white ass cheeks of the mostly-older guests at Spartacvs), so I traveled to Ubud, the Bali portrayed in the film, alone.
My first stop was Ubud's Monkey Forest. I'm not sure what's worse: That I saw a monkey playing with an aerosol can; or that most of the others tourists who saw it seemed amused by it. Suffice it to say, it was difficult to tell the difference between tourists and monkeys.
The tourists who visit Bali are the very worst types of tourists in the world:
They viciously argue, without removing their Prada sunglasses, over 20 or 30 cents, without realizing that employees in even Bali's most posh resorts are lucky to earn this amount in exchange for an hour of extremely hard work
They lament the muddiness of their feet after tromping through the Tegalalang rice terraces that feed thousands of local people, and resent the thought of tipping the young boys and girls who accompany them on their treks so that they don't accidentally fall 10 (or more) feet down the hillside
They are thankful for, and not devastated by, the destruction of Bali's natural habitat — it is, after all, so that a higher-end artificial habitat, designed especially for them, might be created
The sad truth is that Bali, at least the Bali you're likely to see on a short- to medium-length vacation, is a cesspool; it is damaged beyond repair, save for a sudden pandemic that keeps tourists out for a decade or more.
I hear Phuket is better.