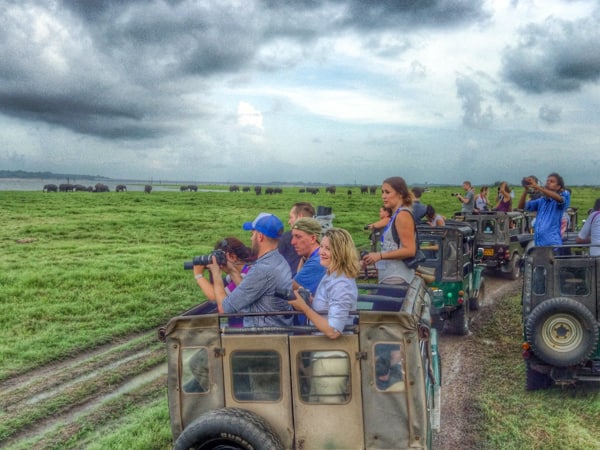 SERENDIP WAS THE name of ancient Sri Lanka — before Sri Lanka, and before Ceylon. And yes, it is the root of serendipity, one of my favourite words. Here's the full story from an edited Britannica entry:
Serendip, name for the island of Sri Lanka (Ceylon). Arabic in origin, the name was recorded in use as early as 361 AD and for a time gained considerable currency. It is best known to speakers of English through the word "serendipity," which was invented in the 18th century by Horace Walpole. Walpole was inspired by a Persian fairy tale, "The Three Princes of Serendip," whose heroes often made discoveries by chance. Arab traders originally borrowed the name Serendip from Indian traders — it is in fact a corruption of the Sanskrit compound Siṃhaladvīpa ("Dwelling-Place-of-Lions Island").
Over the past nine years of travelling extensively in India, I have wanted to visit Sri Lanka. But the opportunity never seemed to arise … until my application was accepted to join 40+ other professional travel bloggers at the Travel Bloggers Conference Asia (TBCAsia).
TBCAsia was the first professional travel bloggers conference in Asia and it was held in Sri Lanka in mid-November 2014.   So here are some of my "discoveries made by chance" while I was in Serendip, er, I mean Sri Lanka!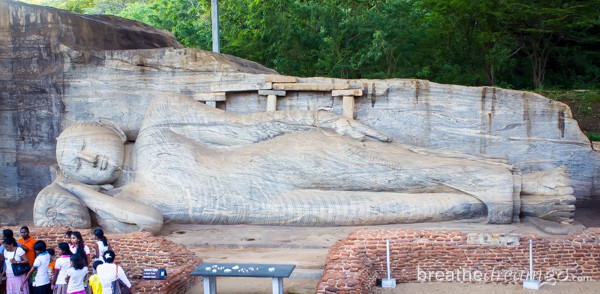 Sleeping Buddha evokes loving kindness, at Polonnurawa, Sri Lanka
Buddha's timeless serenity
With some of the other travel bloggers at TBCAsia, I cycled through the ancient city of Polonnurawa. Polonnurawa was the royal city of the Polonnaru Kingdom, largely built in the 12th century and abandoned about a century later. The site was declared a UNESCO World Heritage site in 1982 and is one of the leading historical attractions in Sri Lanka.
Throughout the extensive site, I was astounded by the beauty of the Buddhist carvings. In one dark temple, I felt like I was entering a portal to antiquity. Several large Buddhist statues seemed to shimmer and glow in the dim light, and I was told they were each made of a different stone — so that each glistened differently. The effect was uncanny, and when I walked outside into the bright sunshine and saw the clear blue sky, I felt like I had returned from somewhere.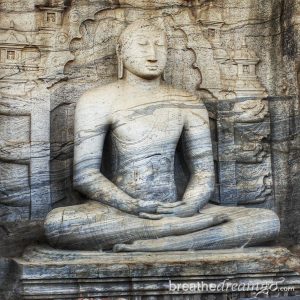 The best experience of Polonnurawa was yet to come. Near the end of the site, we parked our bikes and walked to into a parkland setting to see three massive, beautiful and serene Buddha statues on display. I read that just seeing them evokes loving kindness in the viewer, the mute statues doing the work of sage teachers and meditation practise.
Perhaps it was their influence that made me connect with a large family of Sri Lankans who were seated on a big rock, facing the sublime statues. I smiled at them, they smiled at me, and the next thing you know, I was seated among them, linking arms and getting our photos taken together. We laughed together and enjoyed the lovely spot, lit by the slanting rays of a warm afternoon sun.
These are the moments that make being a tourist worthwhile — when you reach across language and cultural barriers to just BE together in a common humanity. We were all devotees there together.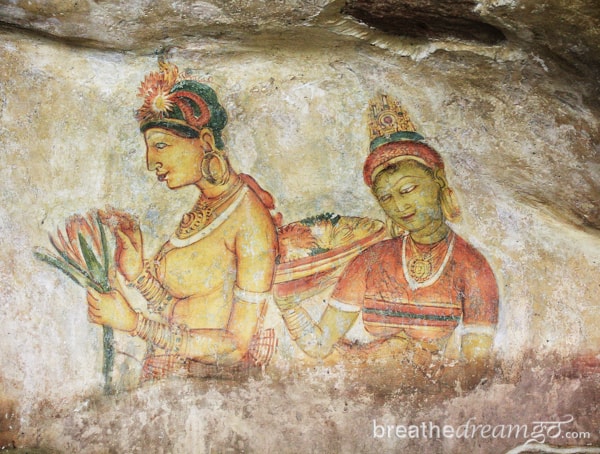 The timeless beauty of the 1,500 year old "damsel" frescoes at Sigiriya, Sri Lanka
Sigirya's divine damsels
You can see the ancient Sigiriya rock citadel from a distance, in every direction, as it pokes up above the lush tropical forests and gently rolling hills of central Sri Lanka. Sigiriya means Lion's Rock, and the whole thing is one big rock, outfitted with huge lion's paws (the head is long gone) sitting on a massively big rock.
We arrived early to climb the 1,000 steps to the top and I was worried I wouldn't make it. I knew it would be a hot and sweaty climb, there would be narrow stairs and one worrying place where bees sometimes swarm without warning. Then I saw elderly women, middle aged monks, tourists from Japan wearing completely inappropriate shoes: if they could do it, so could I.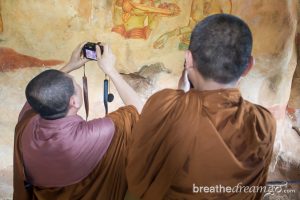 Monks snapping photos of the delicate damsels
And of course I did make it to the top, though it was not the top that was tops for me — it was the beautiful and delicate "damsels" frescoes. These lovely ladies, more than 1,500 years old, adorn a wall about halfway up. And while there are only a fraction left of the original number (about 21 of 500), they make up for it with their grace and beauty. It's delightful to see the topless women, adorned with ropes of jewels, cavorting on the rock face. And delightful to see the chaste monks snapping photos right along with the rest of us.
Along with beauty and grace, these frescoes have an air of mystery as there is contention around who they are: some say they were courtesans of King Kassapa (who built Sigirya as a palace fortress in the 5th century), others claim they are representations of the goddess Tara and still others say they are celestial nymphs.
Sigiriya is considered to be one of Sri Lanka's leading historical sites, and was declared a UNESCO World Heritage site in 1982. According to the UNESCO site, "The Maidens of the Clouds are comparable to the most beautiful creations of Ajanta."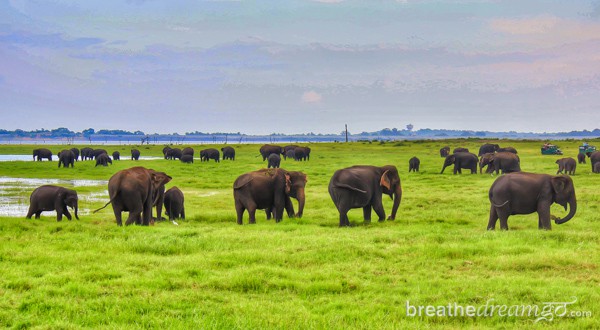 Elephants' Abbey Road in Kaudulla National Park, Sri Lanka
Elephants free and wild
On the first day of the TBCAsia Sri Lankan tour, I dutifully climbed into a jeep along with about five other travel bloggers, and set off in a convoy of jeeps for Kaudulla National Park in central Sri Lanka. I had no idea what to expect as we rode along a dirt track into a bright green field surrounding a pale blue lake.
Suddenly, I saw them in the distance, dark smudges on the landscape, moving rhythmically together, and I was mesmerized. I scanned the horizon and did a quick count, realizing that we were heading right into a herd of 200 or more Asian elephants.
I've never had an experience like this before and I was exhilarated to see so many unchained and free elephants. Usually in Asia you see elephants in chains, ridden by mahouts, and used for work and tourism. But these wild elephants were wandering freely in small groups. After my initial excitement died down and I got to work, trying to take photos of them from a moving jeep while all the other travel bloggers were also jostling their cameras, I witnessed a bull elephant charge a jeep, let out a bellowing howl, and stop just in the knick of time.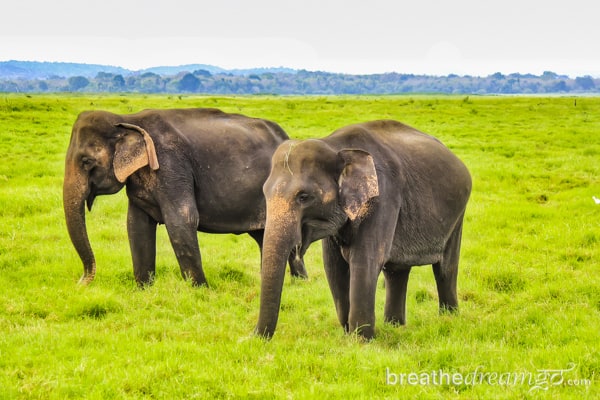 Elephants running free in Kaudulla National Park, Sri Lanka
We soon realized the jeep was between the bull and a small family group. In other words, we were in the way. My colleague Michael Turtle wrote a comprehensive post about this experience and the status of elephants in Sri Lanka Sri Lanka's elephant gathering — which also has stunning photos.
Though I loved seeing the elephants wandering free and wild, I felt conflicted about being part of a dozen or more jeeps trespassing on their territory. Seeing such a magnificent sight does indeed inspire wonder and motivate the visitor to care about their welfare, but at what cost? What do you think? Is this sustainable and responsible tourism? Or can we be doing something better to protect wild animals in their natural habitat?
I was very impressed by this entire experience and by my travels in Sri Lanka. It was a great first trip, and I hope the first of many.  Sri Lanka would be a great introduction to South Asia as it is more relaxed, tropical, quieter and cleaner than India, more accessible than Bhutan, and has more tourism infrastructure than Nepal.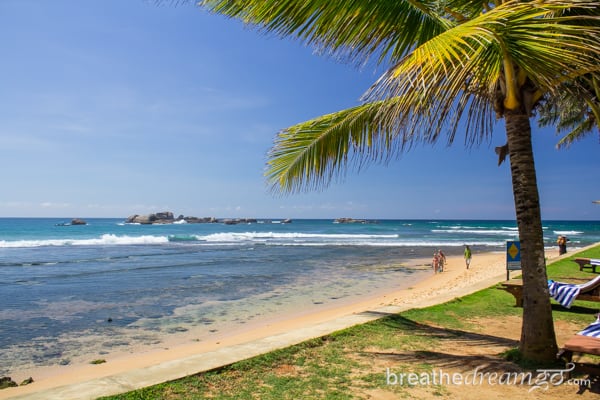 The gorgeous beach at Chaaya Tranz Hikkaduwa.
Top photo — Elephant safari photo courtesy Derek Freal of HoliDaze