I hadn't yet flown Korean Air Business Class, so it was about time to put their upgraded seating and service to the test.
Having just ticked off what was probably my number one all-time bucket list item, I arrived at JFK Airport's Terminal 1 last Saturday night less effusive than I should've been. After all, I would soon be fulfilling another lifelong dream—flying business class on the most beautiful airplane ever made—albeit not for the first time.
Of course, a butterfly high wasn't all that muted my enthusiasm. After waiting more than an hour for the Korean Air JFK check-in desk to open, I walked to security with a fellow passenger who was excited about more than just his own maiden voyage on the Boeing 747-8.
"He needs to pull his pants up," the older not-so-gentle man commented only a few seconds after having introduced himself, pointing at a much younger (perhaps not even of-age) one going through the full-body scanner. "Otherwise, I might have to walk over there and [redacted for decency]."
The good news is that while this individual managed to make several other disturbing comments during the brief time we were in earshot of one another, the worst of them ("you should knock if you come to my suite, just in case I'm pleasuring myself") revealed a comforting fact: As a first-class passenger, he'd be confined to the nose of the plane.
Mercifully I ended up never seeing him ever again, which means not only that I avoided a true #MeToo moment, but that I can get on with the substantive part of this Korean Air review.
Korean Air Business Class Seat and Cabin Comfort
I hadn't originally planned to fly Korean Air New York to Seoul—it certainly wasn't the most convenient option, since my journey had actually begun that morning in Mexico City. But thanks to multiple equipment swaps during the months since I booked my ticket, this route would be my only chance to fly Korean Air's 747-8. (And more importantly, the fabulous Apex Suite, which might just be the best business class product in the sky right now.)
After a painless (and creep-free!) boarding procedure, I arrived to the upper deck of the plane, which like the one on KLM's 747-400 seemed like something of a private jet. I felt particularly swanky as I settled in to my suite—it was even bigger than I expected, spanning a whopping five windows to myself, which would've been useful if this 14-hour flight over the North Pole weren't taking place entirely during the night.
A passing flight attendant handed me a guava juice (notably, the first time I've ever been offered this beverage on a plane), the lights dimmed and a MIDI version of the theme from "Flashdance" played.
Apart from that, there wasn't a lot of fanfare during our departure, probably because it was nearly 1 a.m. local time. Restless, I spent most of the first hour of the flight analyzing (and, once the seatbelt was off, exploring) the cabin. Superficially, it was whiter than I expected given the Korean Air affinity for Tiffany Blue; it also appeared somewhat cramped looking down the aisle from the front, where the lavatories were.
As is the case on most Asian airlines the temperature was too high and there were no personal air vents; the windows, useless as they might have been at this dark hour, lacked the digital dimming feature of the Dreamliner.
I also got acquainted with the suite itself, which didn't seem as large once I extended the seat into full-bed mode—if I'd been even an inch or two taller, I'd have had to bend my knees. Sleeping in general  would prove difficult, since there was no bedding to speak of (only a blanket) and the cushion itself was far from…well, cushioned.
I tossed aside the superfluous amenity kit, which mainly consisted of lotions and lip balms, and wondered what sort of passenger could carry on enough baggage to fill the four in-seat storage wells of the Korean Air Prestige suites.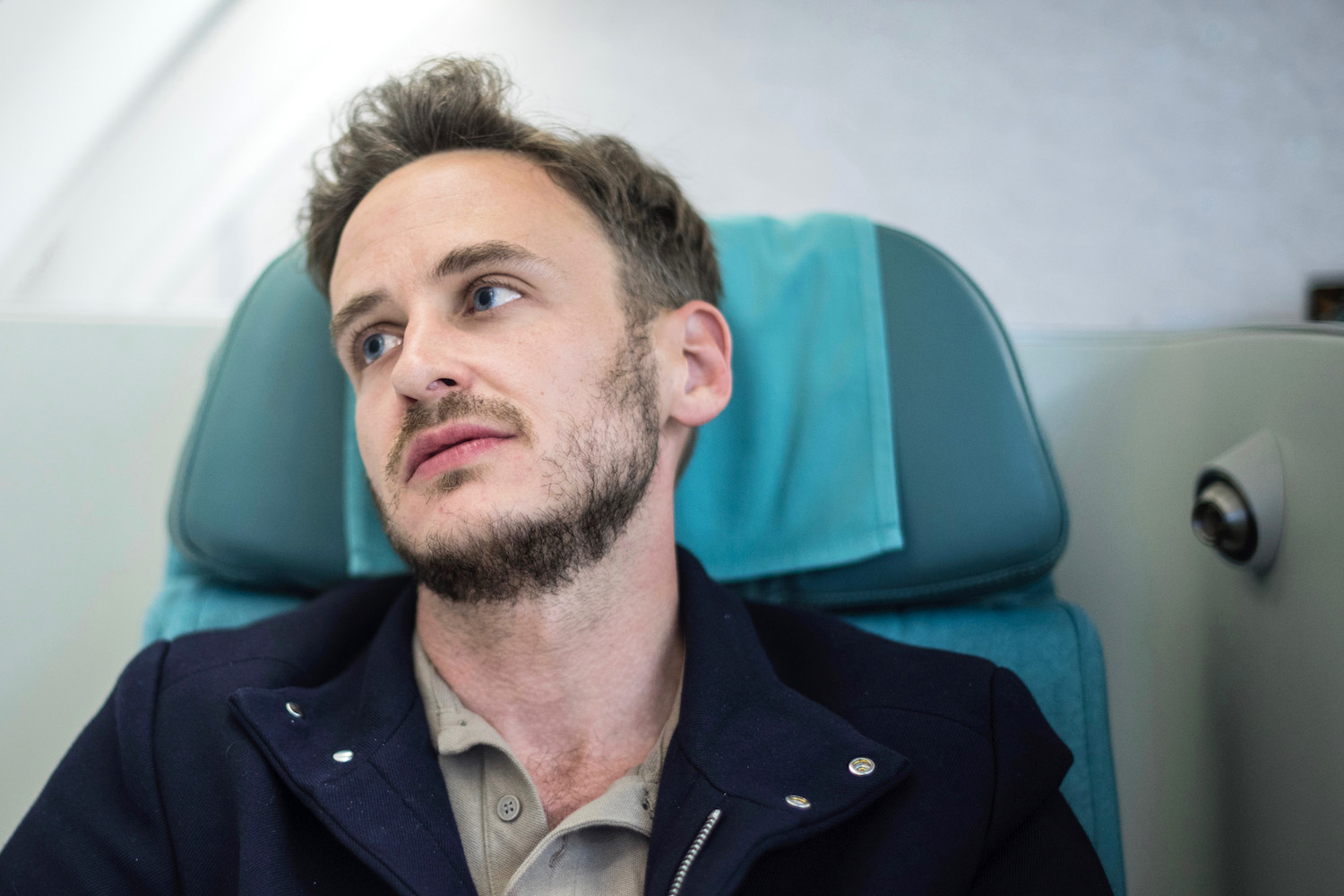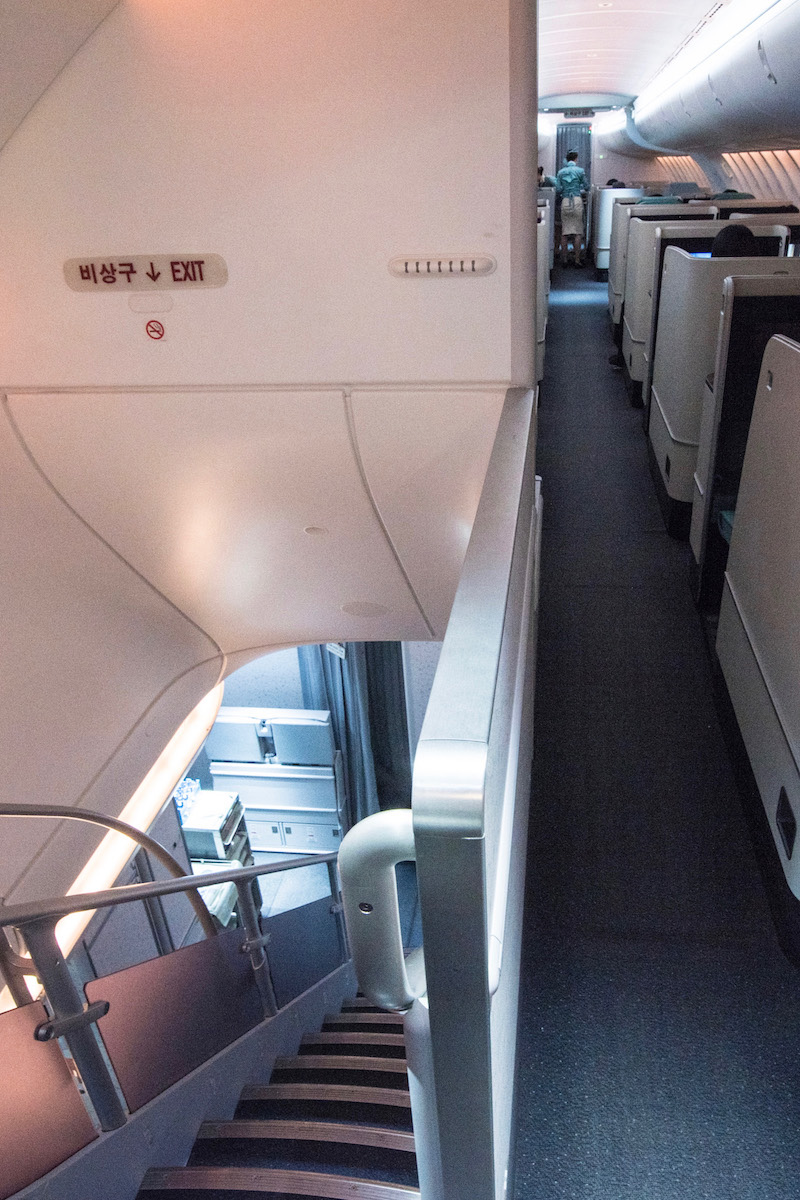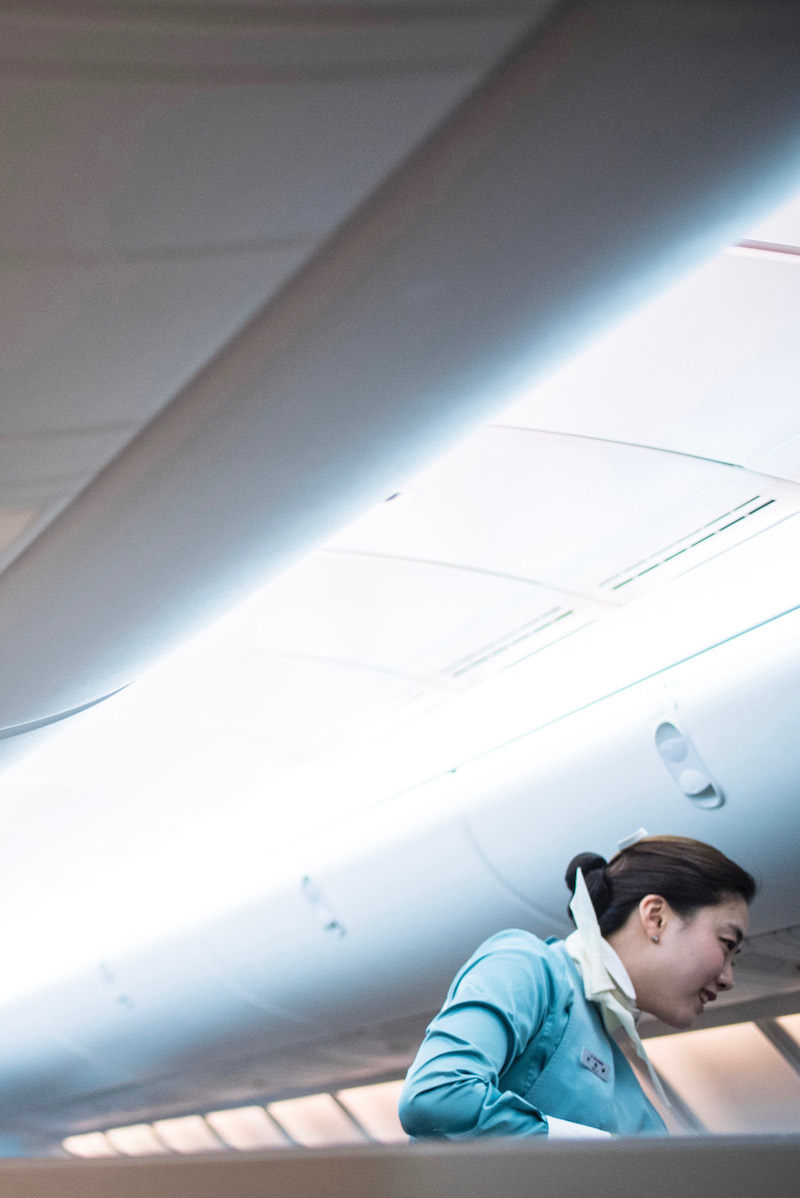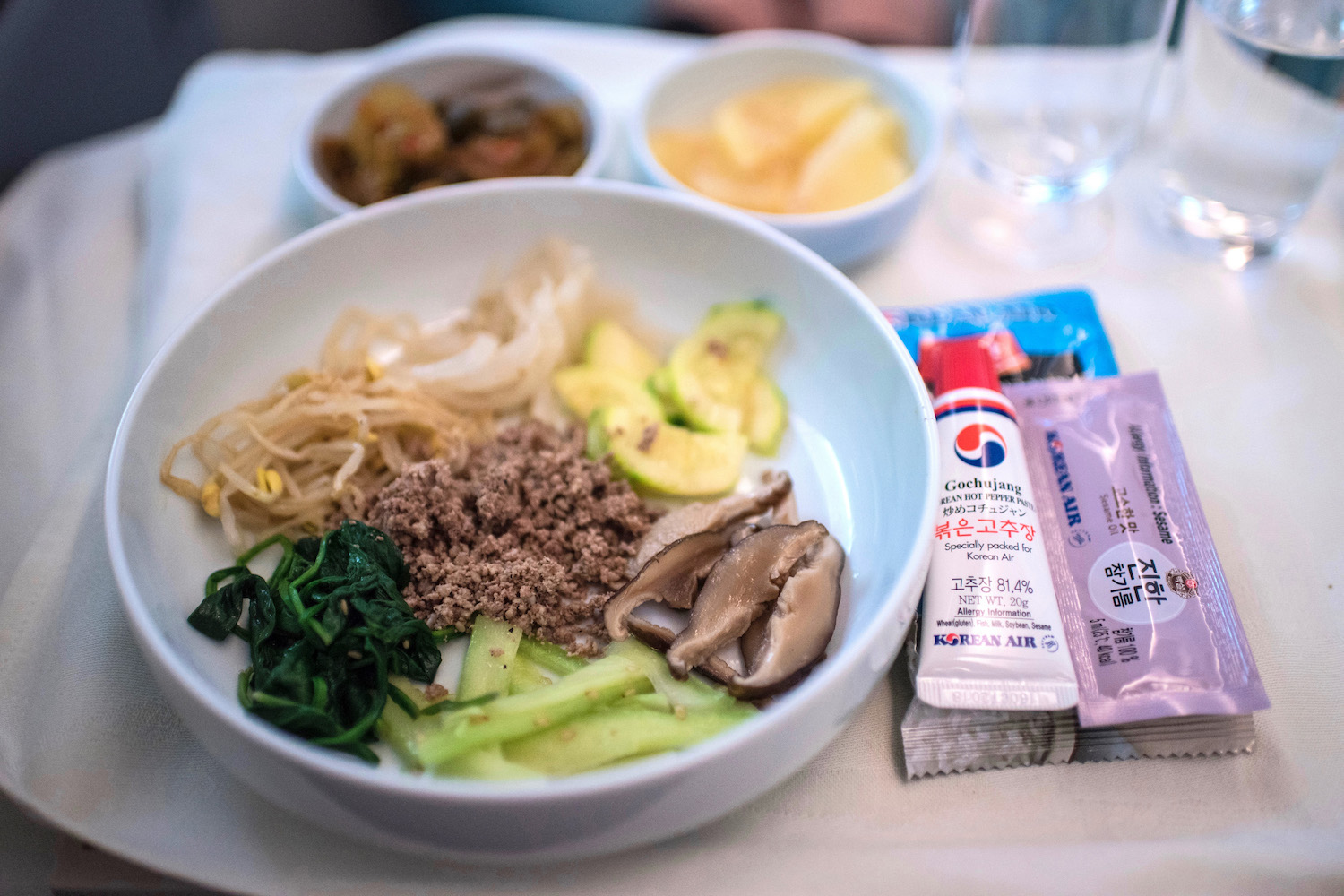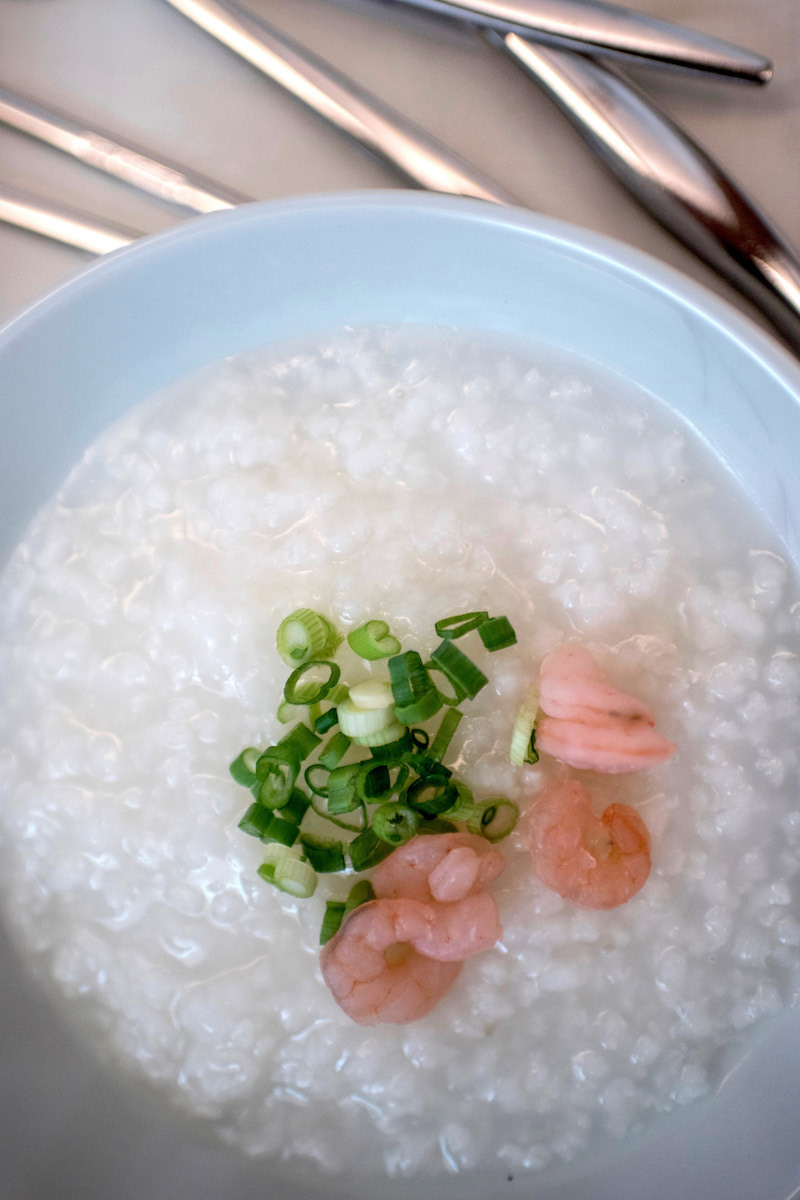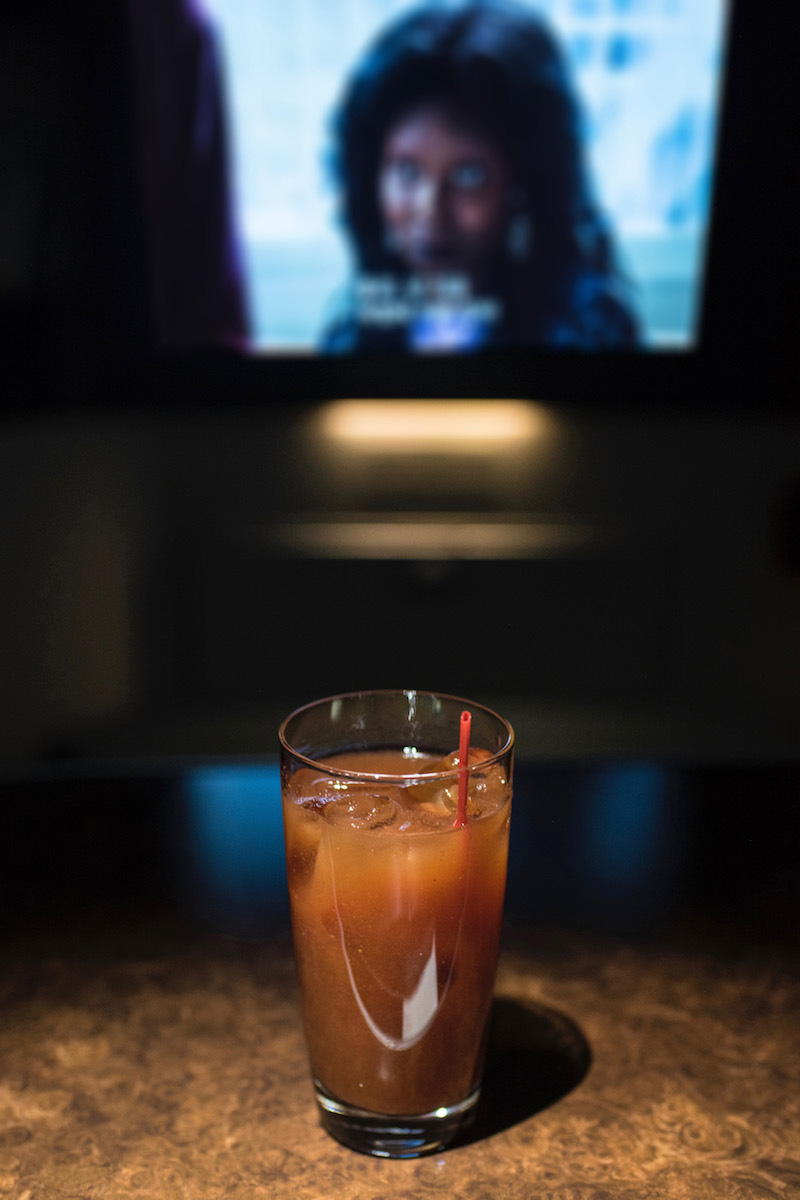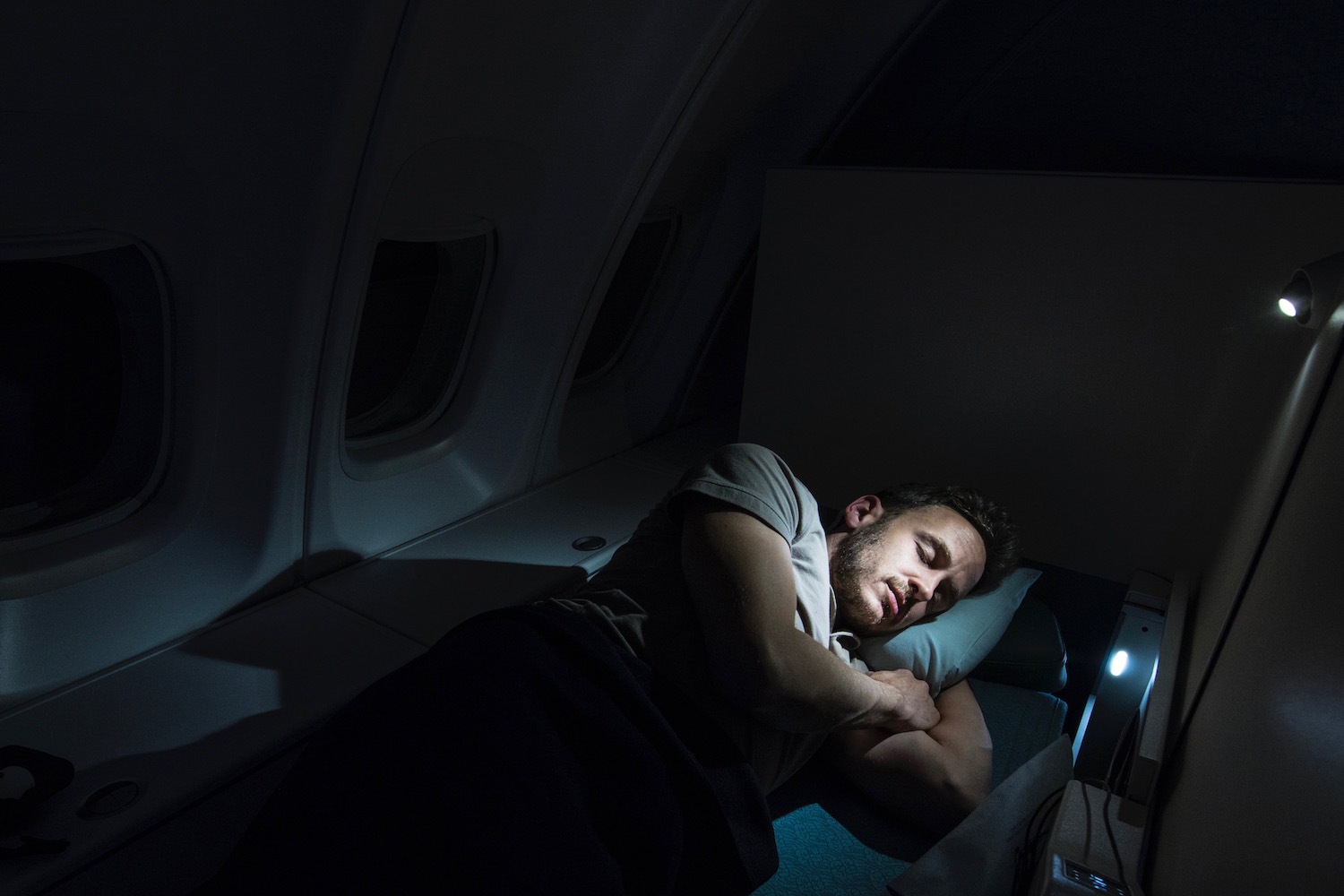 Korean Air Business Class Dining and Hospitality
Meal service began shortly after I came to terms with how anemic the in-flight entertainment selection would be. As the opening scenes of 1990 classic "Ghost" played, I flipped through the cheap-looking menu (with a chartreuse exterior and a photocopied interior, it matched the plane neither in spirit nor in physicality), and told the purser (who simply introduced himself as "Purser") that I'd take the bibimbap and a glass of champagne.
(A couple of notes here. First, American Airlines, this is how you do bibimbap at 35,000 feet—not sure what y'all thought you were serving me a few weeks ago. Secondly, while a cursory glance at the champagne label impressed me, I don't pretend to be as much of a high-brow booze aficionado as many of my competitors: Perrier-Jouët is high-end for business class, sure, but I can't and won't say more than that.)
I wish the crew, both "Purser" and his underlings, could've had a sip. They seemed flustered throughout the assembly-line style delivery of the meal, which was delicious even if I can't remember what the starter was, and even though the dessert was a forgettable fruit plate.
This strange tension persisted during the interstitial service period: The flight attendant serving the rear portion of the upper deck was visibly anxious as she delivered my "Blood(y) Mary." She seemed borderline-annoyed when I later asked for a mimosa and then a Bailey's on the rocks—she didn't seem to know what either was, prior to my telling her—though the cup noodles she whipped up mid-flight, which she topped with tender fresh fish, really hit the spot.
On the other hand, she must've apologized a dozen times for having accidentally stepped on my slipper-covered foot with her high heel when she passed me on the way to the toilet a couple hours before landing—I wish she'd apologized for the tasteless (albeit beautiful) rice porridge topped with shrimp instead. Both she and her colleagues continued being puzzled by my drink choices ("Do I put 'rocks' in the Bailey's-and-coffee?" she asked, with a completely straight face) and the sun, as expected, never rose.
Korean Air Business Class 747-8 vs. A380
I exited the Korean Air B747 around 5 a.m. feeling satisfied, but apprehensive. In addition to the fact that I had a 12-hour layover (both the morning and mid-day flights to Bangkok were full—I double-checked at the transfer desk), I knew the Korean Air business class A380 experience would be underwhelming.
You in danger girl, I remember thinking to myself as I waited in the gate area half a day later, having come back from a morning in central Seoul with nothing to show for it but extreme exhaustion. Thank god I didn't try to go back to Busan!
Frankly, I don't even know how Korean can sell the 747-8 business class and A380 business class as the same product. Different seats notwithstanding (industry-leading Apex Suites vs. decade old 2-2-2 sleepers), the A380 cabin simply feels more weathered and less intimate than on the 747.
While the Incheon-Suvarnabhumi route featured "regional" meal service, this is the same plane that flies over the Pacific, and I'd have been disappointed—no, angry—if I'd had to flagellate inside it for 12+ hours.
If you fly Korean Air business class long haul, make sure it's on a 747-8, 787-9 or certain 777-300ER aircraft (you'll have to verify this using the seat map). Otherwise, you'll end up in a dilapidated seat befitting of an inferior airline.
How to Book Korean Air Business Class
Korean Air award booking is fairly straightforward. Unless you're an extremely frequent flyer of the airline, you'll be transferring Chase UltimateRewards points to your SkyPass account.
Flying one-way in business class between North America and Southeast Asia costs 75,000 points plus taxes, according to the Korean Air award chart as of January 2018. Both the booking and Chase-to-SkyPass transfer (which is instant, but which you can only do once per day) can be done online, although you'll need to call Korean Air at 800-438-5000 if you want to hold an award ticket.
Want to book Korean Air business class for cash, rather than with miles and points? Sales are rare (Korean's North America routes are almost always full), but going prices aren't awful. Southeast Asia to North America usually goes for around $3,000 round-trip, a bit more if you go in the opposite direction, which is an OK value if you can fly at least one segment each way in the Apex Suite.
The Bottom Line
Officially known as "Prestige Class," Korean Air business class features a great product (onboard the 747-8 and other aircraft equipped with the Apex Suite, anyway) even if the service and food (there's no dessert!) leave something to be desired.
When compared with most US and European airlines, there's no real competition, although the discussion becomes a bit more complicated when you bring Asian airlines into the mix, Korean Air vs ANA for instance. I'd fly Korean Air business class again, but it definitely wouldn't be my first choice, even onboard the Queen of the Skies.
Other Articles You May Like: