I've been wanting to fly business on Japan Airlines (JAL) since practically the day I wrote about flying ANA business class last year. But while I took several economy flights on the carrier (and a couple in the interesting "Class J" cabin offered on domestic Japan routes) during late 2017 and early 2018, it wasn't until a few days ago that I finally ticked this experience off my bucket list.
Japan Airlines business class far exceeded my expectations, not to mention the company's own "Fly Into Tomorrow" slogan. It'll probably be a few weeks before I can definitively say whether ANA or JAL business class is better, but I think you'll be as pleased as I was with JAL's premium product and service upon reading this review.
Japan Airlines Business Class
I arrived to Narita Airport nearly two hours before departure, and since Japanese airlines generally don't board any earlier than 30 minutes out, I decided to head to the JAL Sakura lounge.
I'd been to the first class section of this lounge a few years ago when I was oneworld Emerald, and while I felt bummed out about the poor views from the business class area (it's one floor down from the main terminal level), the design aspects of the lounge were more remarkable than I remembered. In particular, I love the high ceilings, tasteful floral arrangements and understated staff uniforms, accented by sakura-pink scarves.
Eager to be among the first on the plane and to settle into my masterful Japan Airlines seat selection, 4K, which was cozily located right at the back of the business class cabin, I headed to Gate 71 around 35 minutes before departure. Boarding began promptly at 10:15, and thought the flight left the gate on time, an apology came over the PA as the brand-new 787-9 Dreamliner neared the runway.
"We'll be taking off a few minutes late due to traffic," the purser said apologetically, first in Japanese and then in English, "but we plan to arrive in Dallas early tomorrow—well today, according to local time."
On the Wings of Japan
I've always been more of a fan of the minimalistic Japan Airlines livery than most aviation enthusiasts, and I likewise loved every small detail present inside the 787-9 cabin. Namely the color scheme, which saw maroon seat padding inside the seat juxtaposed with black menus and tablecloths; the "Welcome" JAL-red Dreamliner mood lighting modulated to match the colors of sky as the flight made its way eastward.
And as for the JAL business class seat itself? On this particular aircraft (as well as select versions of the 787-8 and all 777-300ER planes) it was the Apex Suite (branded, by JAL, as the "Sky Suite"), which is also featured on a number of Korean Air planes and is arguably the best business class seat in the air. The window seat I chose offered the utmost in privacy, becoming an intimate individual suite as I raised the divider post-take off, and enjoyed views out my three dedicated windows.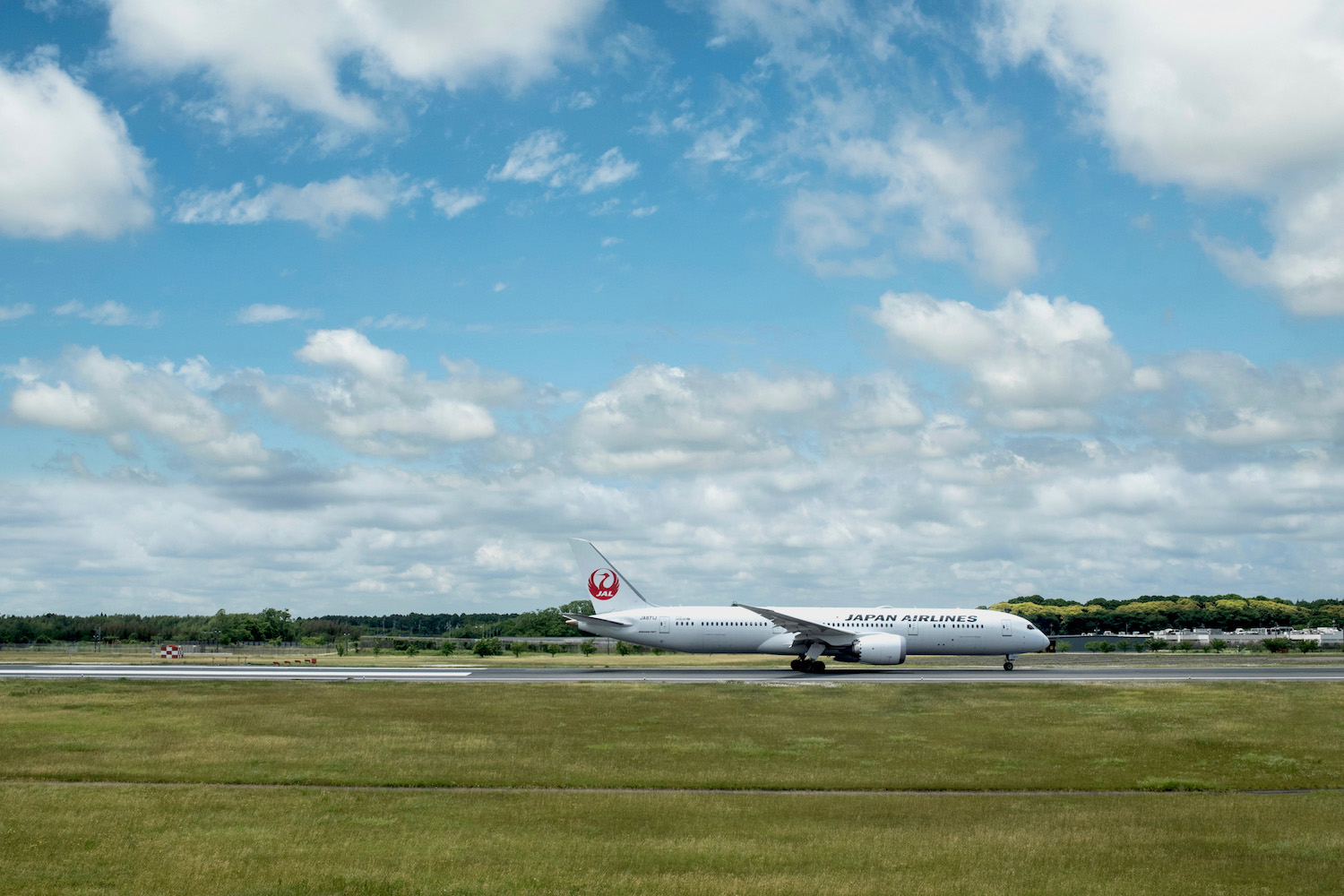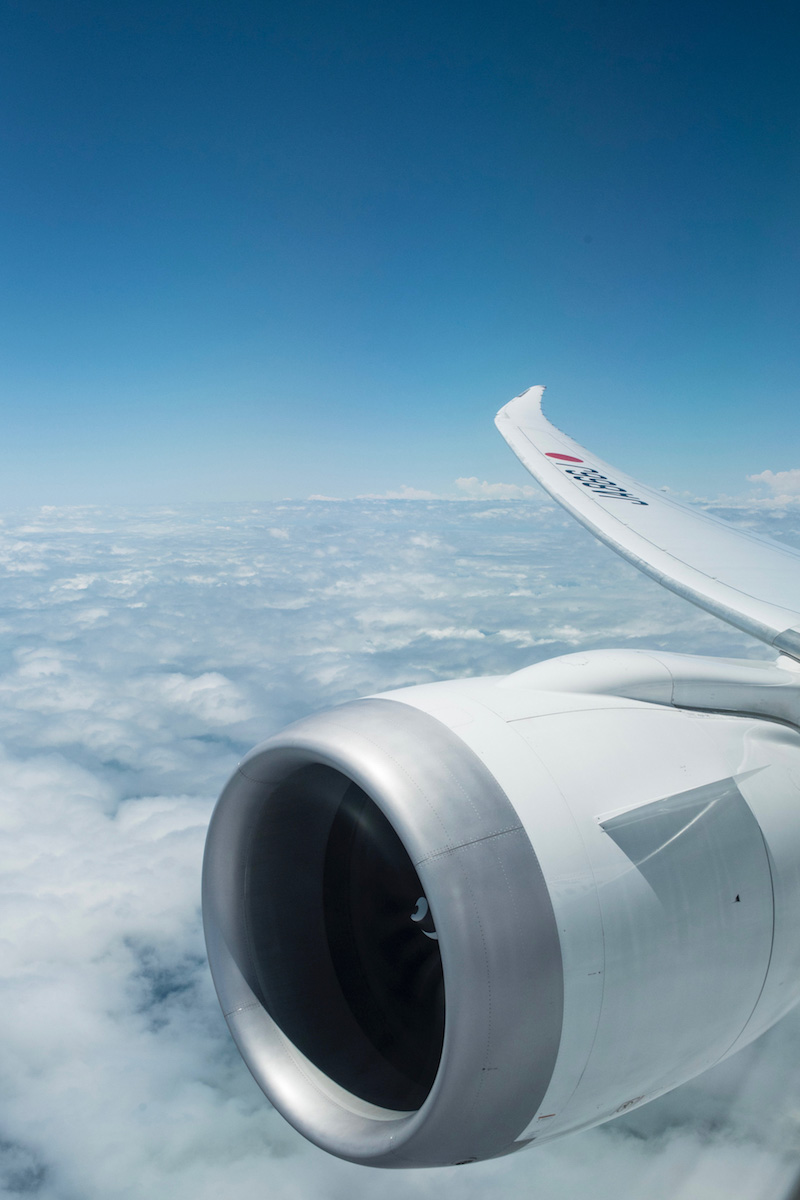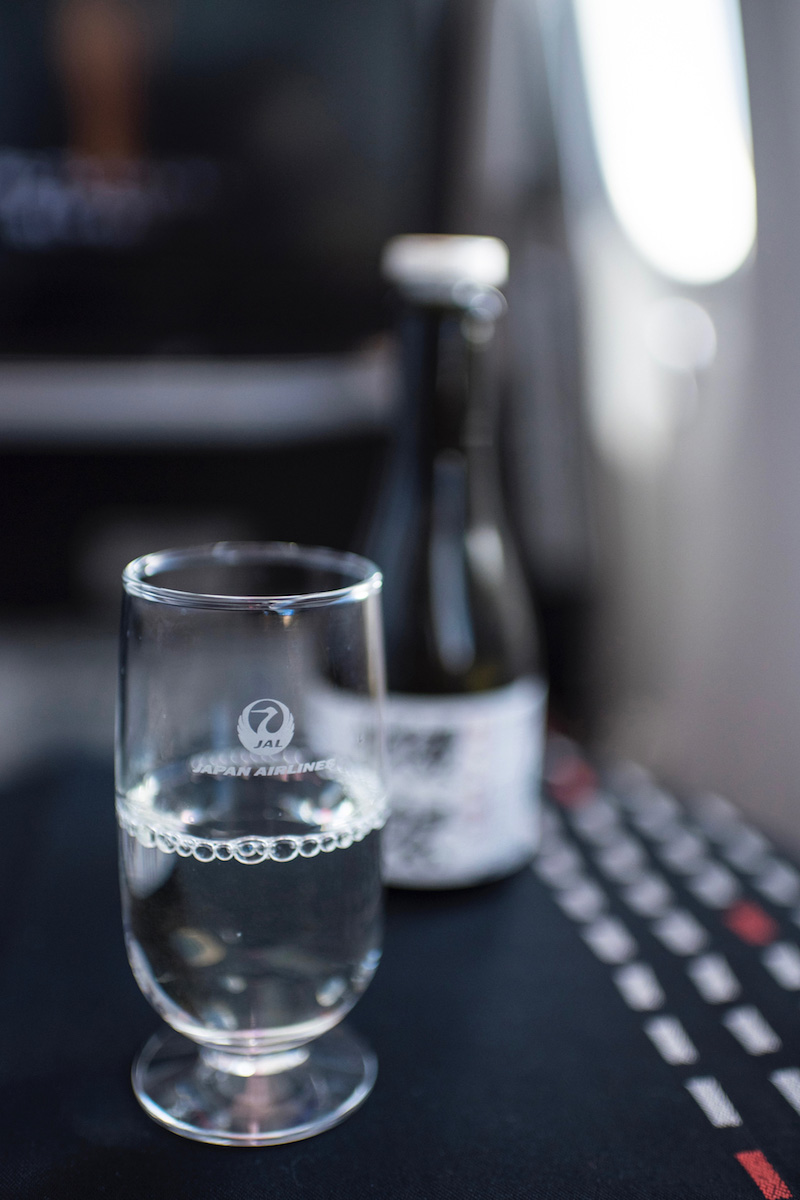 Sake in the Sky
I was impressed by the breadth and thoughtfulness of the JAL wine list located at the back of the aforementioned menu (labeled, somewhat confusingly, with the acronym "BEDD"), but although I enjoyed a glass of champagne after boarding the flight, I wanted to start my in-flight imbibing, in earnest, with a small bottle of fine Nihon-shu, which most foreigners simply call sake. The gentle sweetness of the Shikoku-made Tosa Shiragiku Junmai Ginjo proved to be just what I was craving.
The food on Japan Airlines was similarly exquisite, though that didn't surprise me given my previous experience with ANA. While I chose the "Western" entrée (a Wagyu beef sirloin steak) primarily due to the colorful salad (peppered with edible flowers) that served as its starter, I ended up general enjoying the cut of meat, which was cooked to a perfect medium-rare. The mint profiterole cookies were somewhat underwhelming as a dessert choice, and I can't say that JAL's inflight coffee rocked my world either.
I did manage to sample some of JAL's Japanese offerings during the "Anytime You Wish" portion of the service, namely the Dainomono plate (which featured flounder-and-scallop sashimi and a clear soup topped with a dried sakura blossom) and the udon noodles topped with edible wild plants. Western or Japanese, every bite of food I consumed during my flight was exquisite, and the service throughout was spot-on.
At least the human element of it—the electronic ordering system was as buggy as the entertainment selection was underwhelming. The screen was absolutely massive, however, maybe the largest I've ever had in business class; the noise-canceling headphones worked well, even though they weren't Bose-branded as they are on many (most?) other airlines in business class.
JAL Award Booking
When I knew that I was going to fly JAL from Tokyo to Dallas, I crunched numbers and realized that my most sensible option for redeeming miles would be through the American Airlines AAdvantage program—just 60,000 miles (a sum I already had in my account, conveniently), plus nominal surcharges.
Booking through Japan Airlines mileage program Mileage Bank would've been cheaper, were I flying a round-trip, but they don't allow one-way awards; I didn't have any JAL miles (which, for what it's worth, are quite difficult to acquire) anyway.
The Bottom Line
Whether you're searching Japan Airlines reviews to determine whether to choose JAL for an upcoming flight, or simply as a general point of reference, I think you'll find this trip report insightful. Rather than simply flying me into tomorrow (which wasn't even technically true—the flight arrived the same day), my Japan Airlines Dreamliner cruised at a more timeless altitude, with colors, flavors and personal touches as elegant and satisfying as Japan itself.