Flying in comfort on my fifth trip to India
Everytime I travel to India, I have a completely different adventure and experience. I always learn something, I always change in a big way — buit I never know ahead of time what's going to happen, what I'm going to learn, or how I'm going to change. This time, my fifth trip in six years is no exception. In fact, moreso than ever before, I feel I have "beginner's mind." My itinerary is up in the air, I have no real idea of what I'm going to see or do or learn or accomplish, and I'm at a very new place in my relationship with India.
Good news for me — and perhaps a sign of things to come — my trip got off to a good start with a flight on Qatar Airways. I have never flown QA before, but many people told me they loved the airline, and had the best flights of their life on QA. Now I know why!
The sky's the limit
I had never flown to JFK in New York before and I was a bit worried by the size of the airport and the intense security checks. So when I reached the Qatar Airways counter and was greeted by name — "Passenger Ward?– by a young man with a big smile, I felt so relieved and so welcomed. It was instant. I knew everything would be okay and that I would have a great flight, and I did.
I was lucky, I was upgraded to Business Class — and Qatar wins the award for best Business Class every year — but I honestly don't think it matters. The great thing about Qatar is the people. I loved the staff. They were friendly, genuine, helpful. I talked to several different people and they all said the same thing: Qatar is a great company to work for. You can tell by how relaxed the staff are that this must be true.
But of course the ability to lie flat and sleep on a 12-hour flight is a truly great thing, and I really appreciate that I was able to do that in Business Class. Also loved the service, the fresh food, the multimedia options. I watched Avatar and ate seafood and salad and felt very content.
I landed in Doha at night and therefore didn't see much, but I could discern desert sand and scrub by the side of the runway, which contrasted with the modern, glittery skyline in the distance. Downtown Doha is only 5 kms from the airport. The airport is very modern and slick, and seeing women in black burquas and men in traditional dress (long white robes) in that setting also offered an experience in contrasts. I had Qatari sweets in the lounge and watched Al Jazeera (in Arabic) — which I though was very cool as Al Jazeera is based in Qatar.
So finally after about a day of travel I landed at the new airport in Delhi — which I was really looking forward to, but was too tired to notice. All I can tell you is that when I came out of the gate a young man suggested I hop aboard the golf cart that was waiting — and oh boy, am I glad I did. It's a LONG way from the gate to the baggage pickup.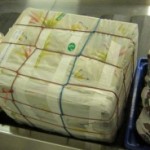 Waiting for the baggage pickup, I was amused (and bemused) to see that most of the bags trundling down the conveyor belt were lumpy bundles wrapped in blanket and string with huge homemade labels attached. They looked like they belonged on an ancient camel safari, not in the modern setting of a first-class airline and a new modern airport.
And of course leaving the airport I was met with India. My driver's rattling taxi got stuck behind an autorickshaw, and when he finally pulled ahead, he opened the window to release a stream of abuse at the auto driver. Tarp covered "homes" lined the side of the road, and many tiny stands selling chai, fruit and who knows what else were manned at 4:30 in the morning.  When I arrived at the house, the guard was sound asleep with a Delhi dog curled up at his fight. Home sweet home.
Through the looking glass: Travel in India
So now I am starting my fifth trip to India, feeling tired from a long winter in Canada and a hard-working two years behind me. My relationship with India has entered a new phase and I feel both very at home here and also very out of place. I feel excited about the five or so weeks ahead and also tired and a little disillusioned. I'm not sure what to expect or what to try and accomplish. Part of me just wants to go to Kerala and lie on the beach; or do a yoga training course in the Himalayas. Everything beckons but nothing quite fits. Part of me doesn't want to do anything at all. I am living with the dualities of being — and hoping to find the unifying middle.
So I have given myself a quest — an inner quest. With the mantra "humility and surrender" I am going to fight the urge to control and make things happen and let the experience happen instead, trusting that the right thing will happen. I am going to let India come to me. I am going to fight the urge to judge everything (I like this, I don't like that) and surrender to the flow. In short, I am going to try and put into practise what I've learned from studying India's wisdom.
P.S. I just learned on Twitter that the word dromomania means the compulsive urge to travel. I have Indromomania — the compulsive urge to travel in India.
NOTE and FULL DISCLOSURE: My flight was sponsored by Qatar Airways. However, I would have said the same things even if it wasn't. Urooj, Ricky, Natalie and all the rest of the Qatar staff I met were exceptional.