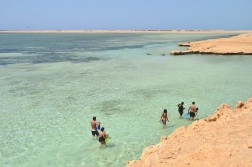 If your impression of Egypt is one of deserts, pyramids and camels, the country's Red Sea beaches on the Sinai peninsula might come as a surprise to you. While the bluffs and sands that rise above and away from the water are stereotypically Egyptian, the calm, crystal-blue waters of the Red Sea seems more befitting of Greek Islands like Mykonos.
Whether you're looking for award-winning scuba diving or just want to enjoy some beach time before you head to Cairo or beyond, spending at least a few days exploring the beaches of Egypt's Sinai peninsula is well worth your while.
Buses and Planes to Sinai
The best way to travel to Sinai depends on where you're coming from. I came from Eilat, Israel, so my only option was to cross the Egyptian border at Taba and take a bus onward into Sinai.
After you cross the Egypt-Israel border at Taba, which should take you about an hour, you walk for about 200 meters, at which point you'll see the Taba bus station on your left side. It's pretty rough and tumble, to be honest, but thankfully bus fares match the station's decor. For 30 Egyptian pounds, you can take a seven-hour East Delta bus to Sharm el Sheikh. Prices are slightly lower and transit times much less if you get off in Nuweiba or Dahab, further north in Sinai.
If you're coming from Cairo it's also possible to travel by bus, which takes about nine hours to anywhere in Sinai for around 50 L.E. Alternatively, you can fly EgyptAir Express to Sharm el Sheikh airport, from which you can transfer to Sharm el Sheikh, Dahab or anywhere else in the Sinai peninsula.
Dahab
Dahab is a bohemian hippie community located about halfway down the Sinai peninsula along its eastern coast. Crowds here can range from moderate to excessive, although the ambiance is decidedly uncommercial. You're more likely to stay in a shack or cabin than in a nice hotel or resort, although the in-progress construction project currently engulfing the town might be looking to change that.
Due to a time shortage, I didn't properly stop in Dahab, so I can't offer you any specific advice on visiting, other than that it's just as famous for scuba diving as anywhere else in Sinai and costs less to visit than more touristed places in Sinai, such as Sharm el Sheikh.
Sharm el Sheikh
Looking back on my trip to Egypt, I'm not quite sure why I decided to visit Sharm el Sheikh with the three days I had to spend in Sinai. Oh, that's right — because of the airport and direct connection to Cairo! In any case, be forewarned: Sharm el Sheikh is crowded, commercial and not at all what I would call relaxing.
That's not say Sharm el Sheikh isn't interesting. Indeed, it's as eerie to see the "Chili's" logo rise in front of Sinai's biblical bluffs as it is cool to see Egyptian's people getting down to techno music as they lure you to come into the bars and nightclubs of Naama Bay, Sharm el Sheikh's commercial center.
Additionally, Sharm el Sheikh's scuba diving is world-famous and several of the hotels and resorts there offer packages that bundle accommodation and scuba diving together, including instruction and certification courses for beginners.
Ras Mohammed National Park
If there was one reason for me to recommend you choose Sharm over Dahab (if you, like me, are constrained enough to need to make that choice), it's Ras Mohammed National Park. Located about 20 km south of Naama Bay on the southern tip of the Sinai peninsula, it's hundreds of square kilometers of literally uninhabited deserts, bluffs and completely virgin beaches.
The only difficulty when it comes to Ras Mohammed is getting there. There isn't any public transportation to speak of in Sinai, so you must either get a private or shared taxi to the park and back — there won't be any taxis waiting at the exit, plus the park is too vast to walk through anyway. This can get expensive since you also have to pay the driver for waiting with you. Expect to pay no less than 300 L.E. for five hours at the park and transport to and from.
A word of advice: Do not accept a ride from any taxi driver who approaches you. Book only through a hotel or resort's front desk, even if you're not staying there. That way, you have an outlet for recourse in the event that your driver tries to charge you more and threatens you with a large boulder in the event that you refuse to pay, which is what happened to me in Sinai.
Sinai Visa and Egypt Visa
The last consideration to make if you plan to visit Sinai is which visa you need. If you're coming from Cairo or anywhere else in non-Sinai Egypt this is not an issue, since you've get a proper Egyptian visa stamped in your passport on arrival at Cairo airport.
Coming from Israel, things get a little tricker. Egyptian immigration officials issue free, 14-day Sinai-only visas at the Taba Border crossing. Thing is, they really mean "Sinai Only." Not only can you not travel to Cairo or elsewhere in Egypt with this visa, but it isn't possible to upgrade it to a full visa from within Egypt.
As a result, I recommend you stop by the Egyptian consulate in Eilat before you cross the border at Taba. The consulate, which is located about 30 minutes' walking time from the Eilat airport and bus station, opens at 9:30 a.m. and can have your visa ready by 1 p.m., or in plenty of time for you to cross the border and get to wherever you need to go in Sinai on the same day.