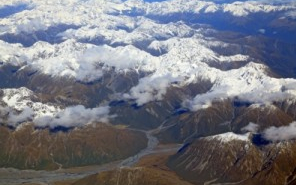 When you step off your plane in New Zealand, you might think you've entered another world, which is almost a true statement. Peter Jackson spent years subtly transforming the island country's lush landscape into Middle Earth to film his award-winning "Lord of the Ring" trilogy.
From the miles of beaches and rainforest, to the shopping, dining and tourist attractions:  you'll see why millions are finding that New Zealand is an elegant mixture of natural beauty and modern wonders. If this is your first time visiting the island in the southwestern Pacific Ocean, here are the sites you just can't miss.
Auckland
With over one million permanent residents, Auckland isn't New Zealand's capital, but is far and away the country's largest city. If you're planning to make New Zealand your next travel destination, definitely either start or end your journey in this vibrant city.
Sky Tower – Standing at over 1,076 feet, Auckland's Sky Tower is the tallest man-made structure in New Zealand and features a wide variety of attractions, for the timid and thrill-seeking alike. If you'd rather keep your feet firmly planted on the floor, you should take advantage of the tower's restaurant, casino and shopping. If you possess loftier ambitions, climb to the tower's top and take in a bird's eye view of the city and surrounding island.
Auckland Museum – Appease the more culturally-minded members of your family by visiting the Auckland Museum, which houses an impressive body of work created by artists from across the country, and the world. This museum is a testament to New Zealand's rich social and natural history, including the country's indigenous Maori people.
Auckland Zoo – Now that the adults have been appeased by visiting the museum, it's time to excite the kids by taking in the Auckland Zoo. With over 42 acres, 117 species and 700 animals to explore, you'll find yourself spending at least an entire day at this largest zoo in New Zealand. Ask about group rates and the interactive wildlife experiences, as well.
Taking a Tour
Several well established companies throughout the island offer guided tours of the beaches, cities and the other natural sites in and around New Zealand. You probably won't have time to take in all of the distractions New Zealand has to offer, but here are two great places to start:
Rainforest and Great Barrier Island – The rainforest in New Zealand are considered "temperate," meaning that they're coniferous and receive high levels of rainfall. This country's two impressive rainforests are found along the western coast of the South Island and the North Island. Of note is the Whirinaki, which is nearly 150,000 acres and lies along the Urewera National Park in central North Island. A variety of guided tours are offered through this forest, some that last a few hours and others that will have you exploring this natural wonder's majesty for several days.
Grab your dog, but leave your cell phone behind, when you take the 35 minute plane ride from the mainland to Great Barrier Island. Even if you're planning a short trip to New Zealand, set aside at least one or two days to explore this small island, which features adventures and activities that cater to all ages, and skill levels. Kayaking, fishing, diving, shopping, surfing, dining, sightseeing and swimming are only a few of the dozens of thrills waiting for you on this little slice of paradise.
Wine Country
Not many associate New Zealand with the art of creating fine wines, but the country boasts two vibrant wine regions, Marlborough on the South Island and Hawkes Bay in the North. Marlborough features a cooler climate and produces sweeter flavors of dessert wines, Pinot Gris, Riesling and Sauvignon Blanc. In the North, you'll discover the makers concentrate their efforts into producing bolder red wines, including Merlots and Cabernets. No matter where your oenophilic tastes bring you, one of the most popular ways to travel through both of New Zealand's wine countries is by bicycle!
Last, but certainly not least, no trip to New Zealand would be entirely complete without at least dipping your toes into the temperate Pacific Ocean along one of the country's several beaches. The water is great, but be prepared to brave the crowds, especially during the hotter summer months, as everyone will probably have the same idea as your family to beat-the-heat amongst the waves.
This is a guest post from Rakesh Sharma, who is currently attending University in Australia. Rakesh recently had the opportunity to visit and explore New Zealand where he experienced bungee jumping for the first time and hiked through the south island.