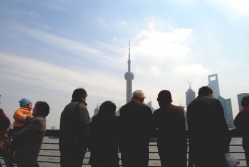 Shanghai is, by some accounts, the largest city-proper in the world. It is China's futuristic-looking crown jewel, a monument to the breakneck growth of the Chinese economy and, if all goes as planned, a preview of things to come for the rest of the Middle Kingdom. Shanghai is dizzying in its density and its expanse, the epicenter of an urban agglomeration home to more than 80 million people.
Peace and serenity are in high demand in the city, whose name literally means "above the sea" in Mandarin, but are in increasingly short supply. It is difficult to get to the sea above which Shanghai kind of sits — and when you do, you won't want to swim in it.
Eight months in Shanghai left me with as much appreciation for the city as disdain, as much insight gained into China's rise as questions raised about the smoke and mirrors involved. I arrived to Shanghai curious, hopeful and cautious; I left eight months later content with what I knew, having seen enough and done enough to know that it was to time to peace out.
The City That Never Ends
When my plane touched down at Pudong Airport, it was through a haze so thick that I could see only the dirt path directly below the aircraft, and the old woman riding along it on her bicycle. Within minutes of departing the airport via taxi, mid-rise buildings and construction crews carpeted the landscape.
Over the near hour it would take to reach central Shangahi, the buildings became so high and densely packed that I literally couldn't perceive an end to the city. The mega-high-rises of Lujiazui, home to iconic structures like the Shanghai World Financial Center and Oriental Pearl Tower, towered especially high over the rest of 4,000 skyscrapers that dominated the Shanghai cityscape.
It was hazy and muggy when I exited the airport; by the time I'd settled into my hotel and set out to explore the city, night had fallen. The next day started sunny, but progressively became just as hazy and muggy as the first had been. By day three Shanghai's wet, cold winter had alerted me to its imminent arrival.
Spectacle and Spectators
I spent my first couple weeks in Shanghai more sobered than awestruck. I was more concerned with finding an apartment and getting the hang of my job and less with "ooh"ing and "aah"ing at any of what was going on around me, its massiveness and the breakneck speed at which new people, businesses and structures appeared notwithstanding.
Indeed the spectacle of Lujiazui becomes the furthest thing from your mind as you go about your daily business in Puxi, Shanghai's less-glitzy half, even if you can occasionally see the Pearl Tower if you look down an east-west street the right way. The neon signs and crowds and hustlers along East Nanjing Road are more infuriating than scene-setting when you're rushing to get to the office.
I settled into a routine as quickly as I could because I believed, perhaps ignorantly, that the quicker I understood how to live effectively in Shanghai, the more quickly I could get to enjoying my new life. For the vast majority of my co-workers, my students and the friends I would make at work and outside of work, however, the routine is life, it is the city, it is all there is.
The Speed of Shanghai
I was fond of telling people that my front door was 11 minutes from my desk; and this was true, technically. It took just 11 minutes to take an elevator to street level, descend into the nearest metro station, ride to the center of Shanghai, and fight my way through the crowds of People's Square and, eventually, into my office building and later my desk.
Transport is one of Shanghai's strong points, whether you travel on one of the city's 13 metro lines or take a taxi whose seat belts probably won't fasten, in spite of the recorded English welcome message urging you to buckle yours. It is uniformly cheap — metro journeys cost just three yuan while buses are two and taxis start at 12 — and quick. Taxis and buses are slower than the metro because of traffic, but traffic isn't nearly as bad as you'd expect it to be for a city this huge.
To be sure, Shanghai's problem isn't a lack of speed or efficiency, but in fact that the ease with which you can get places (presumably to do things) encourages you to always be going places and doing things. I rushed home most nights in 11 minutes just as I had rushed to work that particular morning so that I could meet my co-workers or my students or my friends out, a journey that would also be so fast and simple I don't much remember it.
Power and the "Good" Feeling
Power is a common theme in Shanghai, whether you're talking about the formidable economic power the city's never-ending skyline suggests, or the power dynamic between the Chinese government and its obedient (but not noticeably fearful or repressed) citizens.
If you have a "white" face this power play extends to interpersonal relationships. It is substantially more pronounced if you happen to be male and, even more so, if you happen to be a slim, "handsome" male.
It is just as common to have a complete stranger ask to pose for a picture with you as it is to get your way by raising a finger, rather than throwing a fit like locals are meant to do. People in Shanghai take you more at your word than perhaps any other people in the world, but only because if you are white they assume that you are rich, which is to say they assume that you are good.
This "good" feeling had major professional and personal ramifications. I not only began to get paid writing gigs, first as a blogger for Shanghaiist (sister blog of Gothamist) and later as a contributor to CNNGo, but also found myself constantly re-telling my life story to curious students and, eventually, friends.
Indeed, every local person I met who was close to me in age was desperate to know what my previous life had been like and it felt, for a time, like I was well-liked just for being me. I was awarded every gig and side job to which I applied and if felt, for a time, like I was successful just for trying.
In Shanghai, opportunity looms low in the air like the city's perpetual pollution haze, but both eventually become suffocating.
The High Cost of Progress
My first Shanghai apartment was located in the easternmost of the pink towers that stand at the corner of Hengshan and Gao'an Roads in the city's Xuhui district, a tiny box in the sky I'd chosen mainly for its incredible views of the city. It didn't end up being much of a home — the lack of heat during the aforementioned Shanghai winter was a main factor — so I typically sought serenity outside the city.
I one time took a bus four hours to Anji, home to the bamboo forest where the movie "Crouching Tiger, Hidden Dragon" was filmed.  It was indeed peaceful, particularly from a pagoda at the top of the mountain. Unfortunately the city (which city I don't know) ends just minutes before the entrance to the forest — and remember again that the journey took nearly four hours.
Century Park in Pudong is as lush as green as any park along China's east coast can be, but it can be difficult to get a breath of air in edgewise among the thousands of other leisure seekers. Did you know that Shanghai has a beach? It does, but you shouldn't visit: the water is black; the sea foam is brownish-yellow in color; the scene is more Soylent Green more than Beach magazine.
Even thought I loved my second apartment, a comparatively cosy three bedroom in the upmarket Changning district, months of fast-paced, high-stress life in Shanghai had taken their toll on me, as industrious and business-savvy as I had become living there.