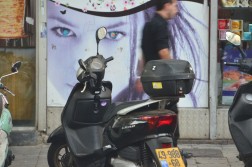 I frequently recount the tale of my first trip to Israel. While attempting to cross the Jordan border, officials noticed I had a stamp from Lebanon in my passport and detained me for five hours. I would spend just 24 (terrible) hours in Israel.
The Reader's Digest version I give people when they ask me why the hell I went back to Israel is that the Israeli travelers I met in South America last spring encouraged me to give Israel another chance. And that's completely true — I even met up with one upon my return.
But the reasons I opted to travel a second time to Israel were rooted mostly in my own curiosities and desires — and now, six months after the end of that trip, I know I made the right decision in going back.
I Wanted To See The "Other Side"
The first time I visited Israel, I encountered bad luck at every turn: No bank would exchange my Jordanian money; I was questioned and searched everywhere I went.
I rushed back to Jordan to hear a chorus of "I Told You So's" from my friend Najwa's family. Several members of her household had been forced out of Palestine in 1948, and were eager to educate me about the side of the story the American media never discusses.
I would spend much of the next year researching the Israeli-Palestinian conflict from all angles, taking in as much information as I could find, from practically any source. Only one thing was missing: Actual time spent in Israel.
See, I don't believe you can accurately judge someplace based on one experience there, whether it's a positive or negative one. Having traveled in Lebanon and Jordan for several weeks, I knew the Arab Middle East for myself, beyond what Najwa's family had told me.
I wanted desperately to see the "other side" of Israel. I wanted to feel like I was in the "only democracy in the Middle East," rather than in a police state. I wanted to spend my nights making out with hot men in Tel Aviv, not wandering the streets of Jerusalem like a hobo.
Israel Was Still Intriguing
I won't lie: I approached much of the initial research I mentioned earlier from the perspective that I wanted to dislike Israel. I felt personally wronged by having been detained at the border; and for all the other misfortune that had befallen me as well.
But no matter how much research I did, the very notion of Israel still fascinated me. War crimes or not, Jews had somehow turned a little strip of desert into a land of plenty and prosper in just 60 years. Tel Aviv to me was a bit like Miami meets Babylon.
And then, there were the men. Even if my planned romantic encounter with an Israeli in Perú hadn't gone well — I met my friend Assaf on the basis of hooking up, but we had no chemistry — I was fascinated by how open and, at once, repressed Israeli men were. And how damn sexy!
Israeli people in general intrigued me. In spite of them all having served in the military, none of the Israelis I met showed much respect for laws or decorum, whether it was marijuana use or poor-mouthing local merchants whose prices were, by all accounts, fair.
It slowly became clear that Israel is misunderstood not because the U.S. media purports it to be a benevolent force and it's actually an evil one, but because so many aspects of Israeli people, society — and indeed, the Israeli world view — are complex and even contradictory.
I Knew I'd Been Wrong
At the end of the day, I had an extremely unlucky experience when I traveled in Israel the first time. Literally no one else I've met since has been detained when trying to enter Israel, even those who had stamps from Syria, Qatar and Saudi Arabia.
Looking back, I see how the panic each progressive misfortune aroused in me had served to bring about the next. If I had just withdrawn Israeli shekels from an ATM instead of being pissed about not being able to exchange my dinars, I'd had arrived to Jerusalem plenty early.
Indeed, when I crossed back into Jordan after less than a full day Israel, it wasn't because I didn't want to see Israel, but because I was afraid that bad things would keep happening to me. I was scared of being in Israel; I was scared of Israel.
Ultimately, I came to realize that I had no real reason to be scared. Once I understood that, the curiosity that had motivated me to attempt a trip to Israel in the first place returned. I still wanted to travel in Israel! I bought my ticket, albeit reluctantly.
I was shaking as the plane descended into Tel Aviv. To be fair, a security officer did begin questioning me literally the moment I walked into the airport. But that was the extent of my bad luck my second time in Israel; and I was devastated when the time came to leave.