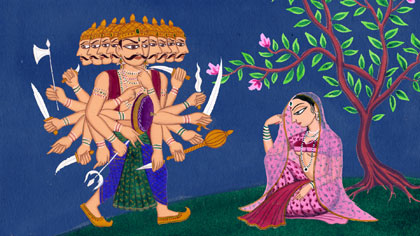 Sita Sings the Blues
First things first
If you are planning to visit India, read my Advice for first time travelers and my Packing list for India. It is truly tried-and-true. I would also recommend reading about India. I have included a list of 10 books about India that I love, and 10 more books, and a list of spiritual books that I love, some of which are pertinent. Of course, there are loads more I haven't read or even heard of — so let me know if you come across something good. I have listed the Lonely Planet Guide to India and I also use the Rough Guide to India.
In India, books are cheap, and there are lots of great travel and tourism books and guides available. I especially recommend Outlook Traveller, and the "Love" Guides to Delhi, Mumbai, Jaipur and Bangalore.
If you want to know something of Hindu culture — and India is about 85% Hindu — I would suggest getting acquainted with the Mahabharat, the Ramayana and the Bhagavad Gita. The Mahabharat and the Ramayana are epics (the Mahabharat is the longest poem in history), and I am not suggesting that you read them in entirety. You can get abridged versions, read about them on Wikipedia, watch videos or find versions for children. There are lots of ways. The Bhagavad Gita is a short section within the Mahabharat in which Krishna lectures Arjuna as the great battle is about to begin. He sets forth the philosophy of yoga and the basis of Hinduism: the Gita can be considered the "bible" of Hinduism. It doesn't take long to read, but it takes a lifetime to fully appreciate and understand.
For a "pop culture" version of the Ramayana, watch Sita Sings the Blues. It may not be considered a traditional retelling, but it's extremely entertaining and really beautifully crafted. Kudos to Nina Paley — who poured her heartache over her own divorce into artistic endeavour!
Cultural etiquette
Most people understand (I hope) that India is still a traditional society, except perhaps in parts of Mumbai. Even Delhi is comparatively conservative — and once you get out of the big cities, India is almost completely traditional. I am a "when in Rome" traveler, and I wouldn't dream of disrespecting my host country. I wrote this brief list of Do's and Dont's to give you the basics. Far be it for me to tell you what to do … but please think about the repercussions of your actions.
Travel Tips and other resources
Read my 10 top tips for women traveling in India. I will add more to this section as time goes on.
Here are some websites that could prove useful, and there are more on  Links page.
IndiaMike, a travel forum for sharing tips on travel and living in India
IndiaTourism, official site
TripAdvisor, where real people review hotels and more
LonelyPlanet, and the Thorn Tree Travel Forum
The Matador Network, online travel magazine
Transitions Abroad, a comprehensive resource for working and living abroad
Journeywoman, travel advice for women
Wanderlust and Lipstick, travel resource for women with lots of info on India
Startbackpacking.com, a very informative backpacking guide
Love Guides to Delhi, Mumbai and Bangalore, three gorgeous guides that will make you fall in love with these cities
Yoga and solo travel
I have spent more than a year in India in the last five years, on four separate trips. I have lived in Delhi, volunteered in the Tibetan community in Dharamsala, studied yoga at:
Krishnamacharya Yoga Mandiram, Chennai
Aurovalley Ashram, Rishidwar
Anand Prakash Yoga Ashram, Rishikesh
Sivananda Yoga Centre, Delhi