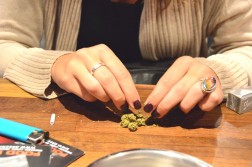 In case you've been living under a rock the past eternity, Amsterdam is a place where people travel to smoke marijuana.
Does this mean there isn't a place for you, a drug-free person, in the smoke-filled streets of Amsterdam? Of course not! Just as you don't need to hire a hooker to enjoy the city's sleazy Red Light District, you can have the time of your life in Amsterdam without inhaling a single puff of weed smoke — first-hand, anyway.
Smoking Marijuana in Amsterdam
Before I get started about all the things there are to do in Amsterdam that don't involve smoking marijuana, I would like to shed some light on Amsterdam's pot-smoking culture. Your attention, please.
What is a Coffee Shop in Amsterdam?
Generally speaking, when someone mentions the phrase "coffee shop" in Amsterdam, they're referring to a place where it's legal (for now!) to smoke and, in some cases, buy marijuana. Coffee shops do serve, you know, coffee. Some even sell food! If a coffee shop sells marijuana, it can't sell alcohol, and vice-versa.
The bottom line is this: You need not be a marijuana smoker to enjoy Amsterdam's coffee shops, although you may very well get a "contact high" from the second hand smoke if you enter anyway.
Where are they?
Coffee shops are located literally all over the city, although there are a few places where they're more concentrated. If you travel west on Haarlemerstraat, the first east-west street when you exit Amsterdam's Centraal Station, you will encounter no less than a dozen of them, such as "Lost in Amsterdam" and the famous "Green House." There are also a good number of coffee shops on Warmoeestraat, a north-south street that's Amsterdam's gay street and gateway to the Red Light district.
The Red Light District
Speaking of the Red Light district — you know, where hookers advertise themselves in windows bathed in red light — I often recommend an evening stroll through Amsterdam's Red Light district to people who choose not to smoke marijuana in Amsterdam. Visiting the Red Light district is perhaps the most hands-off way of experiencing sleazy Amsterdam. You can even watch a live sex show at Amsterdam's Sex Museum if you please.
How do you get to the Red Light district? It's simple. From Dam Square (which I'm about to recommend in just a minute) walk eastward over the first couple canals. Once you start seeing the red lights — it doesn't take long — you're in the Red Light district. Enjoy!
Dam Square
Taking its name from (you guessed it!) a dam that was originally built there, Dam Square is one of the most visited tourist attractions in Amsterdam. When you exit Amsterdam Centraal station, turn left on the first bridge you reach and walk down the street, which is called Damrak.
Dam Square is, well, a square, but one with some admittedly cool statues. Now filled with restaurants, bars, and high street retailers, the Dam has been a pedestrian square — rather than, you know, an actual dam — since the mid 1600s.
Bloemenmarkt
If you walk even further south on Damrak, you'll eventually be made to cross over a large canal. If the fact that the road dead ends isn't enough, look off to your right and spot a tower known as Munttoren. Cross over the canal and walk across the street and to the left of Munttoren. It's here where you'll find Amsterdam's Bloemenmarkt, the city's famous tulip market.
Vondelpark
Walk all the way through Bloemenmarkt and take your first left. You'll head south for about 10-15 minutes, at which point you'll run into another large canal. Cross over this canal, take the first right and look off into the distance for a wrought-iron gate. Down the stairs is Vondelpark, a long, narrow park centered around its very own bike path, with provides the most charming (if typical) Amsterdam scenery and opportunities for photographs.
Museumplein
Walking back up the Vondelpark stairs, take a right and walk through a street of straight-up designer boutiques. This can be nauseating for budget travelers such as myself (and, presumably, you) but don't despair: You're almost to the Museumplein.
As the Museumplein's name suggests, it's where you'll find famous museums in Amsterdam, such as the Van Gogh Museum and the Anne Frank house. It's also at the Museumplein where you find the iconic "Iamsterdam" sign.