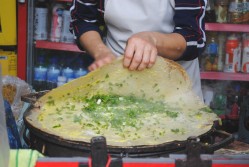 At the end of the day, budget travel is about spending money only to meet one's most basic necessities — things like transportation, lodging and, most importantly, food. Whenever someone asks me specifically how much I set aside per day, week or month for any particular necessary expense, my response is always the same: "As little as possible."
Just because you spend next to nothing on your food doesn't mean you have to eat next to nothing, however. No matter where in the world you are, it's easy to well without spending a lot of money if you make the right decisions.
Eating in "Cheap" Countries
The surest way to find cheap, delicious food when you travel is to travel to countries that are "cheap" to begin with. Broadly, this includes Southeast Asia, China, India, South America and parts of the Arab Middle East.
The culinary benefits of traveling through these parts are the world are two-fold. Not only can you usually pay for your meal with coins, but the food in developing countries in usually amazing. Whether you're having a jian bing egg pancake for breakfast in Beijing, slurping down pho in Vietnam, dipping hummus in Lebanon or enjoying sumptuous lomo saltado in Peru, tasty local food can always be had in all the places backpackers gravitate.
"Local," do remember, is the operative word here. If you choose to indulge in Western comfort food in Africa, Latin America or the Far East, you'll pay at least double what you would in your home country — just wait until you get home to enjoy the real thing.
Cheap Food in Expensive Countries
It's possible to eat cheap even in countries that are traditional moderate to expensive in price, although it takes a bit more effort.
You should definitely still "go local" whenever you can. In Greece, for example, munch on mouthwatering gyro sandwiches for under two euro, even in Athens. Headed to Israel? I'm not going to lie: You'll probably spend at least 15 shekels on a falafel sandwich. But it beats how much you'd pay for a swanky Western breakfast, I'll promise you that.
If you can't eat local or find that eating local is still expensive, the other solution is to eat Asian or Indian. Just as dishes like Tikka Masala, Kung Pao Chicken and Pad Thai are cheap in their countries of origin, it's difficult to find expensive Asian or Indian food no matter where you are.
Cooking in Hostels
Another way to save big on eating well when you travel is to cook whenever possible. Many of my favorite hostels have had kitchens for guests, where you can turn simple ingredients from local grocery stores into incredible gourmet meals.
Cooking in hostels isn't always easy, however. Often, facilities and equipment leave much to be desired — and you may have to wait a while to cook if you get hungry around a typical mealtime.
This being said, it's always easy to throw together a simply pasta dish or salad if your hostel has a kitchen for guests. If you're stuck between two comparable hostels, always choose the one with the kitchen.
Drinking Cheap
As can be the case at home, drinking alcohol is often a great expenditure than eating is. This is unfortunately the case no matter where in the world you travel — I'd pay the same for a cosmopolitan at somewhere on the Bund in Shanghai as I would in Amsterdam or Zürich. OK, not quite as much as I would in Zürich, but you get the picture.
The solution is simple: Buy your beer, wine and liquor at the store and enjoy it at the hostel before you go out, so that your in-bar drink purchases are kept to a minimum. Glasses of white wine at the Paradise Beach Club in Mykonos were a whopping 7 euro a piece when I visited there last September. By contrast, I bought an entire bottle at the nearby convenience shop for just five!
Eating cheap never means having to eat poorly, whether you prefer to eat in restaurants or cook for yourself — and this same truth extends to drinking and partying. Check out my articles on how to keep transportation costs low for more ideas on how to save money while you travel.