Recently, National Geographic Travel published Canada's 50 Places of a Lifetime. It was an ambitious project to choose 50 special places in Canada, and then one photograph to represent each spot. If you click the link to the site, you will see the entire collection of 50 photos, thumbnail size. Seen together like this, one thing becomes more than evident: Canada is stunning. Canada is gorgeous. Above photo is of the aurora borealis, or northern lights, above a houseboat frozen in the ice of Great Slave Lake in Yellowknife, Northwest Territories, Canada. Photograph by Jason Pineau from Canada's 50 Places of a Lifetime.
Canada positively drips with natural beauty from coast to coast to coast.
Pristine icebergs. Turquoise mountain lakes. Mauve soaked sunsets. You will come away from viewing this photographic feature with dazzled eyes. I learned a lot about this project, and about photography in general, when I met Director of Photography for National Geographic Travel, Dan Westergren.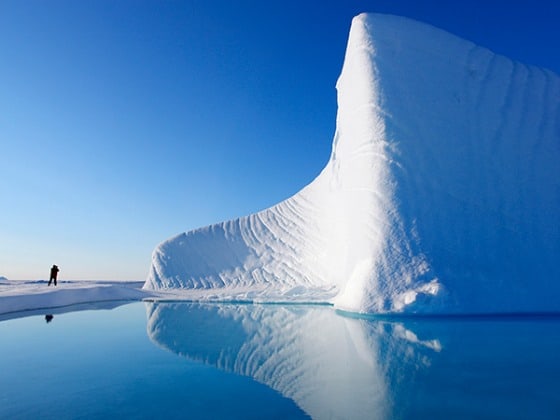 A pristine iceberg stands out starkly against Nunavut's blue skies. Photograph by John E. Marriott, Corbis. For Canada's 50 Places of a Lifetime
Behind the lens in Toronto
I had the chance to meet Dan Westergren when he was in Toronto in October 2013 to promote Canada's 50 Places of a Lifetime by hosting a couple of Google Hangouts in partnership with 500px. Dan very generously shared his knowledge of photography in several ways: one, by explaining how they narrowed down and chose some of the spectacular shots for Canada's 50 Places of a Lifetime; and two, by leading a live photo walk through Toronto's historic Distillery District.
In Dan's words they had, "two simple goals in mind: to show how different photographic personalities capture the essence of a place in pictures — and to share the experience with the world in real time. A live broadcasted photo essay, if you will." You can watch these Google Hangouts below.
I am always curious about how professional photographers work in urban environments, and how they get photos of people that look natural, not posed. If you watch the Google Hangouts, you will see Dan in action, engaging with people on the street, and inspiring them to become part of what he's doing. He says, "Explain to them what you're doing and why you think it's important." Good advice, which I will try out next time I am shooting on the street.
Walk through Toronto's Distillery District, Part 1
Walk through Toronto's Distillery District, Part 2
Growing up in one of the 'Canada's 50 Places' Photos
Growing up, we had a family cottage on a Lake Simcoe, about halfway between Toronto and Algonquin Park, pictured below. This iconic scene of a canoe hauled up on the rocks of a fresh water lake, ringed with pine trees, is deeply etched into my psyche. I grew up canoeing on an Ontario Lake, listening to the cry of loons, feeling the fresh breezes, seeing the sun sparkle or the white caps froth on the lake, watching the stars come out as the sky darkened each night. It was idyllic to spend the entire summer, year in and year out, at a cottage on an Ontario Lake. It was simply the best time of my life. I wrote about it longingly in this essay, Twilight at the Cottage.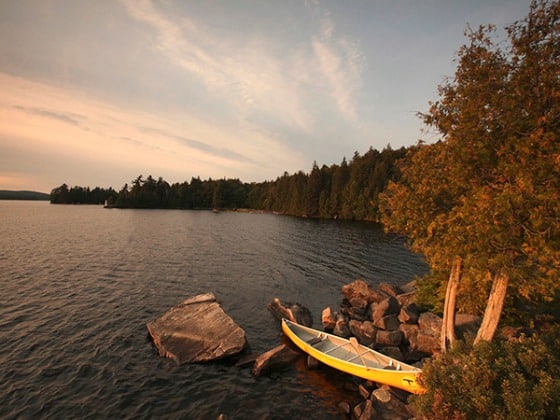 Algonquin Provincial Park's Canoe Lake is a paddler's paradise. Photograph by Chris Rainier for Canada's 50 Places of a Lifetime