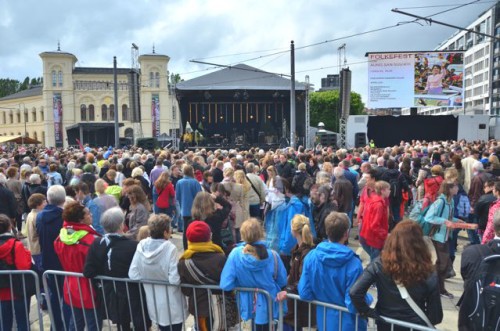 I was really affected by my visit to Myanmar, so when I found at that Aung San Suu Kyi (the so-called "mother" of democracy in Burma) would be making a speech in Oslo in June, there was no question in my mind that I had to go.
Well, except for the question of how exactly I would get tickets.
You can imagine how delighted I was when I found out the event would be open to the public. You can probably also imagine how quickly my enthusiasm faded as I approached Oslo's Nobel Peace Center, whose front plaza was literally carpeted in onlookers.
I will concede that hearing Aung San Suu Kyi's Nobel Peace Prize acceptance speech, no matter how wrought with cliché (and how obviously scripted) it was, was moving beyond my wildest dreams.
But I must be also be honest: Seeing Aung San Suu Kyi in Oslo epitomized why I tend to avoid all things "important," be they destinations like Angkor Wat and Igauzu Falls, or events such as TBEX.
The crowds, regulations and superfluous entertainment — not to mention the sheer hype — surrounding such goings on always leaves me feeling like my time could've been better spent doing, well, just about anything else.
Mob Scene at the Nobel Peace Center
The downside of the Aung San Suu Kyi event being public didn't dawn on me until my friend Anders and I were nearly at the Nobel Peace Center. In my head, I would strut up to the stage, have a seat and snap pictures to my heart's content.
It was ironic that the area of Oslo we passed through just before arriving at the center was the one devastated by last year's bombing. With all due respect to the victims, the mob of people crowding the typically stately plaza looked like an explosion had gone off.
This would've been fine, had Anders and I had been allowed to stay on the raised platform at the back of the crowd. It was next to the one where the professional film crews were set up, so I assumed it was intended for amateur photographers such as myself.
Not so! According to the resurrected SS officer on duty, the platform had been erected to serve the exactly zero handicapped people who were attending the event. She ordered myself and the other dozen DSLR-wielding individuals up there with me off, immediately.
If you know anything about me, you know my first priority in doing basically anything is taking great photos. With that prospect essentially crushed, I descended down into the mob with an extremely sour expression on my face.
The Aung San Suu Kyi "Folkfestival"
Just before the event started, a monitor on the left side of the stage displayed a list of all the festivities that would accompany Aung San Suu Kyi's Nobel Peace Prize acceptance speech. These included, among other things, performances from popular Norwegian artists.
"But don't worry," Anders reassured me. "Her speech is listed first, so I'm sure it will happen first."
Now I applaud my dear friend for being optimistic, but let's face it: No one would stick around to see the opening act of a concert if the headliner played first. I was therefore less than surprised when a choir of schoolboys strutted out on stage moments later.
The performances weren't terrible, though I can't say that with much certainty, thanks to the shitty sound system. Indeed, getting a glimpse at the delicious, scruffy bass player of Norwegian indie rock band Big Bang was my main non-Aung San Suu Kyi highlight.
What's strange is that both of the main speakers who introduced the events spoke terrible English, especially by usually impeccable Nordic standards.
Aung San Suu Kyi's Nobel Peace Prize Acceptance Speech
Aung San Suu Kyi has a presence that belies her tiny frame, thousands of onlookers and the commercial atmosphere of the event notwithstanding. During the 10 or so minutes she spoke, I felt engage and, more than anything, humbled.
But to be honest, her speech itself (which was, to be fair, obviously penned by someone else) can be summed up in a sentence: Y'all (Norway) have stood by Burma even though you don't really understand our strife; we hope y'all continue standing by us.
I know this whole entry probably sounds really cynical and ungrateful. And I'll concede: The more accustomed you are to seeing extraordinary things, the easier it is to become jaded by only slightly-better-than-ordinary ones.
For better or worse, however, the spectacle surrounding Aung San Suu Kyi's acceptance of her 1991 Nobel Prize ultimately diminished the impact of her physical presence of the event, for me anyway.
I joyfully abandoned the cynicism I usually harbor toward all things "important," but ironically, I left Aung San Suu Kyi's Nobel Peace Prize acceptance speech feeling more convicted than ever than I should avoid such events in the future.