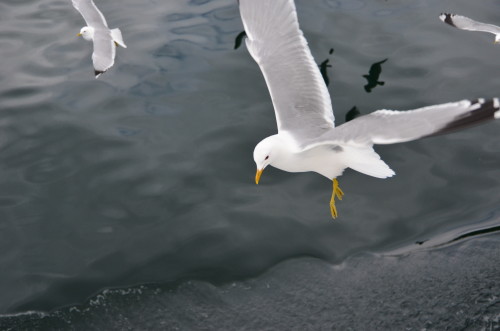 Norway is an expensive place to travel and, in spite of its minuscule population, a large one as well. I was limited in the amounts of both time and money I had to travel in Norway, but still wanted to see the best of what the country had to offer.
One place I found is appropriate called "Norway in a Nutshell."
Whether you've arrived here because, like me, you wanted an affordable Norway tour you could take in a few days, or because you're looking for a candid review of the services Fjord Tours offers, you're in the right place.
Train from Oslo to Myrdal
I opted to go one way from Norway's capital Oslo to Bergen. The first leg of this trip is a trip on a regional train from Oslo to the small town of Myrdal, located approximately four hours west.
This portion of the Norway in a Nutshell tour is beautiful, although you don't get to enjoy much of what you see around you — which will probably be snowy, regardless of when in the year you take the tour — for long, thanks to the train's brief and infrequent stops.
The Scenic Flåm Railway
Myrdal's railway station on has two platforms, so when you get off the train here, you simply walk to the other side and wait until a toy-looking train pulls up. The Flåm Railway caters exclusively to tourists: No seats are assigned; and it's fucking crowded.
The scenery the Flåm Railway passes as it winds through the Norwegian wilderness is spectacular — waterfalls, mountains and rivers, oh my! Unless you were lucky enough to snag a seat by the window, however, you'll need to be aggressive if you want a picture.
Boat from Flåm to Gudvangen
My personal favorite part of the "Norway in a Nutshell" tour was, well, the actual fjord. Once I arrived in Flåm, I boarded a medium-sized boat that was bound toward the town of Gudvangen.
The boat, which takes about two hours, passes not only through a breathtaking fjord, but also provides views of charming fjord towns, waterfalls, agriculture and, in my case, seabirds. From Gudvangen you take a bus to the town of Voss, and a train to Bergen.
After a day in the amazing city of Bergen, I took a took a trip called: "Hardanger in a Nutshell." The highlight of this tour is not surprisingly the Hardangerfjord, Norway's second-largest.
After two hours cruising the fjord you arrive in the town of Eidfjord, where you see a beautiful (but pointless) video that teases you with images of places you won't have time or money to see. You end the day with a brief trip to the stunning Vøringfossen waterfall.