Dragon sculpture unveiled at new Shangri-La Hotel
On Saturday, May 5, Rising, a massive sculpture adorning the front of the new Shangri-La Hotel in Toronto was unveiled, with the Shanghai-based artist Zhang Huan in attendance. I don't know if it was intentional or not, but the steel dragon sculpture, which stands in a shallow pool of water, struck me as the embodiment of the mythical Chinese Water Dragon — and of course, this year, 2012, is the Year of the Water Dragon in traditional Chinese astrology. From what I understand, 2012 is forecasted to be a transition year, with movement towards greater consciousness.
Enter the Dragon
I loved Rising instantly and intensely. It has a gleaming, monumental and mythical quality to it that I have rarely seen in a piece of modern sculpture of this scale. I love the way it twists and soars and wends its way up the side of the building. I love that is inspired, unexpected and lyrical.
And I also think it's really great that the artist was feted — given a scroll, a large show at the Art Gallery of Ontario, called Ash Paintings and Memory Doors (which is also monumental, though in a very different way) and an opera production, Semele at the Canadian Opera Company. After the unveiling, everyone in attendance on the sidewalk was given a ticket to see Zhang Huan's show at the AGO, and we all walked over in the bright sunshine to see more of his inspired work.
As a creative person, it's heartening to see an artist doing well, receiving recognition, appreciation and presumably remuneration too.
I'm also excited about having a Shangri-La hotel here in Toronto. I know the Shanrgi-La Hotel in Delhi well; it is one of those oasis-like "five-stars" that are havens of cool, comfort and serenity among the chaos of Indian cities. I regularly find myself retreating within to have tea and a moment of peace.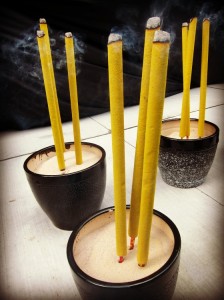 All in all, it was a lovely afternoon — spoilt only a little by getting a blessing from the huge incense sticks used to mark the opening of the ceremony. I walked into one so that I could get a good photo and burned a hole in one of my blouses.