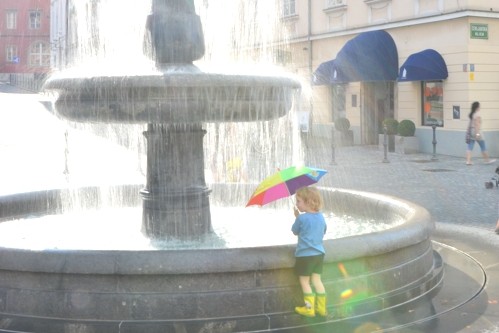 I wasn't in a great mood when I arrived in Ljubljana, Slovenia. A torrential downpour had just begun, which meant I had to taxi a taxi to my hostel. I was tired after leaving Venice and hungry to boot.
The last thing I wanted to do was get to know a new city – I set out half-asleep after the rain finally did let out for the express purpose of finding a bite to eat.
I purposely chose to eat at a Thai restaurant to prevent my curiosity being piqued by anything remotely Slovenian. But the waiterless, Kindle-powered ordering system — and the fact that only English was being spoken around me — fucked that up.
Like its symbol, an almost-hidden, wimpy-looking iron dragon, the city of Ljubljana itself seems deceptively demure. What appears, upon first inspection, to be a soulless relic of the former Soviet Bloc is perhaps the most arrestingly charming city in all of Europe.
Bikes and Other Quirks
Only in Ljubljana can hooliganism double as art
If you've personally visited Slovenia, you've no doubt got pictures of Ljubljana Castle, the Ljubljana River and the dusty pink church at Preseren Square in your mind when I used the word "charming." But I'll get to those in a minute!
See for me, Ljubljana's true allure is that you don't even need to arrive in its well-hidden historical center to have a smile brought to your face. And not just because of the lude, topless statues in front of the national trade unions headquarters!
Amsterdam, eat your heart out
The most conspicuously charming aspect of Ljubljana is its bike culture. Now, urban bicycling is far from rare in Europe, but what's incredible about Ljubljana is the sheer quantity of bikes. It's got at least as many as Amsterdam, even though it's much smaller.
Ljubljana's also got its fair share of gaudiness. From the striated patina roof of the Cankar Hall skyscraper, to a tram car-turned-restaurant placed squarely in the middle of the city's diplomatic quarter, Ljubljana's ugly is just as charming as its pretty.
Ljubljana Landmarks
Preseren Square is so charming it's almost stupid
Make no mistake: Ljubljana is pretty. After I realized I wouldn't be able to sleep away what turned out to be a beautiful, sunny evening, I headed into central Ljubljana and was pretty immediately in awe.
First, it was the stately-looking row houses reflecting in the still waters of the Ljubljana River, which is so narrow it's almost a creek. Then, it was the picture-perfect cafes and shops lining said river, and the fancy fountains dotting the plazas in-between.
Ljubljana's historical center is picture-perfect. The highlight of Preseren Square, as I mentioned earlier, is the rose-colored church that towers above it. But just as memorable are the impromptu performances that take place there every evening, even if many of them are from street-dwelling con artists.
And then, of course, there is the castle. Perched atop a high hill at the very center of the city, it's difficult to miss Ljubljana Castle, the lime green color of the city's flag notwithstanding. If you can, scale the hill (or take the funicular train) just before the sun sets.
A Disproportionate History
Above – this, my friends, is the symbol of Ljubljana. Ljubljana Castle not only provides visitors with stunning panoramic views, but is also home to the Ljubljana History Museum. Don't let the name fool you: The tiny two-floor collection of artifacts and multimedia spans the history of Slovenia as a whole.
And the history of Slovenia is whole. Although the tiny country is home to just two million people, its road to sovereignty spans 2,000 years and more than a handful of national tragedies, from successive tribal occupations to the outbreak of World War II.
Above is the view from the top of the city. At the end of the day, the history of Slovenia is a triumphant one. After declaring independence from Yugoslavia in 1991, Slovenia went on to enjoy several decades of steady economic growth, becoming the first formerly communist country to join the EU in 2004.
I traveled to Slovenia on a whim, but I won't urge you to drop everything and take the next flight to Ljubljana. What I will say is that if you're in Europe and have a few days to spare, stop in and say hi to Ljubljana's dragon for me — if you can find him, that is.