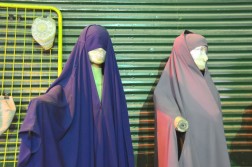 The Arab Middle East gets a bad rap. Sure, it's illegal to have sex there if you're gay and women, I would argue, are still very much second-class citizens (although some of my female Muslim friends strongly argue otherwise.) Still, there is much to love about travel in the Middle East and much fun to be had.
Although you may find yourself initially frustrated when landing in someplace like Amman, Beirut, Cairo or Damascus, keeping these common-sense suggestions in mind will help you enjoy yourself more quickly and thoroughly.
1. Be Patient
No matter where in the Middle East you arrive, your commute from the airport will likely be spent in heavy traffic in a taxi or bus that's less than comfortable. The faster you become accustomed to waiting a little longer for things to happen, the less serious the inevitable delays of Middle East travel become.
2. Walk like an Egyptian
I love the Bangles as much as anyone else, but that's not what I'm talking about here. What I mean is this: Do and act like a local whenever possible. Whether it's dashing across the street with a crowd in Cairo or adding a certain seasoning to your shawarma in Beirut, the people who live in Middle Eastern countries usually know how to do Middle Eastern things best.
3. Modesty is the best policy
With the exception of perhaps Saudi Arabia, Arab countries in the Middle East expected neither Western women nor men to wholly adhere to their cultural norms, covering up the hair and body included. That being said you should dress and act as modestly as possible out of respect not only for local people but because, simply put, people may cajole you if you look show too much skin.
4. Don't assume Arabs hate Americans
I am no fan of the mainstream media. Among the most despicable lies media organizations have spread is that Muslims and Arabs hate Americans. This is far from true, especially in revolution-wrought places like Egypt and Tunisia. Don't even think about pretending to be Canadian — it simply isn't necessary, although you should be prepared for sometimes harsh criticisms of the U.S. government.
5. Have a sense of humor
Another inaccurate perception of people in the Middle East is that they're serious or mean all the time — Arab men, some say, are constantly stern, which makes their fearful women rigid and emotionless. This is absolutely not true! It's especially important to keep this in mind if someone makes a comment to you that you think is offensive. Men in Egypt, for example may try and offer you a certain sum on camels in exchange for your wife, girlfriend or other female travel companion.
6. Don't be afraid to say no
Because they wrongly believe Arab people are angry and mean, many Western tourists are afraid to politely refuse a product or service when an aggressive local salesman (or, in some cases, women) approaches them. You shouldn't be! In addition to the fact that these con artists expect that you're going to say "no," Islamic law pretty explicitly prevents them using force to retaliate against you when you travel in the Middle East.
7. Smile
This one is pretty self explanatory. No matter how modestly you behave and look when you travel in the Middle East, people may look at you funny, even with seeming disdain or puzzlement. The universal antidote to awkwardness and misunderstandings is always a smile and you should smile as much as possible when you travel in the Middle East.