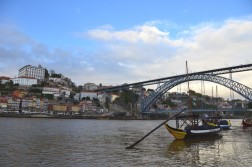 Among visitors to the Iberian peninsula the city of Porto, Portugal borders on being a cliché place for tourists to go. Thankfully, the city is a colorful hodgepodge of houses and wineries dotted onto the high-cliffed, dramatic hillsides that surround the Douro River valley, so the reasons for its status as a regional "must-visit" destination will become clear to you even if you aren't in the area.
If you aren't planning to travel to Portugal in the near future, use the images and descriptions I provide of Porto to get you there as fast as possible. And if you are, get over your desire to stay in Lisbon or only to travel south to Faro and visit the namesake Portuguese city that's certain to delight and mesmerize you.
1. It's mad close to Lisbon
If it isn't enough that Porto is just 300 km from Lisbon, take comfort in the fact that Portugal's incredible railway system allows you to bridge this distance quickly and easily. Less than three hours after the moment you board one of the hourly trains departing Lisbon's Oriente railway hub, you'll be disembarking at Porto's pictureseque Campanha station.
2. Who doesn't love a city sprawled over hills?
As short as the train journey is, you'll know the moment you arrive in your destination. Porto's colorful bungalows and wineries dot and punctuate the high rolling hills that emanate in all directions from the Douro Valley the railway runs along it. The most stressful part of Porto is forcing yourself to say on the train until it arrives in Porto's city center.
3. The city is the namesake of delicious port wine
Heading north over the Ponto Dom Luis bridge and hanging your first right brings you to a long avenida of outlets that produce sweet, delicious port wine, an after-dinner favorite native to Portugal. Enjoy a glass of golden tawny or crimson ruby as a guide explains to you how the extreme climate of the Portuguese central valley has been crafting it for hundreds of years. Follow the signs to Croft Winery for a free-of-charge tour.
4. Porto is full of real people
Porto is the second-largest city in Portugal — and without a doubt, its second most-visited tourist region, after Lisbon — but local residents are far more unaffected by the presence of tourists than those you find in the national capital. In spite of their limited English skills, Porto locals will be more than patient with you as you attempt to order a francesa, one of the most famous regional dishes, in broken Portuguese.
5. Getting around is extremely easy
At a cost of €3.5 million, Porto's six-line metro system was the largest investment in the country's history, accounting for over one per cent of the nation's GDP in 2007 when the fifth line opened. Although central Porto is small enough to navigate on foot, the Porto Metro affords you affordable, easy and quick access to both the city's more bucolic and suburban outskirts.
6. A huge variety of lodging options exist
As is the case in Lisbon, Porto's dozens of hostels — try the Rivoli Cinema Hostel if you really want to be wowed — are among the most amenity-rich and well-loved in the world. Still, finding a proper hotel is easy if you have a need for privacy or simply don't want to risk sharing your room with someone who snores.
7. You'll have money leftover
On the whole, Portugal is way cheaper than northern and central European countries like Holland, Switzerland and Germany — and even its neighbor Spain, which is admittedly very affordable when compared to its northern neighbors. If you play your cards right, you can easily get by in Porto for just €30 per day, meals and port wine included.