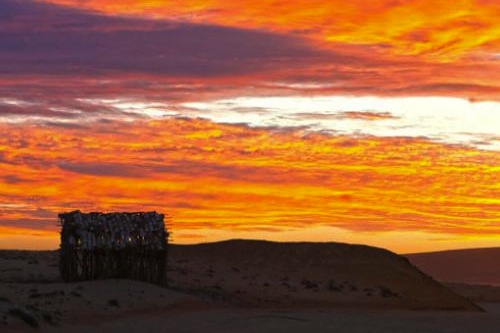 Jericoacoara, or "Jeri" as it is known to the locals, is one of those rare destinations that manages to strike just right balance between quaint relaxation and fun, adventurous, activity.
Jeri is a small, secluded place but it has everything you could want from a Brazilian paradise: lush beaches, beautiful scenery and sun.
Jeri is a great destination for anyone into water-sports such as kite surfing and windsurfing.
Azul Lake is probably Jeri's best place for these activities; from June to December the wind remains at a steady 25 knots on the lake but the sun stops the wind having a significant impact on the warmth.
Due to the popularity of this lake with water-sports enthusiasts it has stores where you can hire equipment and a number of bars and places to eat dotted around the lake. The lake can be easily reached from the main village in Jeri by dune buggys and jardineiras (open-backed taxi-like vehicles).
Jeri also has some fabulous scenery with mountains, mangroves and lagoons to explored.
This can be done on foot but to cover greater distances you can rent the previously mentioned dune buggies or even rent a horse for the day. Experienced riders should be able to take a horse right along the beach to Pedra Furada; a beautiful rock formation that really needs to be seen to believed. The sheer natural beauty of Jeri's surrounding area is the reason it has achieved national park status.
One of the most unforgettable experiences in Jeri is watching the sunrise or sunset from "sunset dune". This is a sand dune around 100ft high that is in such a position that the sun appears to rise and set directly in and out of the sea. It is a beautiful natural phenomenon that the locals will insist you must see
As previously mentioned, Jeri is out of the way but this doesn't stop it having some fantastic places to stay. Jeri is very much a relaxation destination and could be considered "off the beaten track". That said, the abundance of activities available and smattering of bars and eateries means you are never too far away from the amenities required for a comfortable stay.
(Image provided by Sunset Visitor)